1Projects – Ruin by Pannaphan Yodmanee
January 13, 2018 @ 7:00 pm
February 7, 2018 @ 10:00 pm
UTC+7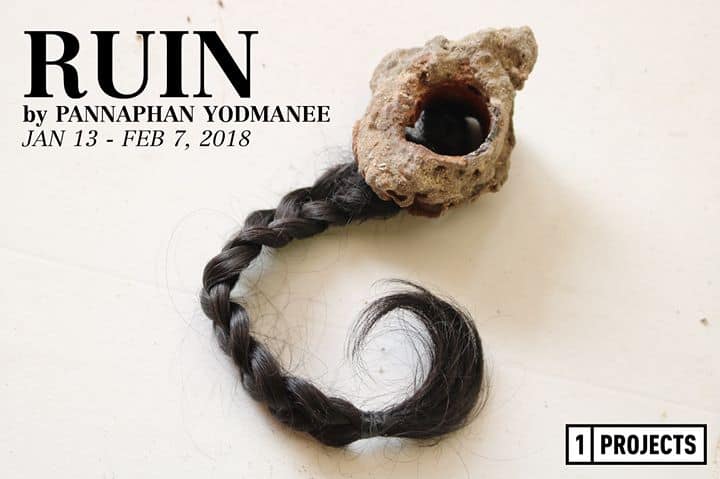 1PROJECTS is proud to announce the opening of its project space and art gallery with solo exhibition 'RUIN' by Pannaphan Yodmanee
Exhibition dates: Saturday 13 January – February 7, 2018
Opening Reception: Saturday 13 January, 19:00-22:00h
RUIN – an installation by Pannaphan Yodmanee
Ignorance of major conflicts can be caused by concealment of information from the public, or conversely, by an onslaught of news. Facts can also be twisted when each side's propaganda aims to cast their opposition in a negative light rather than pointing to the true source of a social, economic or political struggle. War becomes an abstract fight between ideologies, instead of between people. Ruin, a new series by Pannaphan Yodmanee, is an artist's attempt to bring us closer to revealing the cruelty of war through the eyes of those who live within a conflict. Yodmanee's installation is direct, stressing the violence and tragic consequences of war by cleverly using materials as symbols. Ruin is not a story of any specific war but a representation of all conflicts in this chaotic world. Only by being transparent and open can we have a true understanding of an issue and only by seeing opponents as human beings, can there be hope.
ทลาย – นิทรรศการประติมากรรมจัดวาง โดย ปานพรรณ ยอดมณี
ข้าพเจ้าต้องการแทนตัวเองเหมือนเป็นพยานคนหนึ่งที่รับรู้ถึงเหตุการณ์โศกนาฏกรรม และรับรู้ความรู้สึกของเหยื่อที่ได้รับผลกระทบจากสงคราม ไม่ว่าคนคนนั้นจะเป็นใคร หรือยู่ฝั่งไหน แต่เหยื่อทุกคนคือมนุษย์คนหนึ่ง จึงเกิดเป็นผลงานชุดนี้ ซึ่งใช้ศิลปะการจัดวางที่นำเอาวัสดุ วัตถุ มาสร้างผลงานที่แสดงออกอย่างตรงไปตรงมา ซึงตอกย้ำเหตุโศกนาฏกรรมเหตุการณ์ความรุนแรง ความขัดแย้งบนโลกที่ได้ส่งผลกระทบต่อเหยื่อจากสงครามและสร้างความตระหนักถึงการรุกล้ำสวัสดิภาพการละเมิดสิทธิมนุษยชน เพื่อคิดหาต้นเหตุ สร้างข้อแก้ไขที่สามารถก่อเกิดเป็นสันติขึ้น
About the artist
Pannaphan Yodmanee (b. 1988, Pattani, Nakhon Si Thammarat, Thailand) lives and works in Bangkok, Thailand. Pannaphan Yodmanee combines found objects, natural elements such as rocks and minerals, and painted elements that recall traditional Thai art and architecture. The artist examines the relevance of Buddhist philosophy to our lives. Through her abstract works, she explores Buddhist philosophy and cosmology. Utilising a combination of raw, natural materials with found objects of contemporary origin, her works imbue the painted designs and motifs endemic to traditional Thai art with the universal and persistent themes of loss, suffering, devastation, and the karmic cycles of death and rebirth… Her accolades include top prizes in the Thai Traditional Painting Awards (2013), as well as the Young Thai Artist Awards (2006–2007). In 2015, her works were showcased at the Thailand Eye exhibition presented at the Saatchi Gallery, London and later at the Bangkok Art and Culture Centre. In 2016, Pannaphan Yodmanee won the prestigious Benesse Prize.
About 1PROJECTS
1PROJECTS is the brainchild of founder Charuwan Chanthop. Recent projects have included Thai and Vietnamese photography exhibitions in Bangkok at MOST Gallery and Singapore with The Artling, as well as curating the joint-installation of Prasert Yodkaew and Richard Streitmatter-Tran at Art Stage Singapore. Projects also included showing video works by acclaimed Australian female artist Tracy Moffatt at the Ferry Gallery. 1PROJECTS is now moving to present emerging Thai and international artists at its own dedicated space in Bangkok.
Founder Charuwan Chanthop has been involved in the art scene in Thailand and beyond for more than 10 years. She most recently was a shareholder and gallery manager at the now temporary closed Whitespace Gallery until she decided to venture out on her own with 1 PROJECTS two years ago. Charuwan enjoys working with artists and wants to give young Thai emerging artists a platform to present their most exciting works. "I was mesmerised with the artist's installation at the Singapore Biennale last year. 1PROJECTS will show Pannaphan's new works ahead of the artist's participation at the inaugural Bangkok Art Biennale 2018. "We have a full program for the next months to come" 1PROJECTS director Charuwan Chanthop said. "Our next overseas project will be Pornprasert Yamazaki's installation at the 2018 Art Stage in Singapore".
The new venue: Charoen Krung
Located on the ground floor of The Most House at 672/63 Charoen Krung Road 1PROJECTS newly renovated art space occupies 25 sqm in the vibrant part of the Charoen Krung Road district. The art space is only steps from the Royal Orchid Sheraton (Sri Phraya Pier) or a short ride from MRT Hualamphong station and from BTS Saphan Taksin station.