YELO House – Flip the fan
May 4, 2018 @ 11:00 am
May 27, 2018 @ 8:00 pm
BMT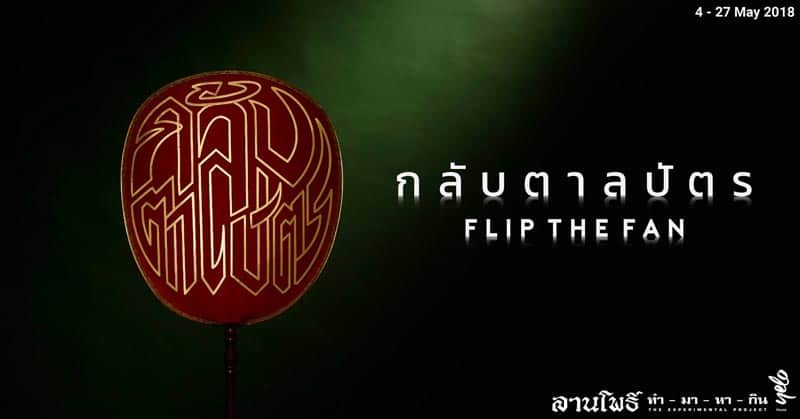 "FLIP THE FAN"
A Group Art Exhibition
Curated by Hongtae (Konthorn Taecholarn)
Artist: Hongtae, POD (Thanachai Ujjin), PUCK, Chom Chumkasian, Dogkillmen, THE DUANG(Veerachai Duangpla), Sahred Toy, Nakrob Moonmanas, Primiita, Mamablues,
Slverwater, Bordin Bumbudnorapai, Another Day Another Render Co., Ltd., Tum-Ma-Ha-Gin
4-27 May 2018 (Closed on Tuesday)
11AM – 8PM
at YELO House
"Klub-Ta-La-Pat" is the title of the exhibition in Thai which can speak up for its own in various layer of "Ta-La-Pat" or Talipot fan. To begin with, Ta-La-Pat is the handheld fan, literally made of talipot palm leaves in ancient time. Not only to induce an airflow for the purpose of cooling or refreshing oneself, it also meant for the sun and rain protection. A Buddhist monk uses Talipot fan cover his face whilst chanting. The aesthetic of its form and design has become a significant art piece for special ceremonies from ordination to funeral reflecting the identity of the host and that particular event through the choice of the color, fabric, and technique of painting along with its meaning behind each symbol. However, the detail of this decoration has been reduced into a digital pattern of form.
"Klub" in Thai means "Return". Since the handmade art on Ta-La-Pat is hardly found in the present time, Hongtae (Konthorn Taecholarn) the curator of the exhibition would love to bring back the fan art to the point where it can be remarkable and adaptable. Moreover, the term "Klub" can also mean "Twist". "This should be the reframing of Ta-La-Pat. It is the time to update the wording message along with the technique of art on the fan as it is a canvas." Said Hongtae.
Under the concept of "The Reminding of Self and Others", the artists use various techniques from painting, screen painting, and sewing to collage together with their own message breaking the limitation of the fan art and presenting the art pieces to the contemporary scene.