WOMEN IN FOCUS – Perspectives On Empowerment & Femininity
May 17, 2017 @ 6:00 pm
June 4, 2017 @ 9:00 pm
UTC+8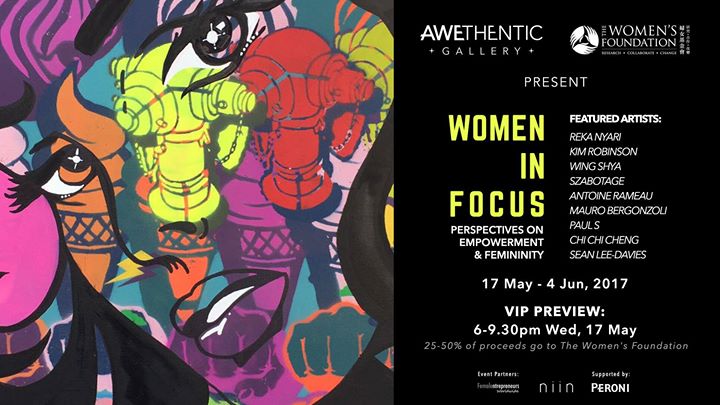 Awethentic Gallery is very proud to co-host an exhibition "Women In Focus" with the Women's Foundation, to pay tribute to the women of Hong Kong and celebrate their beauty, sensuality and mystery through the eclectic work of eight complementary local and international artists.
Offering unique perspectives of femininity and empowerment, works ranging from nudes to collages to photographs will be exhibited from 17th May – 4th Jun 2017 by the following artists: Reka Nyari, Antoine Rameau, Kim Robinson, Wing Shya, Szabotage, Chi Chi Cheng, Mauro Bergonzoli and Sean Lee-Davies.
In support of The Women's Foundation, 25-50% of the proceeds on the night will be donated towards their community and empowerment programs for women and girls in Hong Kong.
VIP PREVIEW:
DATE: Wednesday, May 17, 2017
TIME: 6.00 – 9.00 p.m.
VENUE: Awethentic Gallery, Shop G28, Central Building, 1-3 Pedder Street, Central
Please RSVP with Chi Chi at [email protected]
www.awethenticstudio.com/gallery
Event Partner: @niin.jewellery, @FemaleEntrepreneursWorldwide
Supported by: @Peronihk #Peroni #peroninastroazzurro