White Cube Hong Kong – David Altjmejd – The Vibrating Man
March 25, 2019 @ 8:00 am
May 18, 2019 @ 5:00 pm
HKT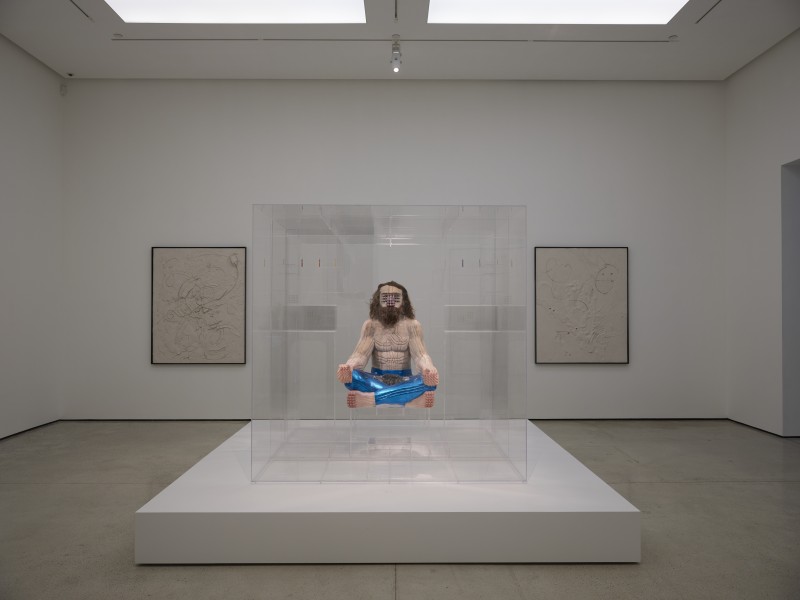 26 March 2019 – 18 May 2019
White Cube Hong Kong
White Cube is pleased to present an exhibition of new sculptures by David Altmejd, his inaugural exhibition with the gallery and first in Hong Kong.
Altmejd has described his practice as one grounded in a 'fascination with nature, a taste for the uncanny and excitement for unpredictable things, things that transform and that are difficult to describe.' Like living organisms, his works appear always in flux, transforming and metamorphosing, radiating animistic energy. Altmejd collapses different narrative strands and visual points of reference to allow for multiple simultaneous readings and thematic associations. 'I am much more interested in the object being alive and being able to develop its own intelligence and generate meaning', he has said. 'I do not want to use the piece as a tool to communicate meaning. I want it to be able to generate its own meaning.' Drawing on science, religion, magic, psychedelia, science fiction, and Gothic Romanticism, he presents a post-apocalyptic vision, but one that is essentially optimistic, containing as it does the potential for regeneration, evolution, and reinvention.
The two distinct installations the artist has created, presented on each of the gallery floors, offer multiple narrative possibilities in their relationship to one another. On the ground floor, a life-sized figure, the 'vibrating man' from which the show takes its title, sits in a lotus position as if in meditation. The contours of his limbs are repeated and his extremities multiplied, as if making visible the motion of vibration, or suggestive of the pixelation that occurs on a degraded screen. Housed within a large Plexiglass construction, articulated with various chambers and apertures and placed in the center of the room, the figure seems to be levitating. Appearing like a religious reliquary, the whole installation is suggestive of powerfully concentrated energy.
By contrast, the upstairs gallery contains a profusion of sculpture, including a number of busts, skewered on metal poles and placed on plinths (sometimes mirrored), of different heights and sizes. One of the series of heads shares the kaleidoscopic quality of the 'vibrating man', with features seeming to mutate and grow as if mimicking the incessant duplication of cells or the growth of crystalline structures. Another head, The Orchid, has its features veiled by a billow of grey smoke blown in glass, while the features of other busts are obscured by encrustations of rock crystals. And the gallery walls themselves appear gouged by the sculptor's hand, which has started to pull their once-even material surface into more human forms. It is as if the potential energy contained in the downstairs installation has exploded, unleashing a whirlwind creative force that has swept through space.
Vividly life-like, familiar and yet uncanny, both real and unreal, the works resonate with the quality of a lucid dream, their forms appearing to grow out of their own degeneration and decay. Like the role of Altmejd's faceless characters in earlier work, these fragmented, amalgamated figures suggest a duality: of potential physical disintegration and also of limitless possibility, reflecting the panoply of characteristics and personas that any single human being can portray. 'Fake vs. real, organic vs. mineral, seductive vs. repulsive. These contrasts produce tensions, and the tensions produce energy. When energy flows through a sculpture, it becomes alive, independent, and ready to be shown', he has said.
David Altmejd was born in Montreal in 1974 and lives and works in New York. He studied at the University of Quebec in Montreal and graduated with an MFA from Columbia University, New York in 2001. His numerous international exhibitions include a major survey exhibition, 'Flux', which traveled from Musée d'Art Moderne de la Ville de Paris to the MUDAM in Luxembourg and the Musée d'Art Contemporain de Montréal, Canada (2014-15). In 2007 he represented Canada at the 52nd Venice Biennale with his installation The Index, and he was included in the Istanbul and Whitney Biennials in 2003 and 2004 respectively.
About the artist
David Altmejd's work is a unique and heady mix of science and magic, science fiction and gothic romanticism: a post-apocalyptic vision which is at the same time essentially optimistic, containing as it always does the potential for regeneration, evolution, and invention.
'A perfect object for me', the artist has said, 'is something that is extremely seductive and extremely repulsive at the same time'. Decay exists in balance with regeneration, the exquisite in tandem with the grotesque. The sculpted heads that have been Altmejd's recent focus provoke that shiver of the uncanny lifelike sculpture tend to induce, but skilfully realistic features are interspersed with crude expressionism, gobbets of raw matter or hanks of fur. They have a hallucinatory quality – vivid and startling.
One head might sprout another, inverted so that they share a pair of eyes, or a face is split into a trio of profiles and half-a-dozen eyes as if refracted by a kaleidoscope. In others, the faces are gone, as if they have been scooped out, but the gaping wounds reveal cavities of dazzling crystal or the inside of a hollowed-out fruit as if to collapse the categories of animal, vegetable, and mineral. There is an immediate sensuality in the artist's juxtaposition of finely-wrought realism with a crude gesture; the proximity of crystals and delicate gold chains with fur and abject matter suggesting ever-present decay.