TRANSMISSION : Wood Working a lecture and workshop @ Jim Thompson Art Center
June 21, 2014 @ 7:00 am
ICT
FREE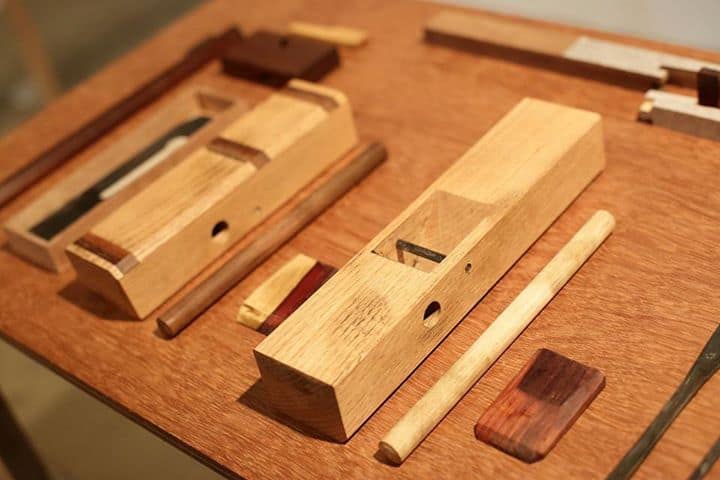 The Jim Thompson Art Center presents a lecture and workshop:
Introduction to Woodworking (Tools and their Usage) by Thakol Khao Sa-ad on Saturday 21st June 2014 at 2.00-5.00 pm. At the Jim Thompson Art Center, Soi Kasemsan 2, Rama 1 Rd., Pathumwan (BTS National Stadium).
This lecture is a special program held in conjunction with the current TRANSMISSION exhibition. The lecture will be held in Thai with a brief English translation.
This time the lecture and workshop: Introduction to Woodworking (Tools and their Usage), Thakol Khao Sa-ad will talk about the basic knowledge, techniques and his experiences in woodworking, helping to understand the process of woodworking which can be gradually developed to become more complex. Apart from knowledge and technique, the key important element in woodworking is tools.
Hand tools are generally divided into two main categories, they are power tools and hand tools, hand tools are easy to find and perfect for those wishing to begin woodworking.
This lecture and workshop will introduce you to different kinds of hand tools, explaining how they are utilised differently during the work processes. The participants will also be allowed to try various kind of tools and discuss the process and speciality of tools and woodworking.
About Lecturer: Thakol Khao Sa-ad
Thakol graduated with a BFA in Painting from the Faculty of Painting, Sculpture and Graphic Art, Silpakorn University. His practice is both in painting and woodwork. Thakol's solo exhibitions include ''Between…'' in 2006 at Gallery VER, Bangkok and "An empty mind with what eyes have seen" in 2008 also at Gallery VER. In 1998, he was involved in a group show called "Present" at PSG gallery, Silpakorn University, Bangkok and the "Witches Stuff" exhibition at Project 304, Bangkok. Thakol has also regularly participated in numerous group exhibitions, "Hold on, don't get it wrong" and "Grounding" both held at About Studio/About Cafe, Bangkok. In 1999 "Surface/Tension", Window project, organized by –AARA- About Art Related Activities and
"As Yet Unnamed Not Yet in Progress" at Project 304, Bangkok. In 2000 he participated in the "Euro Vision" exhibition at PSG Gallery, Silpakorn University, Bangkok. In 2008 Fidelity Not Fealty" at H Gallery, Bangkok. In 2009 "Parallel" exhibition in collaboration with Kobpak Promlekha, As Yet Unnamed: station 1: About Studio / About Cafe, Bangkok. "Imagine Peace" in 2010 at the Bangkok Art and Culture Centre Bangkok and in 2012 "Retro VER-spective" Gallery VER, Bangkok. Thakol is also a Messy Sky magazine and Messy Project Space founding member and his most recent project is designing the new platform for Messy Sky (new structure/Messy Sky window)
Free Admission
For further information and reservation please contact the Jim Thompson Art Center
Tel.02 612 6741 Email: [email protected]