THE MOONSHINE HUNTER / solo exhibition by Montri Toemsombat @ Toot Yung
July 5, 2014 @ 7:00 pm
August 10, 2014 @ 10:00 pm
ICT
FREE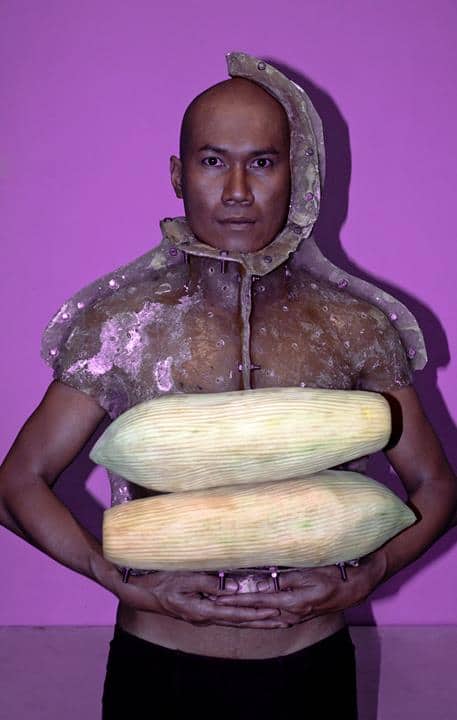 5 July – 10 August 2014
Opening reception 5th of July 2014 starting 7pm
in the framework of Galleries' Night – La Fete 2014
Isarn Music selection by Tada Hengsapkul
10pm Mor lam performance by Sanit Suphab
For his first solo at the Toot Yung Gallery, acclaimed Thai artist Montri Toemsombat chooses to explore a new medium: painting.
Montri is famous for using unconventional mediums and materials, often related to Thai roots and culture. Rice, silk worms, earth and fibers are material you can commonly find in numerous of the artist's brilliant installations. Created during his two month stay at the Thaillywood Artist Residence in Pattaya, Montri's new body of work promises to uncover an entirely new approach to his earlier projects. For the first time Montri chooses to explore painting (in an unconventional way); the canvases are vibrantly colored folk fabrics from Kanchanaburi and the paint varies from rubber, rice to crushed vegetables. "The Moonshine Hunter" is a meditation on the way in which cultural and social diversity can lead us to mutual respect and balance.
The finished set of works will take the shape of an installation, combining photography and painting. The artist will shape, give flesh to an unlikely space, in which the viewer will stroll as in a dream, perhaps Montri's dream of unity and peace of the Thai nation. Indeed, the circumstances in which art is created often occupy a problematic position in relation to the art itself. Montri started the production of this series in the middle of the Thai political turmoil. It has of course oriented his thoughts towards victims of violence and inequality. We can expect that the general atmosphere of the installation will have a critically engaged dimension.
In his continuous goal to deliver works which are immediately striking for the emblematic dimension of the materials used, Montri paints with local elements constituting the everyday simple life of Thai peasants. It is as if his paintings were made of the basic human necessities with the intent, perhaps to counteract mass consumerism? Montri says he has attained a certain sense of peace in working with painting and that his interest lies in the concept and creation of art to attain balance in life within a cultural melting pot.
Montri's new body of work questions and seeks equilibrium between cultures; it explores the contradiction between rural life and rampant consumerism, the folk and the urban, local and global. Through his use of new raw and unconventional medium, as well as a deep exploration of his cultural identity, the whole of Montri's work has deepened our psychical and ethical relationship to contemporary Thailand and furthermore to the complexity of our modern world.