Thavibu Gallery – Sacred Shapes – Ralph Kiggell
July 25, 2015 @ 5:00 pm
August 31, 2015 @ 8:00 pm
ICT
Free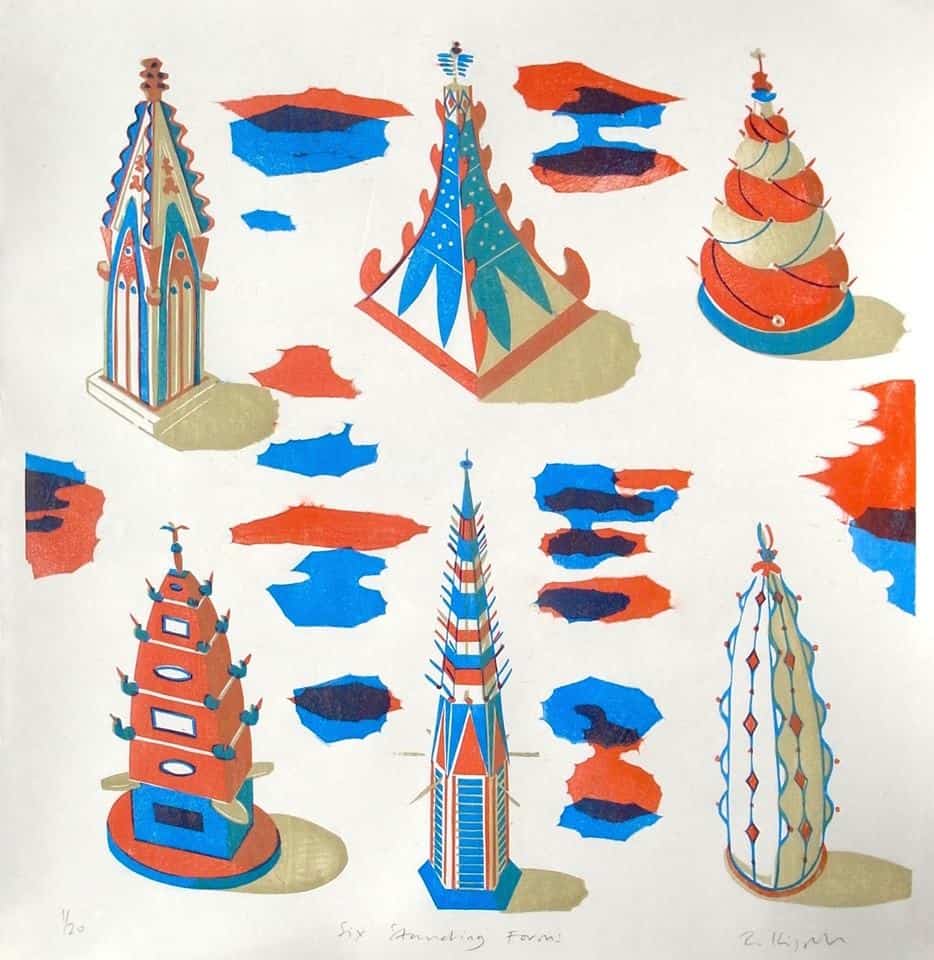 Thavibu Gallery – 25 July – 31 August
Thavibu Gallery is pleased to present the art exhibition Sacred Shapes with new woodblock prints and standing forms by the British artist Ralph Kiggell.
In Sacred Shapes, Ralph Kiggell continues a series of works that reinterpret common decorative elements and forms in Thailand and Britain. Through various media, he reshapes and recolours objects of cultural and national identity, such as pinnacles, mandalas, flags and stupas. The exhibition includes three versions of six standing forms rendered on paper, on screen and in clay through the varying processes of woodblock print, 3D computer graphics and porcelain. Also exhibited are five prints describing the five elements through common mathematical shapes, as well as a large double-sided accordion book featuring 12 prints of shapes based on the flamelike Thai kranok motif. I n Sacred Shapes, Kiggell uses image and form to assess the presentation of Thailand as 'other' to foreign eyes, as well as the historic assimilation of foreign 'things' into Thailand. His works also offer a commentary on changing notions in a computerized world of what is craft and what is art.
Ralph Kiggell practises and teaches water-based woodblock printing, and exhibits around the world. He has a BA in Chinese Studies from SOAS, London University, a diploma in Chinese language from Foreign Languages University, Beijing, and an MA in Printmaking from Tama Arts University, Tokyo, for which he received a Japanese Government Scholarship. Two recent bookworks include 'Leading the Cranes Home' and 'The Third Thing' with the Old Stile Press. The first was exhibited at the British Library in 'From East to West: Traditional Asian and Contemporary European Printing' (2008), and the second recently won a British Book Award in the category Book Design and Bookbinding. Kiggell was visiting artist at Bangkok University, Thailand (2001-02) and at Sichuan Fine Arts Institute, China (2004). He has lived in Thailand since 1999, and been a lecturer at Chulalongkorn University, Bangkok, since 2011.