Teamlab borderless – Crystal Fireworks – Hari Raya Puasa 2019
June 21, 2019 @ 8:00 am
5:00 pm
JST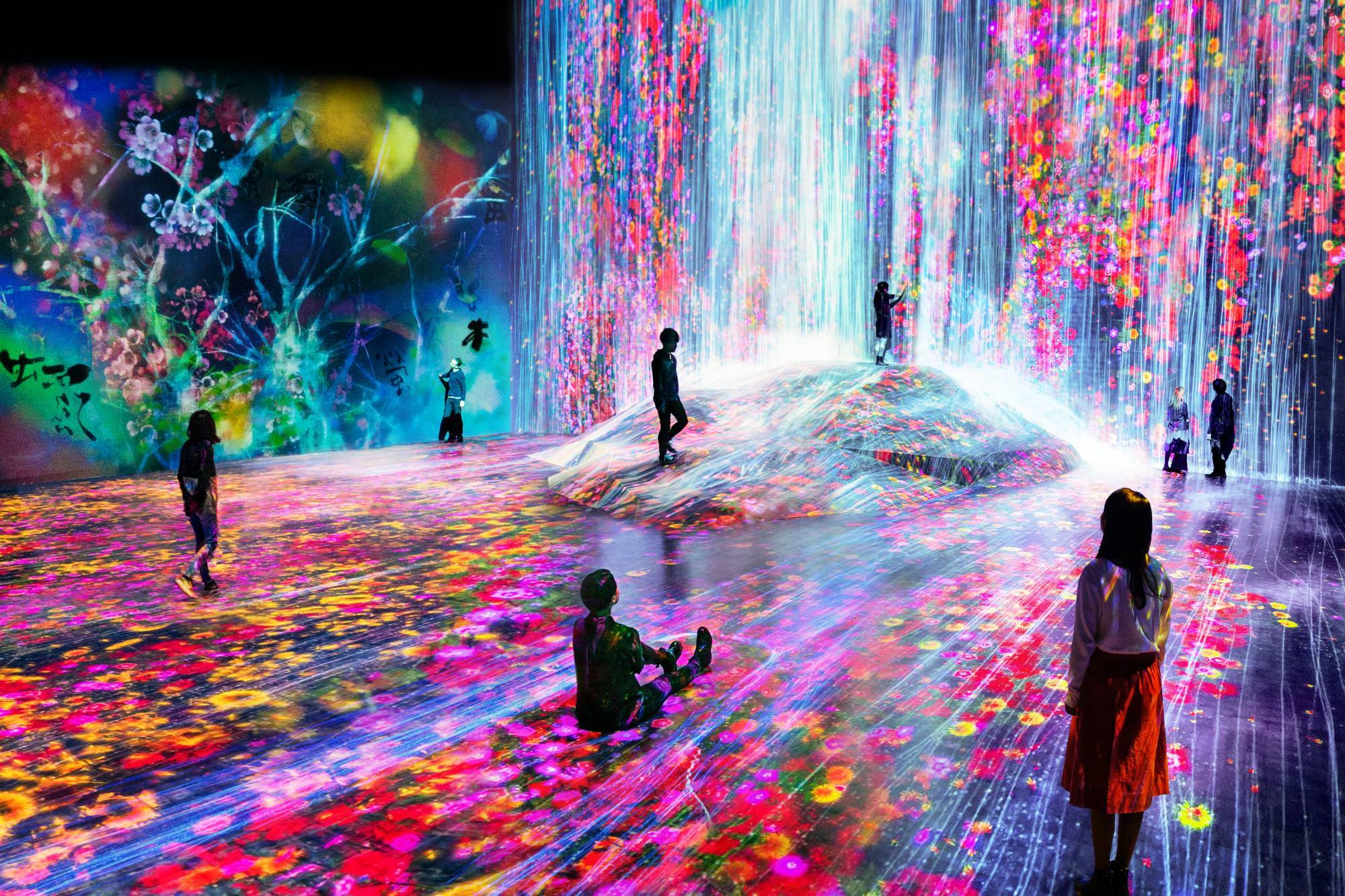 Three-dimensional fireworks made of a cumulation of light points can be set off by visitors with their smartphones. After selecting a firework on their smartphone, people can see the firework as a three-dimensional light display composed of hundreds and thousands of light points.
Wander, explore, discover in one borderless world
teamLab Borderless is a world of artworks without boundaries, a museum without a map created by art collective teamLab.
teamLab Borderless is a group of artworks that form one borderless world. Artworks move out of rooms, communicate with other works, influence, and sometimes intermingle with each other with no boundaries.
Immerse your body in borderless art in this vast, complex, three-dimensional 10,000 square meter world. Wander, explore with intention, discover, and create a new world with others.
We Believe that the Digital Domain can Expand Art
teamLab believes that the digital domain can expand the capacities of art and that digital art can create new relationships between people.
Digital Technology Releases Expression from Substance and Creates an Existence with the Possibility for Transformation
Digital technology enables complex detail and freedom for a change. Before people started accepting digital technology, information and artistic expression had to be presented in some physical form. Creative expression has existed through static media for most of human history, often using physical objects such as canvas and paint. The advent of digital technology allows human expression to become free from these physical constraints, enabling it to exist independently and evolve freely.
Expansion and Space Adaptability
No longer limited to physical media, digital technology has made it possible for artworks to expand physically. Since digital art can easily expand, it provides us with a greater degree of autonomy within the space. We are now able to manipulate and use much larger spaces, and viewers are able to experience the artwork more directly.
Digital Technology Has Allowed Us to Express Change in Itself
The characteristics of digital technology allow artworks to express the capacity to change much more freely. Viewers, in interaction with their environment, can instigate perpetual change in an artwork. Through an interactive relationship between the viewers and the artwork, viewers become an intrinsic part of that artwork.
Changing the Relationships Among People: Making the Presence of Others a Positive Experience
Traditional media, such as paintings, do not change in relation to the presence of viewers or their behavior. The artwork is based on a relationship with an individual viewer. For the majority of art up until now, the presence of other viewers tends to constitute a hindrance. If you happen to find yourself alone at an exhibition, you would consider yourself to be very lucky.
When an artwork changes based on the presence or behavior of viewers, it causes the boundaries between artwork and viewer to become blurred. In this case, the viewer becomes part of the artwork itself. Similarly, when the artwork changes due to the presence of others, those people also become part of the artwork. This changes the relationship between an artwork and an individual into the relationship between an artwork and a group of individuals. Whether a viewer was present five minutes ago, or how the person next to you is behaving now, suddenly becomes important.
Digital art has the ability to change the relationships among people who are present within the same space. If the interaction of other people with an artwork creates change that we feel is beautiful, then the presence of others can in itself become a positive element.
This applies not only to art. Even in modern cities, the presence of others might be considered uncomfortable. We cannot understand or control others, so their existence around us is something that is simply tolerated. This is because the city does not change based on your existence or that of others. If cities were to become more like digital artworks, the presence of other people could become a positive element. In this way, the search for new relationships between people may be able to go beyond art, potentially creating new relationships between cities and individuals, as well as new ways to bring peace among people.
Ultrasubjective Space
Pre-Modern Knowledge and Ancient Japanese Spatial Recognition
The World as a Japanese Painting
teamLab explore what contemporary society has discarded as a result of a lack of compatibility. In particular, teamLab explores a sense of spatial awareness interpreted in premodern Japanese art.
Until the late nineteenth century, people in Japan depicted the world differently than today. This ancient Japanese sense of spatial recognition has been lost in modern times. With our work, we explore whether the world itself has changed spatially, or if people have lost sight of how they once saw things.
Traditional Japanese painting is generally described as "flat." We believe that our ancestors saw the world exactly as depicted in ancient Japanese paintings, to the same extent that contemporary Japanese conceptualize space as seen in modern perspective-based paintings or photos.
In other words, we believe that our forebears developed a logical structure of spatial recognition that differs from the Western Renaissance perspective. Since influences from neighboring Asian countries greatly shaped premodern Japan, it might be said that this specific spatial awareness applied to ancient Asia as a whole.
Ancient Japan's Spatial Awareness as Ultrasubjective Space
teamLab is attempting to use a scientific approach to discover the logical structure of ultra-subjective space by employing new, digital methods. We use a computer to build a world of 3-D objects in a 3-D space. Then, we explore the logical structure of that space in a way that makes the 3-D space appear flat, as in traditional Japanese art. We call that logical structure ultra-subjective space.
We are not animating by drawing a picture on a plane. We are creating 3-D objects in a 3-D space and then flattening them using the logical constructs of ultra-subjective space. This logical structure enables the production of creative works that are interactive and continuously changing. The creative process allows for the discovery of features and phenomena that exist only in ultra-subjective space.