Tang Contemporary Art – Heri Dono- Land of Freedom
June 29, 2017 @ 6:00 pm
8:00 pm
UTC+7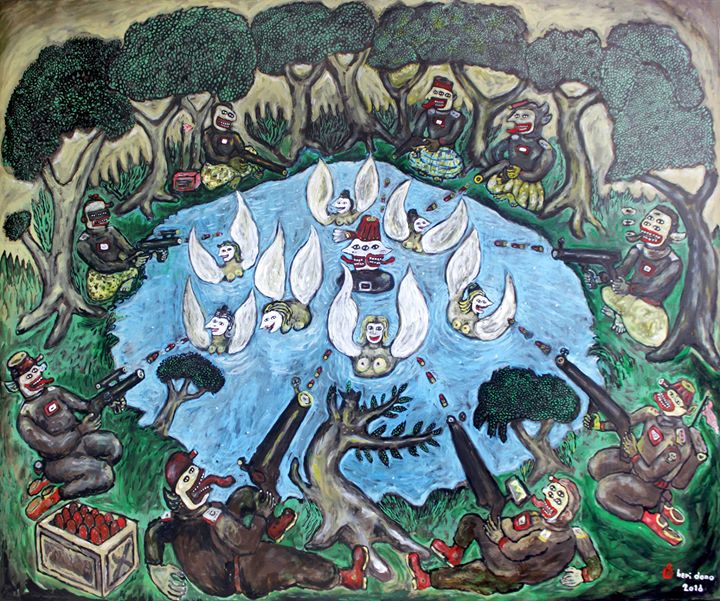 Tang Contemporary Art is proud to present the first solo gallery exhibition of Heri Dono in Hong Kong, "Land of Freedom" June 29 – August 12, 2017 features new paintings and an installation work from one of the most celebrated artists from Indonesia. Heri Dono (b. 1960, from Jakarta, Indonesia) has exhibited internationally and participated in 27 biennials, including the Venice Biennale, Asia Society New York, Singapore Art Museum, and the Gwangju Biennale, and is considered to be an artist at the forefront of contemporary Indonesian art today.
Opening Reception from 6-8pm at Tang Contemporary Art
19/F, 18 On Lan St, Central, Hong Kong
https://goo.gl/maps/3RuC9nh8jq32
Follow us on Instagram: @tangcontemporaryart
For almost forty years, Heri Dono has developed a fantastical world of dichotomies in his paintings. Humorously juxtaposing reality with imagination, folk with contemporary art, politics with fiction, the tension between these opposing forces create narratives that cut across a complex, multi-layered system of ideologies. Having lived through the struggle against oppression by the Indonesian regime in the 1980s, and later the 'reformasi' in 1998 that spawned from the end of Suharto's regime and developed into the neo-liberal globalization of Indonesia as it is today, Heri Dono's artistic methodology re-examines power structures through satirical illustrations of humans versus the Other, man versus machine, offering a kind of passage for others to survive real life transitions during challenging times.
Known for his uniquely contemporary, Javanese style inspired by traditional Wayang Kulit (puppet theatre), Heri Dono "humorously skewer[s] the current political situation with imagination and illusion, he presents the tension between illusion and reality and highlights the intersection of local culture and contemporary art", writes critic and curator Hou Hanru, "they enact a kind of Sci-Fi and tragic comedy. He calls it Heridonology." Through his construction of thoughtful layers in his work, he is able to emphasize the more serious, underlying reflections on and criticisms of social and political issues such as military intervention, political corruption, and environmental destruction, allowing easier engagement with often difficult concepts.
His new series of paintings speak to very current times. The tides of global politics have shifted with the inauguration of new world leaders, causing a great divide of opinion among the masses. Wild compositions of political caricatures, spaceships, animals, machines, and mythological beasts illustrate the relationships of these new power structures at odds with each other, with all the casualties that come between. In "Trump vs the Dragon" and "Between Two Cards", both paintings examine the ethics of choosing one thing over another, each begging the question, do their moral consequences weigh the same? Who gains, and who suffers?
This exhibition will also showcase his 2004 kinetic-sound installation "Born and Freedom". Inspired by John Barry's song 'Born Free', the archaic-looking figures of five dogs leashed to five humans parallels the relationship between the Indonesian population and the government, despite being freed from military regime after the 1998 reform.