Stephen Eastaugh @ Thavibu Gallery Bangkok
October 4, 2014 @ 11:00 am
October 16, 2014 @ 7:00 pm
ICT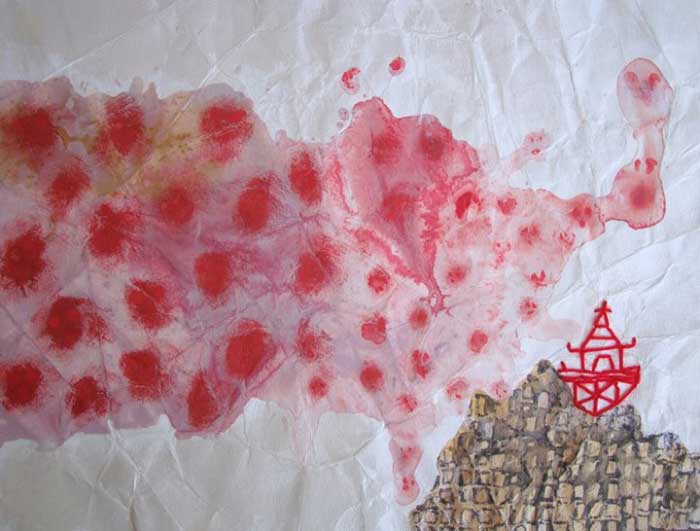 4 – 16 October, 2014
Thavibu Gallery is pleased to present the art exhibition SPIRITSCAPES with mixed media paintings by the Australian artist Stephen Eastaugh.
This is a part of the [email protected] series.
This series of work on paper all offer a "farang" view of the charming spirit houses (ศาลพระภูมิ) he has seen across S.E. Asia. As a foreigner he understands very little about the rituals connected to the spirit houses but he does adore the various forms of mini shrines to be found around Bangkok, from the sturdy intricate golden ones to the crumbling old wooden folk-art houses tucked away in the trunks of ancient trees.
Artist Stephen Eastaugh was born in Melbourne, Australia in 1960 and, explicably, has two fathers. Both were sailors and – both – were either the cause or inspiration for Eastaugh's self-diagnosed disease: an unremitting, uncontrollable and incurable need to travel.
For the past thirty years he has been traveling and creating art in 90 very different countries across all continents. Eastaugh had the honour to be the first contemporary artist to winter over in Antarctica in 2009 c/o the Australian Antarctic Division's Art Fellowship. Since 1982 he has held over 90 solo exhibitions and been involved in 150 group exhibitions in a dozen countries. Eastaughs work can be found in the National Gallery of Australia, National Gallery of Victoria, Art Gallery of West Australia, Museum of Modern Art – Heide Victoria, Museum of Contemporary Art Sydney, Parliament House Canberra, and the Nevada Museum of Art USA.