Shopee HQ – Cyanotype Photography Workshop
September 30, 2017 @ 11:00 am
3:30 pm
UTC+8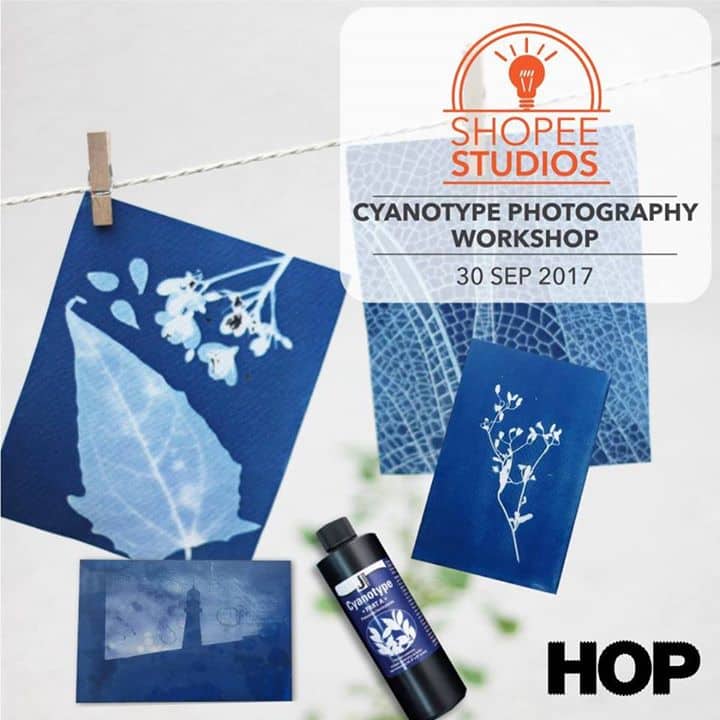 'Pick up one of the oldest forms of printmaking, invented more than 150 years ago and first used by biologists to document their botanical discoveries. See how a combination of science, nature and art can produce some of the most beautiful and sublime images.
DETAILS:
Date: 30th of September 2017 (Saturday)
Max capacity: 20 pax
Duration: 2 hours
Workshop sessions:
General Session 1 – 11 am – 1pm, 30 SGD
General Session 2 – 1.30 pm – 3.30 pm, 30 SGD
Materials will be provided. Participants will be able to print at least 5 prints on their own.
Participants can bring their own opaque objects that they want to print or any negatives of images printed on transparency paper.
About HOP:
"House of Photography is a project about forgotten memories. In our fast-living, instant and sometimes even disposable digital culture, HOP aims to bring back the charm and feeling of anticipation in analogue photography — elements that are very much missing in an age where images are created instantaneously by the click of a button.
Converted from a shipping container, the House of Photography (HOP) is a mobile darkroom which started operation in October 2012. Since then, HOP has roved to over 12 locations across Singapore ranging from schools, libraries, museums to shopping malls. HOP shares the knowledge of photography through hands-on activities and workshops specially crafted for participants of all ages. Whether you are a photography hobbyist or a complete amateur, this will be a refreshing experience for everyone."
About Cyanotype Printing:
"An alternative photographic printing process introduced in 1842, cyanotype printing is a fun and easy way to create camera-less images. Engineers and scientists used the process well into the 20th century as a simple and low-cost process to produce copies of drawings, referred to as blueprints.
In this workshop, participants will learn the basics of cyanotype printing process, discover how the chemicals work together to create cyan-blue prints and importantly, make your own prints!"
Location:
Shopee HQ
2 Science Park Drive
#03-01, Tower A, Ascent Building
Singapore 118222