Sathorn 11 art space – Sajja Sajjakul's Sensorial Realities
January 13, 2018 @ 5:30 pm
January 28, 2018 @ 1:00 am
UTC+7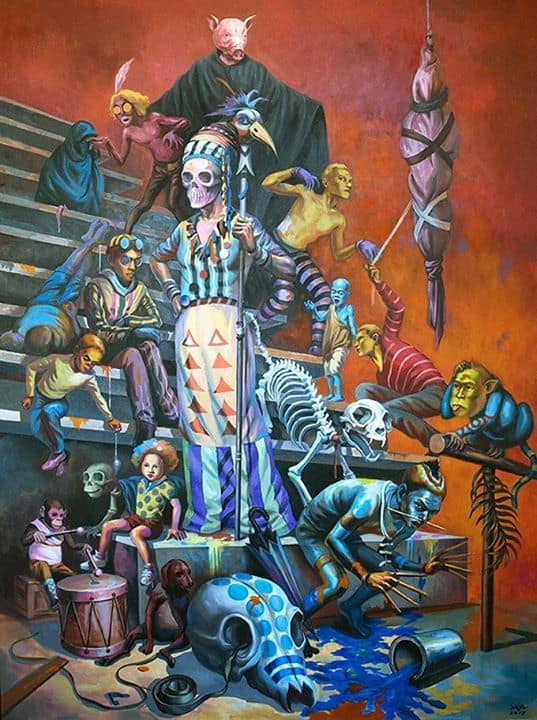 Sathorn 11 art space will present the solo exhibition for Sajja Sajjakul; Sensorial Realities during January 13 – 28, 2018.
Thailand-based Mr. Sajja Sajjakul's metaphor-laden oil paintings are sharp critiques of modern life. Globalization, social injustice, and political tumult are recurring themes throughout his oeuvre, which utilizes a dense, satirical visual language to mourn the demise of traditional culture in Thailand. However, reaching beyond geopolitics, religion, and language, Sajjakul's bold canvases touch on the greater human condition and global consciousness.
Growing up in Chumphon province in southern Thailand, Sajjakul was a teen during the Communist insurgencies that threatened Southeast Asian politics in the years after World War II. The Communist Party of Thailand's insurrection was quelled in 1982 when the artist was a college student, and it was then that Sajjakul began to recognize the revolutionary power of the individual in contrast to the totalitarian authority of a government or regime. This dichotomy of internal versus external struggle remains a pervasive presence in Sajjakul's paintings in which dystopic chaos threatens to overwhelm cultural memory, locality, and individualism.
Popular and cultural references gleaned from television news, documentaries, and literature populate Sajjakul's bustling, large-scale compositions. Allusions to climate change and government brutality exist alongside recurring allegorical figures. Trickster monkeys take on human characteristics, often wearing clothing, wielding guns, or playing instruments. Ominous skeletal figures are cruel displays of power and control, domination and destruction. Simultaneously, radiant elephants in violets and pinks are stalwarts of tradition and resilience. Finally, bells appear frequently as a beacon of freedom and a symbol of hope and perseverance. Pandemonium reverberates through these post-apocalyptic scenes rendering haunting and hellish clashes of good and evil.
Meanwhile, Sajjakul's introspective self-portraits depict the artist with large, cumbersome bundles strapped to his head. Amid furls of tassels, ropes, and ribbons lay nestled binoculars, birds, or human faces, each offering an ambiguous glimpse into the artist's emotional and psychological self. The artist's pensive expressions lend a sense of solemnity to the works that seem to depict Sajjakul as a modern-day Atlas struggling against the weight of the sky.
Artist Statement
Mr. Sajja Sajjakul
My work reflects on the current society and the stress of modern life. From political injustice and cultural conflicts to the inner condition of peoples' minds, I investigate such socio-political and create figurative works of art to build a narrative. My works point at the centre of these issues and aim to uncover them to my viewers.
I try to reach beyond the borders, language, religions and traditions, regarding human beings as creatures of the earth, sharing the same feeling and emotions. I get my ideas from a number of sources, like the news, television documentaries, literature and films. I then compose photographs and drawings based on these in a work of art and begin working, staying loyal to the main concept yet improvising things along the way.
All of these work together to create a painting that tells a story. The content is serious but I am always searching for ways to present it in a satirical and ironic way in order to point out absurdity