S Gallery # Pongsakul Chalao
April 22, 2015 @ 6:00 pm
June 6, 2015 @ 9:00 pm
ICT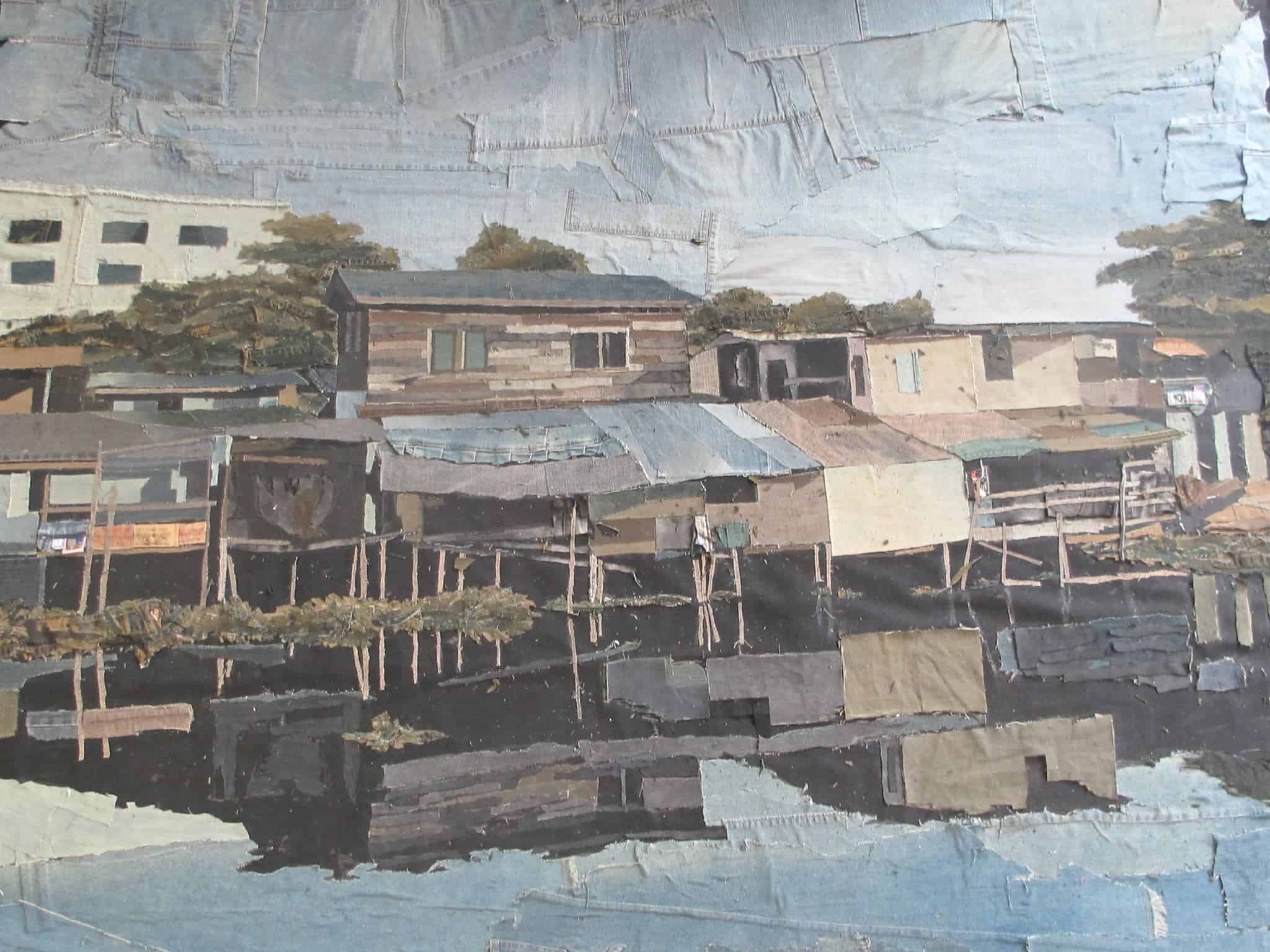 Dear friends, collectors and art lovers,
We are pleased to announce the opening of a new solo show at S Gallery (Sofitel Sukhumvit) in honor of Thai artist Pongsakul Chalao.
Please join us for the opening on the 22nd of April, the opening ceremony will start at 6:00pm. Blue Jeans cocktails will be served during the event.
Kind regards
S gallery Team
+33 93 582 6588
[email protected]
Sofitel Bangkok Sukhumvit
189 Sukhumvit Road Soi 13-15
Klongtoey Nua, Wattana
Bangkok, Thailand
Opening hours 10am-10pm
Pongsakul Chalao's : Tangled up in blue
Exhibition co-curated with Julie Camdessus
Thai artist Pongsakul Chalao, 27, has been collecting jeans for ten years. They are cut and torn in pieces he uses to puzzle landscapes of his thoughts. Provoked by the socio-cultural scene of Bangkok and its surroundings, he mirrors these ideas through all possible hues and tones of denim.
Bunditpatanasilpa Institute of Painting is where he studied, but fabric collage is a self-taught practice. Medium of both technique and concept, the blue piece of clothing, epitome of casual wear transcends all generations, cultures, styles and classes. The artist questions and reinvents the nature of the material. He considers the possible boundaries between abstraction and reality, notions of the East and the West, wealthy and impoverished.
Pongsakul Chalao is tangled up in blue, a blue that once colored Joan Miró's dreams. While listening to Bob Dylan, he intensifies the hues and contrasts of light and shadow, his sewing machine outlines and immortalizes the quest of an intangible landscape. A beauty found in the mundane, pictures that we come across every day but don't always see.
One that is accessible through symbols of globalization in a contemporary world, while juggling with conventions and expectations of what art should be, in a manner that is both subtle and wise.
This exhibition presents his latest works, together with a sewing machine, his substitute for a paintbrush, and the denim, his color. Pongsakul Chalao's denim collages have previously been shown at the Art Center of Chulalongkorn University, V64 art studio and Brownstone Studios.
Located in the heart of vibrant downtown Bangkok, the S Gallery will act as an important cultural portal for art lovers wishing to discover inspirational works in a variety of media by Thai and french artists.
Martin Gerlier, the gallery curator, is a respected art advisor with an in-depth knowledge of the art world in Bangkok, Basel, London, New York, and Paris. As the founder of MoonStar Fine Arts Advisors his portfolio includes prestigious private clients, luxury brands, museums, art fairs, auction houses, and artists.
At S Gallery, Martin Gerlier will present an art programme designed to enhance the experience of each visitor, from the casual observer to the most sophisticated connoisseur or critic. New exhibitions will be hosted every two months and will include works by painters, photographers, sculptors, as well as installation artists.