River City Bangkok – RCB Film Club
September 8, 2018 @ 4:00 pm
September 29, 2018 @ 6:00 pm
BMT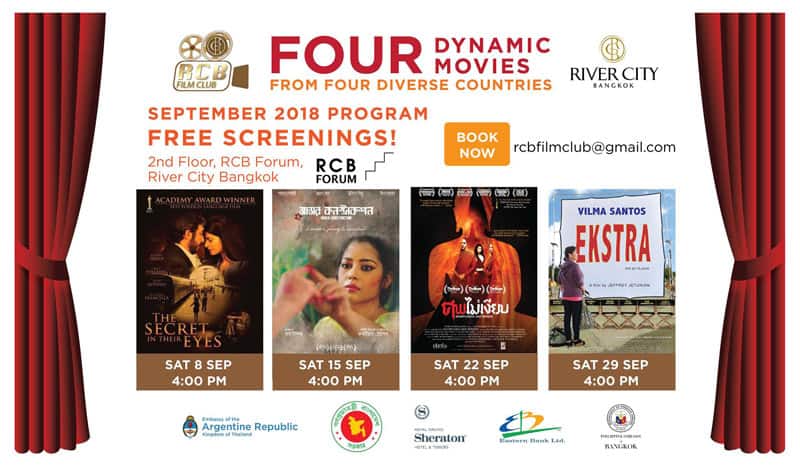 RCB Film Club is proud to present September's four dynamic films by four individualistic Directors. Having all won awards and creating waves at festivals around the world, these films include three from Asia – Under Construction, Mindfulness and Murder, and The Bit Player – and Oscar-winning movie from Argentina, Secret in their Eyes.
We are delighted to screen The Secret in their Eyes by Juan Jose Campanella as our Opening Film; it is one of the most-awarded and talked-about movies from Argentina, having won more than 50 international awards, including the Oscar for Best Foreign Language Film in 2010. It is also the second-highest grossing Argentinian film, in history. In a 2016 poll of international critics for BBC, it was voted 'One of the 100 greatest motion pictures since 2000.' The Secret in their eyes is a riveting crime thriller, legal drama, love story, rolled into one. The unique story centers around a rape-and-murder case which is re-visited 25 years after it was committed. Legal Counsel Benjamin Esposito is obsessed by the case not being solved and decides to write a fictional book about it, for which he visits his boss, Judge Irene Mendez Hastings. It revives old events, feelings, memories. It also brings to a close to the murder case, in a shock ending.
Our second week's film is from Bangladesh. Under Construction, by Rubaiyat Hossaine, has won prestigious awards and accolades at numerous festivals around the world; it was screened at more than 30 film festivals around the world and had an international release, including seven cities in France. Under Construction is a woman-centric film, where apart from the characters being mostly women, the crew members were also female, as the Director strongly believes in the strength of woman-power. The film delineates woman-power through the character of Roya, who tries to break out of stereotypes, both in her personal life as a middle-class housewife and in her professional life as a stage actress. She does not want to be a typical housewife at home, including having a child, which disturbs her otherwise-cool husband. The only person who seems to understand her is the US-based theatre curator Imtiaz, and they are strongly drawn to each other. Two other women characters, including her fiercely independent mother, and her strong-minded maid, make the film more interesting. There are dream sequences, surreal images, and the film works on a symbolistic level as much as the real one. It is a unique and exciting artistic endeavor from Bangladesh.
Following Under Construction, is Mindfulness and Murder by Thai-Irish filmmaker Tom Waller. Not only will the film be screened, by there will be a Q & A session following the screening with the Director, as well as Lead Actor, Vithaya Pansringarm. Based on the 'Father Ananda Mystery' novels by noted Bangkok-based American author Nick Wilgus, the movie is a mixture of a crime thriller and religious drama. The film opens with the corpse of a young, homeless monk found in a Buddhist monastery. As the cops don't seem to be too bothered, Father Ananda of the monastery, formerly a homicide detective, decides to investigate. The tension remains high till the end, as everyone in the monastery seems suspect. It is an edgy and controversial movie made in 2011; it not only got a public release in Bangkok but was nominated for five National Awards. It was also screened internationally in more than 20 film festivals around the world. We are delighted that the Director of the film Tom Waller and lead actor Vithaya Pansringarm, who have both done many international productions, will attend the screening and do a Q & A, after the screening.
As our closing film, The Bit Player (Ekstra) by well-known Jeffrey Jeturian will be screened, also followed by a Q & A with the Director after the screening. This is a memorable movie from the Philippines, which was both a critical and commercial hit, winning many local awards as well as Audience Awards at several film festivals around the world. The movie stars Vilma Santos, one of the top actresses of the country, who has acted in more than 200 movies. In the film, the famous actress plays the role of a 'bit player', the lowest category of artists in a film-unit, who is willing to say or do anything just to get a 'bit' role in a film. It is a funny, moving, thought-provoking story that balances between an energetic comedy and a moving drama. We are delighted that the director of the film, JEFFREY JETURIAN, will attend the film screening, and do a Q & A, after the screening.
For reservations, please contact:
[email protected]