Philips Hong Kong – Faye Wei Wei – Neon spark
April 17, 2019 @ 8:00 am
May 31, 2019 @ 5:00 pm
HKT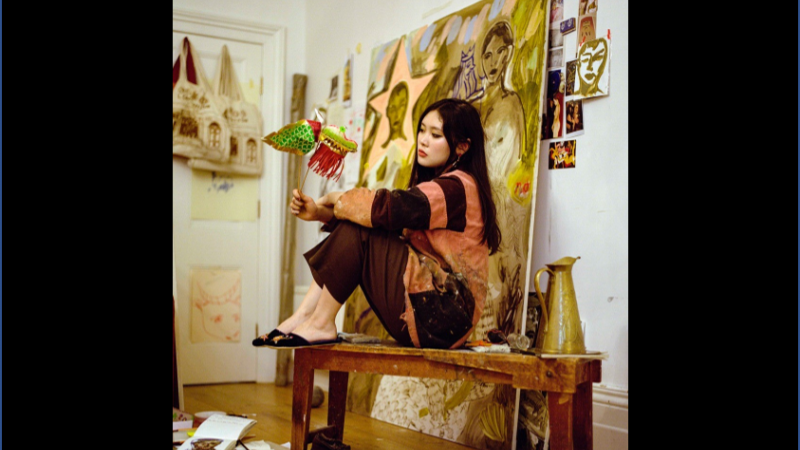 About the exhibition
The British Council has collaborated with Phillips, the leading contemporary art auction house, to create a unique programme, Neon Spark, featuring the work of emerging British Chinese artist Faye Wei Wei, bringing to life the iconic Hong Kong art of neon sign making. This commissioned artwork, Frail Silver of The Climbing Stars was first exhibited as a centerpiece at SPARK: The Science and Art of Creativity (SPARK), a three-day festival of ideas curated by the British Council in Hong Kong in January 2019.
The artwork is now on display at British Council's Hong Kong office until June 2019. This will be followed by a charity auction co-hosted by Phillips and the British Council. Proceeds from the sale will help establish a new British Council project to develop and nurture young creative talent in Hong Kong.
Duality is a theme that ran throughout the SPARK festival, from science and art through to collaboration between Hong Kong and the UK, or simply through the use of two languages (English and Chinese). The artist Faye Wei Wei embodies this duality – being British of Chinese descent – and the artwork which she has designed also reflects this theme by combining the skill of a fine artist with that of a technician working with neon, glass, and electricity.
The choice of neon as a medium is highly symbolic for Hong Kong, which was once famous for its illuminated street signs. With the development of new technologies, neon sign making is a dying art; Frail Silver of The Climbing Stars pays homage to the creativity and skill of the artisans whose work once lit up the city's streets.
Details
On display from now until June 2019
British Council – 1/F, 3 Supreme Court Road, Admiralty, Hong Kong
Opening hours:
09.00 – 21.00 Monday – Friday
09.00 – 20.00 Saturday
09.00 – 18.00 Sunday
Free admission
Visit the artwork and share your thoughts with us. We encourage any photos on social media to tag our social media channels:
Facebook: #BritishCouncilHongKong
Instagram: @britishcouncilhk
Twitter: @hkBritish
About the artist
British painter Faye Wei Wei's bold, poetic works quiver with a lively, lyrical motion, combining classical poise with vibrant immediacy. Working on a large scale, Wei Wei conceives of the painting process as an intimate choreography between actual and pictorial space. Often revolving around spiritual iconography and classical myth, love rituals and the theatricality of gender, her works sometimes suggest the themes of particular mythic narratives, and at other moments seem to depart into a more ambiguous, interior space of incongruity and uncertainty.
Stateliness coincides with brute force and pastel softness; symbols seem to shake free of their moorings and float, surrealistically, on the liquid expanse of a dream. The scenes might be imagined, but the energetic, bold brushstrokes, executed in thin layers, suggest something actually witnessed, balanced on the edge of reality.
Faye Wei Wei graduated from the Slade School of Fine Art in 2016, where she was awarded the Cass Art Painting Prize. Recent and upcoming solo exhibitions include 'Sweet Bitter, Valentine', SADE Gallery, Los Angeles, USA (2018); 'CFCCA Presents: Faye Wei Wei', Centre For Chinese Contemporary Art, Manchester (2018); and 'Anemones and Lovers', Cob Gallery, London (2017). She has featured in group shows including 'Dreamin' Wild', Keteleer Gallery, Antwerp (forthcoming) (2018); 'NEW WORK PART III: SUBJECT', Cob Gallery, London (2018); 'Rhapsodies', PingPong, Brussels, Belgium (2018); 'Asthenia No. 06', Hot Wheels, Athens (2018); 'The Clarkory Show', Museum Gallery, Brooklyn (2018); 'Into Rapture', Barbara Feinman Gallery, Los Angeles (2018); 'Marzanna, Yours Again', Hot Wheels, Athens (2018); 'To a God Unknown', Mrs. Gallery, Queens (2017); 'Eclectic Dreamers', Siegfried Contemporary, London (2016); Summer Blue, Lychee One Gallery, London (2016), 'Winter In America', Moms Favorite Space, California; and 'FBA Futures', Mall Galleries, London (2017). She completed the Hoy Hoy residency in New York in 2016.