Perrotin Shanghai – Izumi Kato – Untitled
June 5, 2019 @ 8:00 am
August 27, 2019 @ 5:00 pm
CST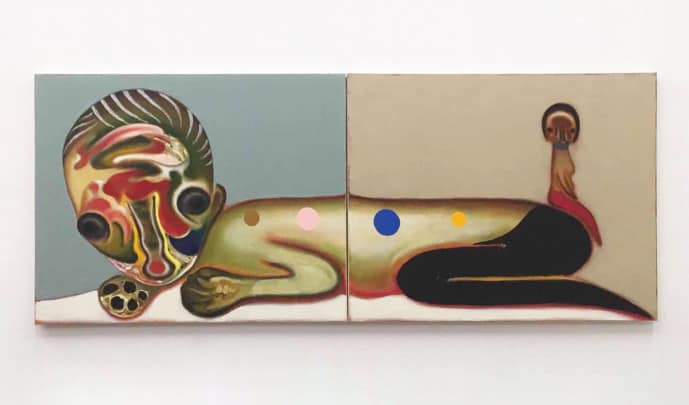 Since the late 1990s, Kato has been creating an evolving dialogue. With painting as a departure point, the artist began to incorporate wood sculptures in 2003 and soft vinyl sculptures in 2012 into his art practice. Kato's signature forms, reminiscent of his childhood drawings, include anonymous silhouettes and sometimes androgynous creatures with elongated limbs in impossible poses. These are the results of the artist's mastery of technique, using his hands to directly apply pigment to canvas to create his otherworldly, anthropomorphized works.
Kato's latest stone sculpture series, which began in 2016, depicts the intimate connection between self, others, and nature. Originally constructed of granite stones collected from a landfill near his coastal studio in Hong Kong, the new sculptures mark a departure from previous works in both form and origin, now locally sourced within Korea.
Kato's figures lead us away from preconceived notions of contemporary sculpture and painting while bringing us back to the belief of art as ritual, bound with the power of primitive imagery, born of the need for communication with each element building upon the next. Similarly, Kato's visual language abounds with references to communication, incorporating the myths and folklore that populate his native Shimane prefecture, a coastal region in western Japan. At the heart of his practice is the Shinto belief that everything – even objects like rocks and wood – contains a spirit.
The stones, neither chiseled nor reconfigured, serve to create a formal link between the natural world and human existence. Here, the influence of the temples and shrines from Shimane is visually conceptualized. With minimal treatment, Kato amalgamates the stones into fractured bodies and paints them in a variety of colors, allowing their grain and texture to remain visible as to offset the vacant facial expression each sculpture exhibits. Kato's art practice is a journey into our own sense of humanity which begins at the point of convergence between imagination and reality. It can perhaps best be understood by the work of French literary theorist and philosopher Roland Gérard Barthes, whose studies refer to the perplexing interpretation of imagery (The Third Meaning) in which he argues that all images have a factual, symbolic and emotional meaning to each viewer. For Kato, it is far easier psychologically to depict the non-human to allow for this narrative to begin.
The non-human forms may seem peculiar – but not because they are unfamiliar, rather it is the opposite. There is something of us in the appearance of them, as there is a feeling of home in becoming lost. Their strange comfort entices interrogation in the same way that we demand concrete meaning from our dreams yet are left with an unconscious understanding which we cannot articulate
About the artist
Izumi Kato was born in 1969 in Shimane, Japan. A graduate of the Department of Oil Painting at Musashino University in 1992, he now lives and works between Tokyo and Hong Kong. Since the 2000s, Kato has garnered attention as an innovative artist through exhibitions held in Japan and around the world. In 2007, he was invited to the 52nd Venice Biennale International Exhibition, curated by Robert Storr. Kato's works have been exhibited in multiple prestigious museums and institutions, including Center Pompidou-Metz, Metz, France; 21st Century Museum of Contemporary Art, Kanazawa, Japan; Hara Museum of Contemporary Art, Tokyo, Japan; Museum of Contemporary Art Tokyo, Tokyo, Japan; Daimler Contemporary Berlin, Berlin, Germany; Moscow Museum of Modern Art, Moscow, Russia; Haifa Museum of Art, Haifa, Israel; Japan Society, New York, US and Tai Kwun, Hong Kong, among others.
Izumi Kato is an artist who began painting after laying down his brush. Eschewing tools, as if to reject any reliance on the flightiness of brushwork, he applies layer upon layer of somber-hued pigment directly with his hands, not so much to paint as to rub the color onto the canvas. In this way, he depicts creatures with human contours, two staring eyes, a head, hands, and feet. Those bold, forceful curves, throwing into relief the human shape, those organic lines, that distortion and simplifying of form, are inevitable products of painting with the hands, and as a result, Kato's works possess a powerful presence that seems to illuminate the core of the human body.
Kato was a relative latecomer to the art world, making his debut at the age of thirty. He had worked as a manual laborer for some years, which left him with the sense of being at one with the world that comes with corporeal achievement, and a humble appreciation of his place as just another creature of this earth. From here he set out on a new journey of engagement with the vast realm of painting. An artist who began with the abstract, he now depicts nothing but human figures.
All Kato's recent works are untitled, and he does not set up any specific model to paint; nor does the draft or sketch. These paintings have no narrative element. They are dialogues, creations arising from a direct, barely suppressible physical urge to touch, a trait given a play by humans since the days of prehistoric cave murals. The figures sealed within the frame of the canvas seem to radiate an enigmatic aura, their undifferentiated bodies encased in thin membranes reminiscent of a budding life form in the embrace of its mother's amniotic fluid. Kato's is the act of capturing life through his body.
In 2005 Kato also turned to sculpture. Deliberately avoiding materials that are easy to mold such as clay and resin, he works only in wood, carving directly. Once again he focuses consistently on human figures, chisel marks and cracks left like idiosyncrasies of the flesh. That he always colors these roughly hewn bodies indicates that for Kato, they are an extension in his painting. Some of his works are equipped with legs or castors resembling those on desks and chairs. Echoing Brancusi perhaps, through the pursuit of the substance of things he has arrived at the simplification of form. He also attempts to explore the possibilities of form in different materials and textures. Through the classical techniques of painting and sculpture, Kato reflects physicality, practicing an unrefined yet direct, shareable, real artistic expression in a contemporary world where virtual elements proliferate.