P.Suwannakudt @ 100 Tonson Gallery Bangkok
October 16, 2014 @ 7:00 pmJanuary 4, 2015 @ 11:00 pm ICT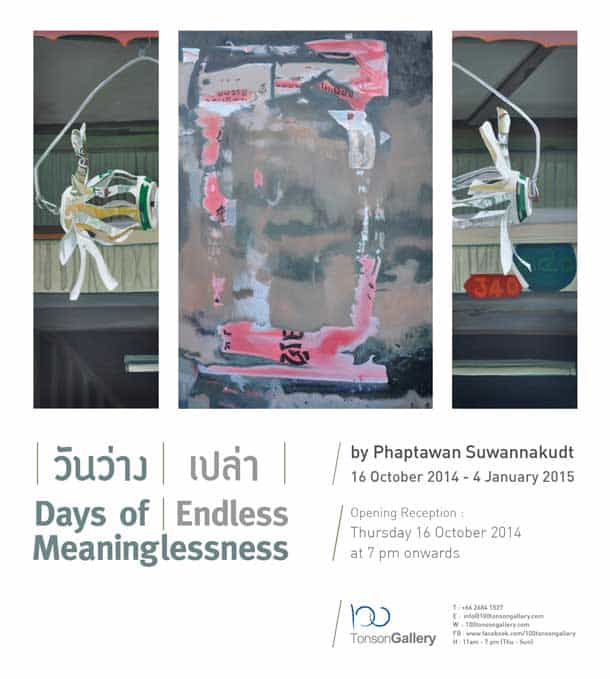 Days of (Endless) Meaninglessness"
by Phaptawan Suwannakudt
16 October 2014 – 4 January 2015
Opening reception: Thursday 16 October, 7pm onwards
100 Tonson Gallery is pleased to conclude the year 2014 with its final exhibition "Days of (Endless) Meaninglessness" by Sydney-based Thai contemporary artist Phaptawan Suwankudt, whose works has been exhibited across the globe over decades of experience. Trained as a Buddhist mural painter, Phaptawan presented her contemporary works in exhibition "Locution-Re-Location" here in 100 Tonson Gallery in 2011. Apart from being active in the organization of women's art in Thailand, Phaptawan was featured in 18th Biennale of Sydney, as well as various group exhibitions in New York, Melbourne and many others.
"Days of (endless) Meaninglessness" explores the underlying layers of content in a set of photographs she took during her return to her hometown, Bangkok, amidst the country's political turmoil of late 2013 to early 2014. Selected photographs are cropped and re-created on canvases with a re-imagined color selection. Despite being chronologically ordered to the date the photos were taken, the works are not meant to depict what happened on that day but an imagined emotional resonance.
The exhibition consists of 5 sets of acrylic-on-canvas triptychs, and will be on view at 100 Tonson Gallery from 16 October 2014 – 4 January 2015
For more information please contact us at +66(0)2-6841527, +66(0)86-884-6254 (Harmish), or via email at info@100tonsongallery.com.