Numthong Gallery – Metrospection
May 27, 2017 @ 6:00 pm
June 30, 2017 @ 9:00 pm
UTC+7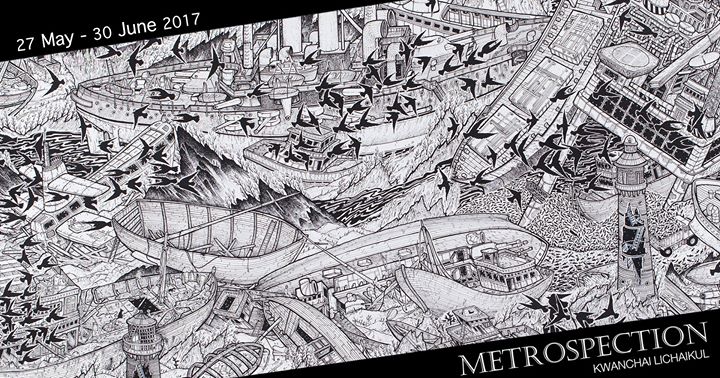 METROSPECTION
By Kwanchai Lichaikul
27 May – 30 June 2017
Opening Reception Sat 27th May 2017 at 6 pm.
Every square inch of the canvas is covered entirely with details of puzzles in images which Kwanchai invites the audience to explore, ponder and contemplate. The lifestyle in urban societies, complex and chaotic. The symbols in the painting utilizes imagery in the form of objects and places, e.g. library, decaying structures, labyrinth, and a flock of birds that watchfully observe what is happening in the city. The artist draws lines, big and small, using brushstrokes in black paint combined with the bird's-eye-view perspective unique to the artist, effectively rendering a lasting impression on viewers.
Metrospection will entice the audience to explore the urban world of Kwanchai to see how the hidden riddles in the image imply the conditions of urban life Kwanchai wishes to convey. The exhibition is open 27th May – 30th June 2017 between 11.00 am to 6 pm Monday to Saturday at Numthong Gallery (Aree 5 – North) BTS – Ari
———
METROSPECTION
โดย ขวัญชัย ลิไชยกุล
27 พฤษภาคม – 30 มิถุนายน 2560
พิธีเปิดวันเสาร์ที่ 27 พฤษภาคม 2560 เวลา 18:00 น.
ทั่วทุกตารางนิ้วบนผืนผ้าใบมีรายละเอียดปริศนาในภาพที่ขวัญชัยชวนให้ผู้ชมสำรวจ คิดและพิจารณาวิถีชีวิตในสังคมเมืองที่มีความสับสนอลหม่าน สัญลักษณ์ที่นำมาใช้ในงานจิตรกรรมมีการอุปมาอุปมัยด้วยภาพของวัตถุ สถานที่ อย่างห้องสมุด สิ่งก่อสร้างที่ผุพัง เขาวงกต และกลุ่มนกที่เฝ้ามองสถานการณ์ต่างๆ ในเมือง ศิลปินลากภาพด้วยเส้นพู่กันสีดำขนาดเล็กใหญ่ ประกอบกับมุมมองภาพวาดแบบ Bird Eyes' View อันเป็นเอกลักษณ์ของศิลปิน ทำให้ผู้ชมจดจำได้เป็นอย่างดี
นิทรรศการ Metrospection จะชวนให้ผู้ชมมาสำรวจเมืองของขวัญชัย ว่าปริศนาของสิ่งที่แอบซ่อนอยู่ตามจุดต่างๆ ในภาพได้บ่งบอกถึงสภาพของเมืองที่ขวัญชัยต้องการถ่ายทอดอย่างไร
นิทรรศการเปิดให้เข้าชมตั้งแต่วันที่ 27 พฤษภาคม – 30 มิถุนายน 2560 ตั้งแต่เวลา 11:00 – 18:00 น. ทุกวันจันทร์ – เสาร์ ที่ นำทอง แกเลอรี ซอย อารีย์ 5 (ฝั่งเหนือ) BTS – อารีย์
———
???? https://www.gallerynumthong.com
???? [email protected]