Nowhere End 8 + Photo Exhibition @ Goja
November 1, 2014 @ 8:00 pm
12:00 am
ICT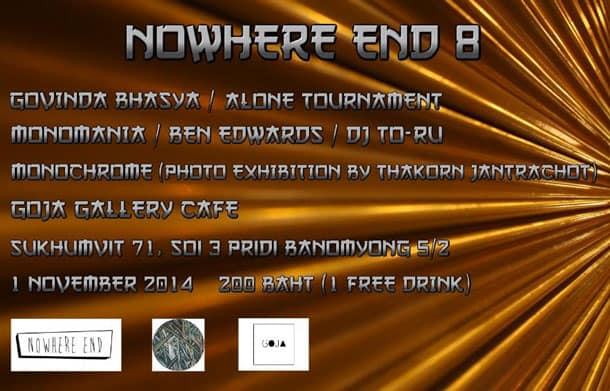 Make your way to NOWHERE END 8 @ Goja Bangkok
Saturday night, filled up with superb sound of semi electronic world music, alternative, folk, rock & roll, plus we've got also photo exhibition.
Come early, we're going to warm up with DJ Toru spinning distinguish tunes.
Enjoy the night in anyway you like, responsibly.
Support your local artists. Ticket 200 Baht (1 free drink).
Schedule:
8:00pm
DJ TO-RU
DJ TO-RU is a Japanese DJ from Sendai City. He just takes on quality music regardless of genre and attracts people with his flexibility, creativity and dynamism worldwide.To-ru has been based in Bangkok since 2009 and pursuing his music career energetically.
9:00pm
Govinda Bhasya
Govinda aka Nop, is a sitarist that does Indian classical music as well as Eastern fused ambient, downtempo, chillout music
9:45pm
Alone Tournament
Experimental for art & freedom ,Folk & India Session
10:30pm
Ben Edwards
https://www.facebook.com/ben.edwards.9634
Ben Edwards is an Australian artist and musician currently based in Bangkok, where he plays with the bands Plastic Section and Basement Tape. Ben writes songs that are mostly influenced by the raw roots of rock 'n' roll 'n' rhythm 'n' blues, often with a sprinkling of flavour that could come from anywhere, from an old psychedelic Bollywood soundtrack to a moment of Morricone madness. Lyrically, Ben's songs usually reflect on the world around him in an amused, sardonic or occasionally optimistic way. Rock 'n' roll with a touch of surrealism.
11:15pm
Monomania
Monomania is an Alternative/Indie/Rock band who passionate in ambient or noise sound with a combination of electronic music. If describing on Monomania's music, it will be like a unique atmosphere with its chill and scary in the music. Sometimes, they do love to play the music in the way of crazy, break of their mind but they also try to do it in the way of creativity. They do not like to limit themselves so this can always make them so excited and fun especially on their music.
Monochrome photo exhibition by Thakorn Jantrachot
This exhibition theme is Black&White Photography. But the name Monochrome actually means a color or a shade of a color. So in this exhibition all the photo use are in Black&White and have a nice shade of the color that make it show the true beauty of Black&White Photography. All photo can separate in to 3 subject.
1. Landscape
2. Life
3. Still Life&Arts
All photo are printed in Fine Arts quality with a beautiful matte paper.
GOJA
Modern Art Museum, Dive Bar, Cafe. Located in the heart of Bangkok city, 5 minutes walk from BTS Phrakanong station.
RhuBarb & CusTard
EVENTS , ART , LIVE MUSIC and SOUL FOOD