National Gallery Singapore – Near Equal Kusama Yayoi – I Adore Myself
August 5, 2017 @ 3:00 pm
August 6, 2017 @ 5:30 pm
UTC+8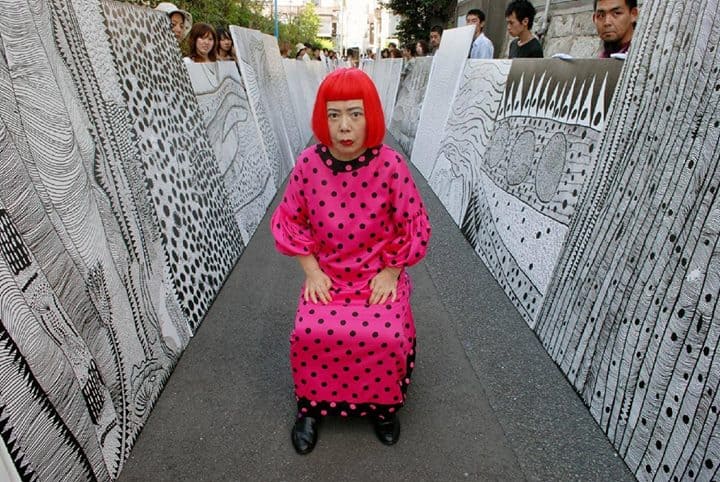 NEAR EQUAL KUSAMA YAYOI – I ADORE MYSELF
By Takako Matsumoto
Japan | Japanese with English subtitles | 2008 | 104 min | NC16
The screening includes a post-show Q&A with director Takako Matsumoto and exhibition curator Russell Storer.
This documentary observes avant-garde artist Yayoi Kusama at work as she completes a series of 50 large monochrome drawings entitled Love Forever for an exhibition in New York, and which is now also on show in the first major survey of her work in Southeast Asia at National Gallery Singapore. While doing so, she makes cameo celebrity appearances on television, and receives her country's pre-eminent cultural award–the Praemium Imperiale–from the emperor.
Filmed over a period of 18 months, director Matsumoto gets up close and personal with the artist. Through casual interviews, conversations between Kusama and her assistants, and even poetry recitations, the film offers an intimate portrait of a remarkable artist whose eccentricities, self-obsession and intense dedication continue to intrigue the world today.
Near Equal Kusama Yayoi – I Adore Myself has won the JAPAN CUTS Audience Award (USA, 2008) and the CAMERA JAPAN Audience Award (Netherlands, 2008).
DIRECTOR
Born in Kanagawa, Japan, Takako Matsumoto is an award-winning television documentary filmmaker. Her career began when Chako's Apa-toru Story, her project at the Tokai University Cinema Study Group, won an award at the Pia Film Festival (Japan, 1982). After meeting Yayoi Kusama in 1996, she has dedicated her time to filming the artist, producing television programmes, feature films, and exhibition videos. Near Equal Kusama Yayoi – I Adore Myself is her first feature film.
This film programme is held in conjunction with the exhibition YAYOI KUSAMA: Life is the Heart of a Rainbow, which runs from 9 June to 3 September 2017 at National Gallery Singapore.
Programme Details
05 Aug 2017 – 06 Aug 2017
03:00 PM – 05:30 PM
City Hall Wing, Level B1, The Ngee Ann Kongsi Auditorium
Film
Free (registration required)
Doors open at 2.45pm for registered patrons.
Update: Screenings are now fully booked but visitors without a confirmation email can join the stand-by queue. Admission will begin 10 minutes before the screening on a first come, first served basis as seats become available.