Monochrome Photography @ GOJA Bangkok
October 17, 2014 @ 7:00 pm
November 9, 2014 @ 12:00 pm
ICT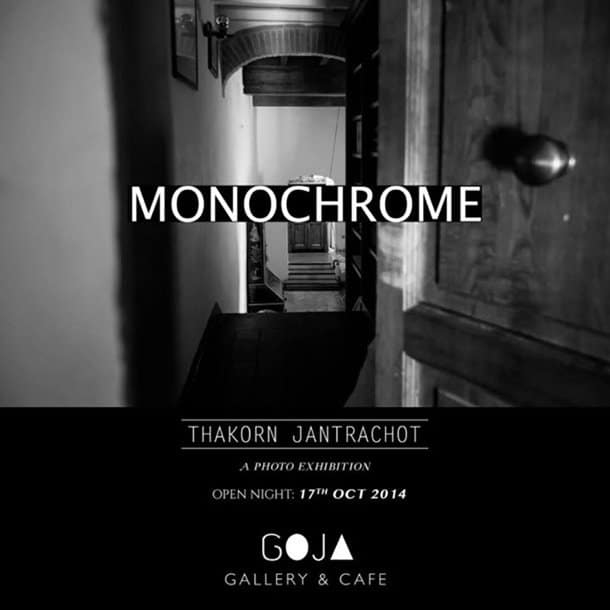 This Exhibition Theme is Black&White Photography.
But the name Monochrome actually means a color or a shade of a color. So in this exhibition all the photo I use are in Black&White and have a nice shade of the color that make it show the true beauty of Black&White Photography. All photo can separate in to 3 subject.
1. Landscape
2. Life
3. Still Life&Arts
All photo are printed in Fine Arts quality with a beautiful matte paper.
ชื่อ ฐากร จันทรโชติ (Thakorn Jantrachot)
age : 23
born : 3 july 1991
Graduate in Photography career program from Florence University of Arts, Florence, Italy in 2013. Started a photography career 4 years ago in Thailand, and move to Italy to study Photography. his work are published in Florence local magazine and books. later he became Co-Founder of Banroobparb a Photography school in Bangkok.
4years ago I went to college in business program, after 3 years of struggling try to study something I don't like at all. I decided to dropout from the college and went to Florence, Italy to study about Photography. Well I've no clue what is photography at all in the past until 6 years ago while I am in second years of highscool. At a time I saw my friends play with a digital camera(if I remembered it correctly it was nikon D50) and so I have my first experience with a DSLR camera and it make me in love with taking photo. Since i've been using a small compact camera and it doesn't give you much freedom to play with the picture as a DSLR did. But then I learn that I only have a 35mm film camera at home, so I begin with that for 2 years. Until I graduate I got my first DSLR camera it's Canon 50D. And that where I really start to study about photography, but I got into a business college so can only study by reading books and try everything I can to learn more about Photography. Until last year I realize that this is what I love, what I can devote my life doing it, so I decided to go to Italy to study in Photography to learn more of what I love. And here i'm, A proud photographer not so good but really love photography.
ชื่อ ฐากร จันทรโชติ (Thakorn Jantrachot) fb page
https://www.facebook.com/ThakornPhotography
https://www.facebook.com/banroobparb
GOJA fb page
https://www.facebook.com/gojaphrakanong
GOJA instagram
https://instagram.com/gojaphrakanong