Modern Gallery # Art Exhibition # Daeng Buasan
November 25, 2014 @ 6:00 pmDecember 31, 2014 @ 9:00 pm ICT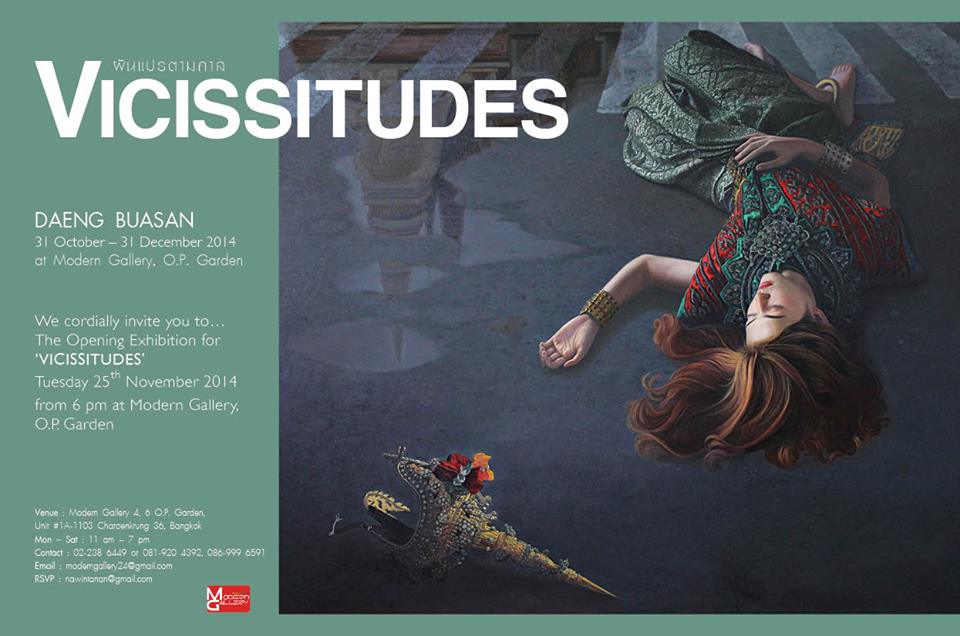 Opening Exhibition for VICISSITUDES, Tuesday 25th November 2014 from 6 pm at Modern Gallery
O.P.Garden (Chareonkrung 36)
VICISSITUDES art exhibition by Daeng Buasan
31 October – 31 December 2014 At Modern Gallery, O.P. Garden
On Tuesday 25th November, Daeng Buasan will be winding back the clock on Thai Culture and Society, and he wants you to tell him what you see and feel with your own heart in his new, touching exhibition, Vicissitudes.
Buddhism tells us that nothing is permanent and that change is the only ever constant. Now, over the years, whether those changes in Thai Culture and Society have been for better or worse, Daeng Buasan's exhibition does wish to say. But rather, he wants to invite you in and give you the chance to pause, reflect and open your heart. So, come and tell Daeng Buasan what your hearts says.
Fascinated by Buddhist Art at an early age, and inspired by its philosophies, Daeng Buasan, is a suburban kid at heart, who started out as a mixed media artist, but now focuses solely on oil and acrylic painting.
Venue : Modern Gallery
4, 6 O.P. Garden, Unit #1A-1103
Charoenkrung 36, Bangrak, Bangkok
Mon – Sat 11 am – 7pm
Contact : 02 238 6449, 081 920 4392
Email : moderngallery24@gmail.com
——————————————————————-
นิทรรศการ "ผันแปรตามกาล" โดย แดง บัวแสน
31 ตุลาคม – 31 ธันวาคม 2557 ณ โมเดิร์น แกลเลอรี
เย็นวันอังคารที่ 25 พฤศจิกายนนี้ ศิลปินหนุ่มฝีมือจัด แดง บัวแสน จะพาคุณย้อนกลับสู่รากเหง้าวัฒนธรรมไทยอีกครั้ง ทว่าเป็นการสะท้อนผ่านมุมมองสมัยใหม่ในสังคมยุคปัจจุบัน กับนิทรรศการชิ้นงาม "ผันแปรตามกาล" ที่เจ้าตัวนึกอยากให้ผู้ชมได้ลองสัมผัสและตีความตามเสียงหัวใจของคุณเอง
ศาสนาพุทธกล่าวไว้ว่า ไม่มีสิ่งใดเที่ยงแท้แน่นอนหรือจีรังยั่งยืน และการเปลี่ยนแปลงนั้นก็เกิดขึ้นทุกๆ ขณะ หากแต่การเปลี่ยนแปลงที่เกิดขึ้นกับวัฒนธรรมและสังคมไทยจวบจนปัจจุบันนั้น ไม่ใช่สิ่งที่นิทรรศการของ แดง บัวแสน อยากบ่งชี้ว่าดีหรือแย่ ตรงกันข้ามศิลปินอยากเชื้อเชิญคุณให้เข้ามาในงานศิลปะของเขา เสพอย่างช้าๆ เปิดมุมมองและหัวใจให้กว้าง…แล้วช่วยบอกศิลปินด้วยว่า หัวใจของคุณคิดเห็นอย่างไร
แดง บัวแสน เป็นเด็กต่างจังหวัดที่หลงใหลในงานพุทธศิลป์มาตั้งแต่ยังเล็ก และมีพุทธปรัชญาเป็นแรงบันดาลใจสำคัญ เขาเริ่มต้นอาชีพศิลปินด้วยงานศิลปะสื่อผสม แต่ปัจจุบัน แดง บัวแสน หันมาจับงานจิตรกรรมที่ใช้สีน้ำมันหรือสีอะคริลิกแต่เพียงอย่างเดียว
…มาพินิจความงามด้วยหัวใจ กับเรื่องราวและกาลเวลาที่ไม่เคยหยุดผันแปร…