Madera Hotel Hollywood – In the Deep Provence
May 16, 2017 @ 8:00 pm
June 15, 2017 @ 6:00 pm
UTC+8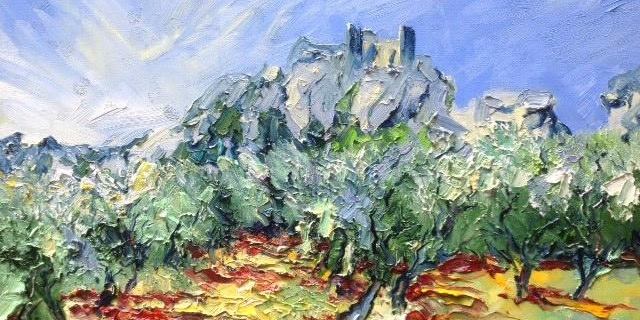 During the season of Le French May Art Festival in Hong Kong, Accidental Art is proud to present the solo exhibition of Denis Ribas, an outdoor landscape painter from Provence, France, in collaboration with Hyperion Art.
The uniqueness and sincerity in Denis's artworks are highly valued by the art critics and collectors.
Event Details:
Exhibition: May 16 – June 15, 9am – 8pm every day
Address: 3/F, Madera Hotel Hollywood, 53 Hollywood Road, Central, Hong Kong
VIP Night:
- May 16 (Tuesday) 8pm-9.30pm
- Artist present!
- With refreshments served
VIP Preview:
- May 17 (Wednesday) 11am-6pm
- Artist present!
Accidental Art Weekend Escape Series No.1:
- May 20 (Saturday) 4pm-6pm
- Movie watching "Painted with Words"
- With refreshments served
正值法国五月艺术节,撞艺术携手知名的海伯里安文化艺术,带来撞艺术的"第一次"策展——倾情推出被誉为最值得收藏的"普罗旺斯风景画最后一人"的法国艺术家Denis Ribas个人展览。
他作品中展现的原创性和真诚度为他赢得了大量艺术评论家和收藏家的关注。
活动详情:
展览日期:5月16日至6月15日 每天早9点至晚8点
地点:木的地酒店三楼Madera Hotel Hollywood,香港中环荷李活道53号
VIP之夜:
- 5月16日(星期二)晚8点至9点半
- 艺术家在场!
- 有酒水小食提供
VIP预展:
- 5月17日(星期三)早11点至晚6点
- 艺术家在场!
撞艺术周末南法避暑系列之No.1:
- 5月20日(星期六)4点至6点
- 观赏电影梵高:画语人生 (Painted with Words)》
- 有酒水小食提供