Lumenvisum – Contrast
May 20, 2017 @ 3:00 pm
May 25, 2017 @ 7:00 pm
UTC+8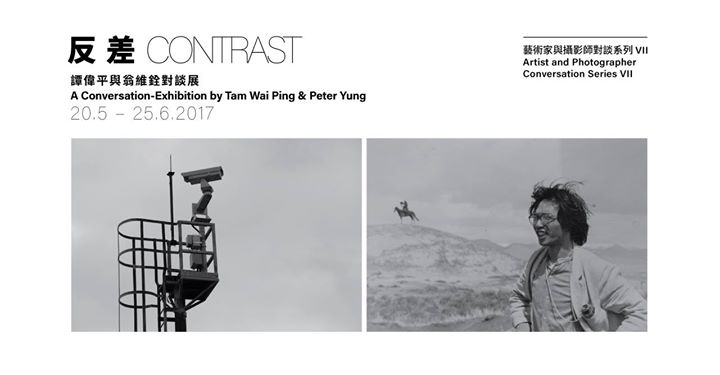 Lumenvisum initiated the Artist and Photographer Conversation Series in 2011 to serve as a platform for cross-disciplinary dialogue, each time conjuring a collaborative exhibition as the creative outcome.
"Contrast" is the seventh edition of the Artist and Photographer Conversation Series. In the last half a year, veteran photographer, producer and director Peter Yung and multifaceted visual artist Tam Wai Ping have engaged in deep dialogues on their artistic ideas and practices. Both eminent artists in their own fields, they have found kindred spirits in each other in their sharing towards photography and creative process. In the exhibition, Yung and Tam attempt to demonstrate their own photographic approach over the years through different series of works.
Exhibition period: 20.5 – 25.6.2017
Opening reception: 20.5.2017 (Sat) 5-7pm
Artist's talk: 20.5.2017 (Sat) 3-4:30pm
About the Artists:
Tam Wai Ping
TAM Wai Ping, born in Hong Kong. Graduated from University of Reading in 1991, and completed his postgraduate study from the Slade School of Fine Art, University College of London in 1995. He serves as an Associate Professor in the Department of Fine Arts of The Chinese University of Hong Kong.
Tam Wai Ping's early work "My Real Life Series" explores the definition of reality and records the complexity of individual life, instigating the ideas of "Truth". Second Reality attempts to exemplify "Real", which is, the situational difference between "Fact" and "Reality". In face with the hardships of reality, Dream is a self-experience through observation of the lives of others, and invokes one's observation towards others and society at the same time. Temple and Life Pilgrimages have been exploring the relationship between "Individual and Land" that attempts an insight into history and modern life, leading to the investigation of modernity in Asian values. The recent interest looks at the relationships between "Text", "Object" and "Image", it re-evaluates how art can serve as a cognitive experience.
Tam works in various media, and is notable for his photography, installation and environmental art. His works have been exhibited in Hong Kong, China, Taiwan, Macau, Japan, South Korea, Sri Lanka, the Philippines, Australia, United Kingdom, France and USA.
Peter Yung
Peter Yung was born in Hong Kong, is a distinguished photographer and filmmaker. He was educated at the Los Angeles Arts Centre College of Design and studied under Hollywood cinematographer and two-times Oscar winner, James Wong Howe. He has staged seven one-man photographic exhibitions sponsored by prestigious art and cultural organizations and has also published five books. His first publication "Termination" (1980) was added to the Hong Kong Heritage Museum collection in 2000. The other four books published by Oxford University Press are "Xinjiang – The Silk Road: Islam's Overland Route to China" (1986), "Autumn Floods" (1989), "Bazaars of the Chinese Turkestan" (1997) and "Angkor the Khmers in Ancient Chineses Annals" (2000).
As filmmaker, Peter has made documentary films about a wide range of subjects, from the life of old Chinese community in Northern California to the wildlife and primitive tribes in Indonesia, New Guinea and Tibet, from drug and smuggling in Hong Kong, to opium warlords such as Khun Sa and Lo Hsing Han in Burma and Golden Triangle.
He has also made his mark in and out of China over the years and has produced, directed and co-written five feature films which has been featured at the Berlin International Film Festival, Los Angeles Filmex, the Manila Film Festival, the Canada Film Festival, India Film Festivals as well as the Hong Kong International Film Festival.
Docent-guided visits available for groups. Please contact us for details.
L2-10, JCCAC, 30 Pak Tin Street, Shek Kip Mei, Kowloon, Hong Kong
Opening Hours
Tuesdays to Sundays 11am – 1pm; 2 – 6pm
Closed on Mondays and Public Holidays
Enquiries
852. 3177 9159
[email protected]
https://www.facebook.com/lumenvisum.hk
https://www.lumenvisum.org
————————————————————————————
無論是作為記錄的工具,抑或作為創作媒介本身,攝影在當代藝術領域一直佔有重要地位。藝術家與攝影家對影像各有不同的思考與處理,兩者雖未至於南轅北轍,但當中的距離實值得探索和討論。
光影作坊自2011年起,每年一度舉辦「藝術家與攝影師對話」,每次挑選一位攝影家與一位非攝影為本藝術家作深入對談,藉推動跨界對話,激發不同領域之間的思想與創作交流,同時為香港的藝術發展經驗留下軌跡。「對談展」至今已是第七回舉行,而本年度獲邀進行對話的分別為集攝影家、製片人、導演於一身的翁維銓、及擅長以不同媒介創作的視覺藝術家譚偉平。
兩位各具豐碩成就的藝術創作者,對藝術實踐有不同的執著及關懷。他們經歷超過半年的對話,了解及認識彼此創作生涯,又各自分享對攝影、影像、創作的理解,繼而發展成是次展覽「反差」。觀照翁維銓的紀實攝影作品和譚偉平的觀念攝影作品,將引伸出他們多年來實踐的創作視野及意念、以及自身對攝影意涵的歸納。
展期:20.5 – 25.6.2017
開幕酒會:20.5.2017 (六) 5-7pm
藝術家分享會:20.5.2017 (六) 3-4:30pm
關於藝術家:
譚偉平
譚偉平,香港出生。1991年畢業於英國雷丁大學,並於1995年畢業於倫敦大學斯萊迪藝術學院之研究院。現任香港中文大學藝術系副教授。
譚氏的早期創作《我的真實生活系列》探索何謂真實,記錄個體生活的原碼;繼而進入現實的場景 —「二度現實」,尋找事實與現實之間的差異境況;面對現實的困境,「大夢」是旁觀他人的體驗,是對他人和社會的觀察。透過「廟」和「浮世」的創作,探討「人和土地」的關係,嘗試對歷史和當代生活的了解,也開始對亞洲「現代性」的研究。近年嘗試想像「文本」、「物件」和「影像」之關係,反思藝術如何作為一種認知的體驗。
譚氏以不同媒介創作,其中以攝影、裝置及環境藝術為主。曾於香港、中國、臺灣、澳門、日本、南韓、菲律賓、斯里蘭卡、澳大利亞、英國、法國及美國等地展出。
翁維銓
生於香港,是一名攝影師及電影製作人。1960至1970年代期間於美國加州洛杉磯藝術中心設計學院學習並師承於著名華裔電影攝影大師黃宗霑。翁氏曾獲多個國內外著名藝術文化機構贊助舉辦七次個人展覽及出版五本個人作品集。翁氏的首本出版《總站・終結》(1980) 於2000年獲香港文化博物館收藏。由牛津大學出版社出版的四本作品集分別為《新疆:絲路上的中國情》(1986) 、《秋水圖意》(1989) 、《市集:古絲路上維吾爾族的生活貿易》(1997) 及《吳哥:中國古藉探討的高棉人》(2000)。
作為電影製作人,翁氏製作的紀實電影宏觀的關注世界社會事件。題材由北加州的傳統中國社區生活到印度尼西亞、新幾內亞及西藏的野生動物及原始部落;由香港的毒品走私販毒到金三角的鴉片軍閥。
翁氏多年來於中國及國外行走。其監製、指導及編劇的五部電影分別於世界各地如柏林、洛杉磯、馬尼拉、加拿大、印度及香港國際電影節中參展。
展覽設團體導賞,歡迎查詢。
香港九龍石硤尾白田街30號賽馬會創意藝術中心L2-10
開放時間
星期二至日
逢星期一及公眾假期休館
查詢
852. 3177 9159
[email protected]
https://www.facebook.com/lumenvisum.hk
https://www.lumenvisum.org