Osage Gallery – Landscape Architecture Annual Show
June 22, 2017 @ 10:30 am
June 25, 2017 @ 6:30 pm
UTC+8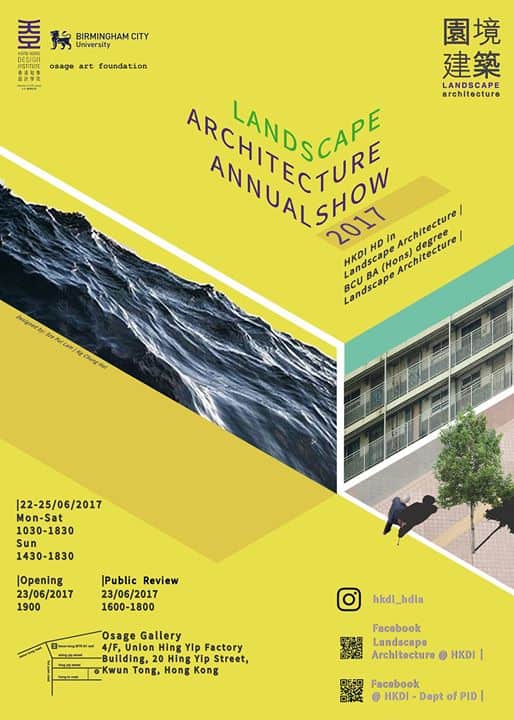 The annual exhibition of landscape architectural projects produced by the Higher Diploma in Landscape Architecture of Hong Kong Design Institute and Bachelor of Arts in Landscape Architecture of Birmingham City University will be held from the 22nd June to 25th June 2017, at Osage Gallery in Kwun Tong. The opening ceremony will be held on the 23rd June (Friday).
The work in this show highlights three issues we face today in the landscape. These are water, the quality of community open space and lifestyle choices for Hong Kong. In some community open spaces it is difficult to arouse public sense of belonging. Landscape Architecture students started from the perspective open space design, studying the existing coastlines, outdoor space and new town development. They discovered the importance of the natural environment, to maintain the balance of natural ecosystem and its ability to inspire variety in public open space design, community interaction and sustainable development.
Hong Kong Design Institute launched the Higher Diplo
ma in Landscape Architecture in Autumn 2012. It is a programme designed to lay a foundation of both design philosophy and technical knowledge for students who intend to pursue the landscape architecture or related professions.
The Bachelor of Landscape Architecture (Hons) is a one-year top-up bachelor degree program organized by Hong Kong Design Institute and Birmingham City University in UK. The programme is accredited by the Landscape Institute in UK.
Opening Ceremony: 7:00 pm, 23 June 2017 (Friday)
Open Forum: 4:00pm – 6:00pm, 23 June 2017 (Friday)
Exhibition:
Date: 22 June – 25 June 2017
Time: 10:30 am – 6:30 pm (Monday – Saturday)
2:00 am – 6:30 pm (Sunday )