Keinn's Solo Exhibition @ Goja Gallery Cafe Bangkok
September 27, 2014 @ 7:00 pm
September 29, 2014 @ 12:00 pm
ICT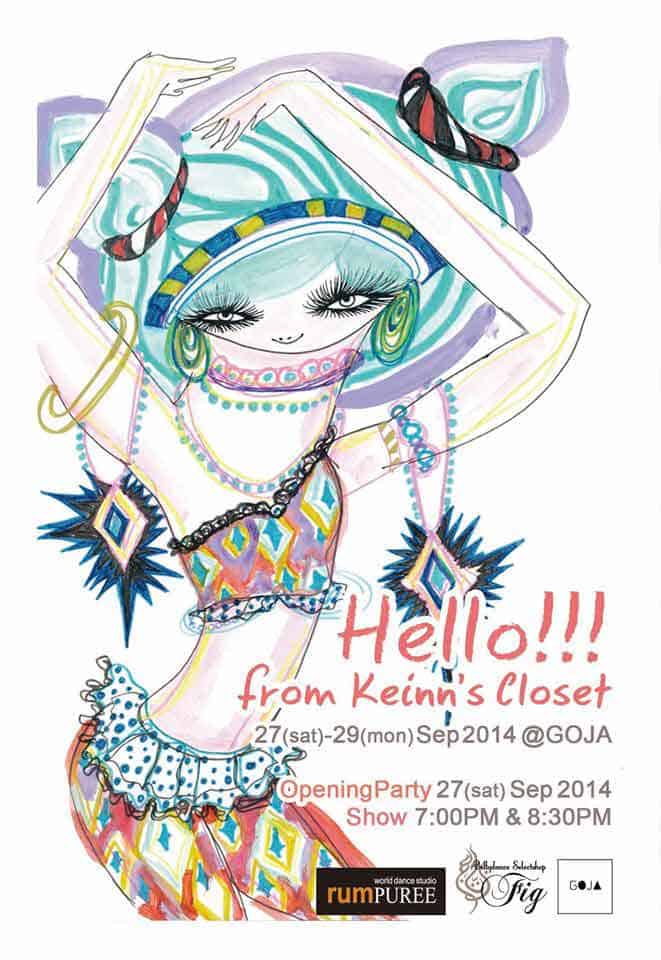 Hello!!! from Keinn's closet -Keinn's SOLO Exhibition in BKK-
Date: 27(sat) – 29(mon) Sep 2014
Opening Party 27(sat) Sep Show 7pm & 8:30pm
Artist Profile:
Keinn(born in Fukushima, Japan) is a Japanese artist,
illustrator, designer, display coordinator and master's
degree holder in formative art from Musashino Art
University, Tokyo.
Her first career as a display coordinator started in 2010,
at a bar called Krishuna in Shinjuku, Tokyo where she
has been working.In 2012, she opened her own clothing
label "Shelooffa" to provide original designed items and
her talents are becoming popular as a set decorator of
several large belly dancing events in Japan.
https://flapco.marineroad.com/keinn.japan/index.html
Opening Party performers:
TIDA
Japanese belly dancer,
teacher, and yoga instructor.
She invited as a guest dancer
to dance festivals in Europe.
Sango
Japanese belly dancer,
fire performer, fusion dancer
and belly dance teacher.
Jodie
Thai belly dancer in Oriental &
Tribal Fusion Style.She teaches
at rumPUREE World Dance
Studio in Amarin Plaza, BKK
Sairaka
French belly dancer &
Tribal fusion dancer,
Sairaka is member of
Raks Rum Puree – Thailand
SHIHO
Japanese belly dancer,
belly dance supply store
owner and event organizer.
Residing in Bangkok.
KUON
President of Project Agni, Fire Dancer.
now performing in many countries including Japan.
Fire Dancing is my Life,my Dream,my Way.
DJ SOLNOWARL
Alternative ambient &
techno deep house DJ
from south part of Japan.
Residing in Bangkok.
GOJA fb page
https://www.facebook.com/gojaphrakanong
GOJA instagram
https://instagram.com/gojaphrakanong