Kalwit Gallery # Wood-Could Exhibition
June 6, 2015 @ 7:00 pmJuly 21, 2015 @ 11:55 pm ICT
Free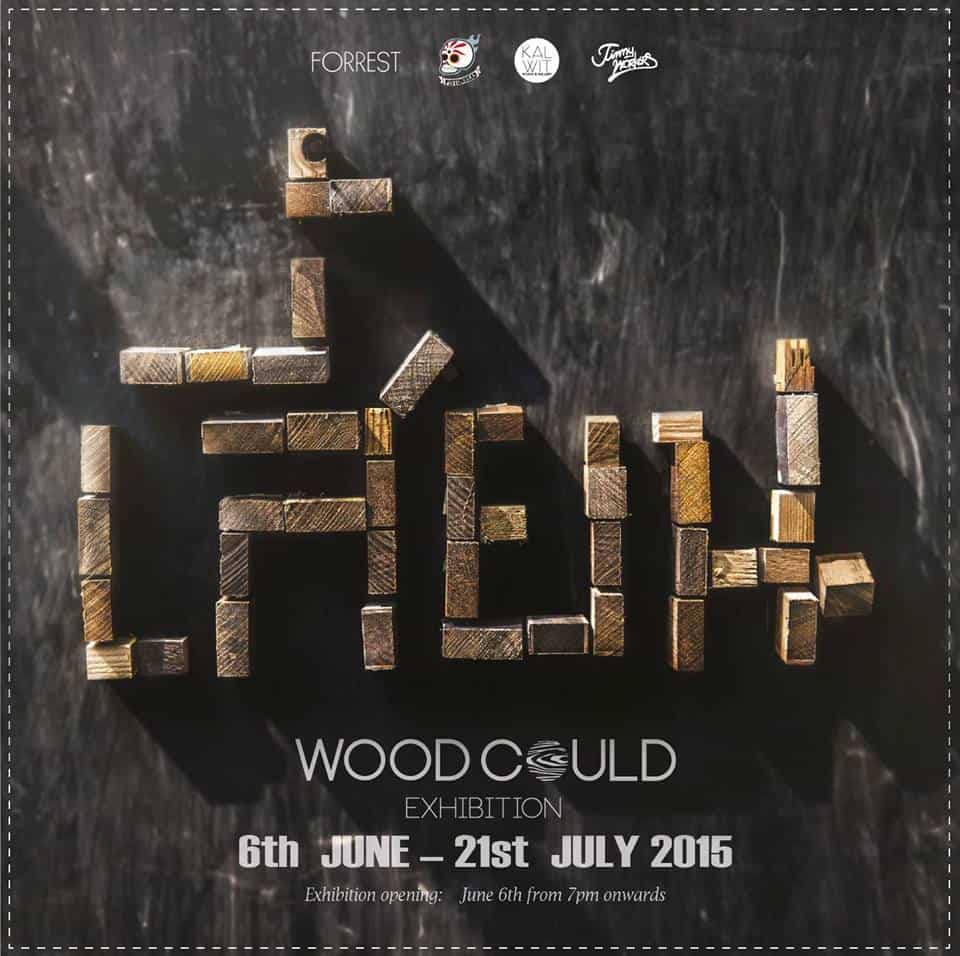 WOOD-COULD group exhibition
6 June – 21 July 2015
Exhibition opening: June 6 from 7pm onwards Opening party sponsored by Pistonhead beer
Wood Could gathers 20 artists around the idea of wood, as a material, coupled with a notion of will and desire, foundation of all the arts. "เสี้ยน" in Thai has a double meaning: Wood splinter and deep desire, poetically echoing the birth of creation.
Given these conceptual elements and standard size wood pieces to each, the artists were then free to manipulate, possess and turn the given material into thoughtful artworks. One common piece, set as a puzzle of wood boards, also has been put together and will be the centerpiece of the show.
Artists from very different fields and horizons have been selected to play this creative game for a more surprising, "out of the box" result and to create a true dialogue.
By giving all selected artists a common base of material and concept, we hope to enhance each artist's personality and imagination.
The exhibition will run until July 21 and we would be very honored by your presence at the opening party, on Saturday June 6th, starting from 6pm, with free beer generously offered by Pistonhead brewery!
SELECTED ARTISTS
1. VorawichRungnuntaporn
2. Rebeccka Vickers
3. EkawatWimonkaew
4. MyrtilleTibayrenc
5. ParichatTanapiwattanakul
6. DeeSweet Drug
7. Myriam Rueda
8. SochuwanInthara
9. Tim Cooper
10. Carra Cooper
11. NutchaSukhapesana
12. ThanwinKamyaem
13. AmnatKongwaree
14. ChaiyaboonBanlue
15. ChatchanokWongvachara
16. NuttaphonSuroyavarakul
17. MongkontuchSittatanakorn
18. KrongkwanBoonamphon
19. PhuwadonThongnoum
20. ArukOrnvilat
นิทรรศการแสดงผลงานศิลปะ "เสี้ยน"
6 มิถุนายน – 21 กรกฏาคม2558
Grand Opening วันเสาร์ที่ 6 มิถุนายน พ.ศ2558 ตั้งเเต่เวลา 19.00 เป็นต้นไป
(อภินันทนาการเครื่องดื่มจาก Pistonhead brewery)
"เสี้ยน" รวบรวมศิลปินดัง 20 ท่าน ที่มาพร้อมความคิดและความมุ่งมั่น ผ่านไม้ที่เป็นวัสดุหลักในการสรรค์สร้างผลงาน โดยชื่อโครงการหรือคำว่า"เสี้ยน" นั้นแปลได้สองความหมาย ได้แก่ เสี้ยนไม้และความเสี้ยน ซึ่งสะท้อนถึงจุดกำเนิดของความคิดสร้างสรรค์
ทั้งนี้ผู้จัดทำให้คอนเส็ปของงาน พร้อมทั้งไม้ขนาดมาตราฐานแก่ศิลปินทุกท่าน หลังจากนั้นถือเป็นอิสระของศิลปินทุกคนในการเปลี่ยนวัสดุให้กลายเป็นผลงานศิลปะที่เปี่ยมไปด้วยพลังความคิด อีกทั้งจะมีการแลกบทสนทนาของ "ความคิดนอกกรอบ" ในวันเเสดงงานอีกด้วย โดยพื้นฐานการมอบวัสดุและคอนเส็ปของงานให้ศิลปินที่ถูกคัดเลือก เราหวังอย่างยิ่งที่จะพัฒนาลักษณะเฉพาะตัวและจินตนาการของศิลปินทุกท่านในอยู่ภายใต้แนวคิดเดียวกัน
สุดท้ายนี้ นิทรรศการเสี้ยนจะถูกจัดขึ้นจนถึงวันที่ 21 กรกฎาคม 2558 ซึ่งจะเป็นเกียรติอย่างยิ่งต่อทีมงานหากท่านสามารถเข้าร่วมงานเปิดเเสดงนิทรรศการ ณ วันที่ 6 มิถุนายน 2558 โดยมีผู้สนับสนุนเครื่องดื่มโดย Pistonhead!
ศิลปินทั้งหมด
1. วรวิช รุ่งนันทพร
2. Rebeccka Vickers
3. เอกวัฒน์ วิมลแก้ว
4. MyrtilleTibayrenc
5. ปริฉัตร ธนาภิวัฒนกูร
6. DeeSweet Drug
7. Myriam Rueda
8. โศจิวรรณอินธาระ
9. Tim Cooper
10. Carra Cooper
11. ณัชชา สุขเพสน์
12. ธันวิน คำแย้ม
13. อำนาจ คงวารี
14. ชัยบูรณ์ บรรลือ
15. ฉัตรชนก วงศ์วัชรา
16. ณัฐพล สุริยวรกุล
17. มงคลธัช สิทธิธนากร
18. ครองชวัญ บุญอำพล
19. ภูวดล ทองนวม
20. อารักษ์ อ่อนวิลัย
For further information please contact:
Passaporn Totes (Nan)
Gallery & Studio manager
Mobile: 086-3213110
E-mail: kalwitstudio@gmail.com
Address: 119/14 Ruamrudee2, Wireless Rd., Lumpini, Pathumwan, Bangkok 10330
DON'T FORGET TO LIKE OUR FACEBOOK PAGE!
https://www.facebook.com/kalwitstudio