JAM # Sethapong Povatong Exhibition
May 15, 2015 @ 7:00 pm
June 12, 2015 @ 11:55 pm
ICT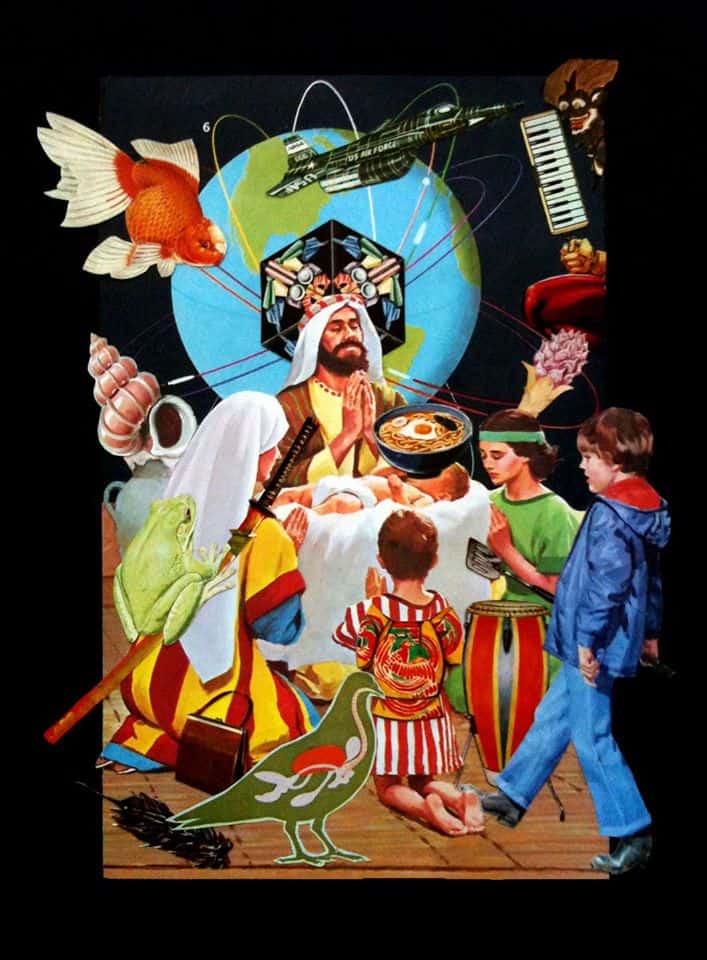 JAM Bangkok SPECTRECULAR – Double O Seth Exhibition
Exhibition of selected works of 'Double O Seth' – Sethapong Povatong from 2011-2015
15 May – 12 June 2015
Internationally renowned cultural remixer, Thai collage artist Sethapong Povatong aka 'Double O Seth'. His work wildly contextualises the dominant narratives of popular culture, history, science, religion, politics – nothing is off limits. Drawing on an extensive library of old encyclopedias and other publications he has been collecting for decades, Sethapong uses the original cut & paste method to create his work.
Having worked at the forefront of popular culture in Thailand, with previous Editor roles of magazines such as FHM and many other magazines, as well as the Art Director of various advertising agencies and Guest Lecturer at universities including Chulalongkorn University, Bangkok University and Silpakorn University. Sethapong still regularly contributes to numerous publications, and lecturers.
►OPENING PARTY DETAILS
7pm – Midnight, Saturday 15 May.
Music by DJ Somarange (Goodcat/Club Soma), DJ Dookie (Go Grrrls/Club Soma), warmup playlist by Double O Seth.
Open Bar 7-9pm.
►SPECTRECULAR
❝These are my collage works I have made between the 2011-2015 years. The various images I used are reflections of my instinct and my mind which interpret the thing happened around me into the vibrant and complex images. I do not want to tell any particular story or concept through them, but I would rather let the audiences interpret by themselves which the result and feel would be different from each other. My life, my art and the way I look at the world are layered in these collages. Hope you enjoy!
Long live collage!
—Double O Seth
►DOUBLE O SETH
Sethapong Povatong uses collage technique to make the new surrealistic scenes with hidden sarcasm & dark humorous tone involving a lot of characters and objects from numerous cultural sources to created and differ the whole context, scenery and mood in bright, vivid and tacky colours with many details which is his unique signature style. His works have shown in group exhibitions in other countries such as UK, Italy, Switzerland, Japan and Brazil.
A graduate from Department of Art Education, Chulalongkorn University he had worked as graphic designer & art director for 2 years before continued his studies in London. He took graphic illustration course at Chelsea College of art & design and M.A. (communication design) at Central St. Martins. Sethapong also worked as designer & design consultant for Minale, Tattersfield & Acton, London from Feb. 1995 until Dec. 1996. In 1998, he joined Bakery Music and worked there as Editor-in-Chief of Katch & Feature Editor of Manga Katch magazines between 1998 – 2001.
From 2001 until 2005, he worked as Editor-in-Chief of Mono, In Siam, E.I. magazines also illustrator and guest writer for various magazines, books, graphic designs also guest lecturer on typography, corporate graphics and editorial design courses in many leading universities from 1997 until now. From 2006 until 2012, he has been working for Arena & FHM magazine (Thai edition) as Acting Editor and Feature Editor, respectively. His specializes in overall control of men's magazine production, in both feature and art departments.
'Perfect Dreams' book, his retrospective collage works was published in 2005 and was selected by Dazed & Confused (Japan) Jan. / Feb. 2008 issue as one of the best 100 artist inspire books in the last 40 years (1968-2008).
https://www.facebook.com/DoubleOSethcollages
www.portfolios.net/photo/albums/double-o-seths-collage
►CLUB SOMA – https://www.facebook.com/clubsomaparty
►GOODCAT- https://www.facebook.com/goodcatgonebad
►GO GRRRLS – https://www.facebook.com/gogrrrls
=====
'Double O Seth' เศรษฐพงศ์ โพวาทอง
ศิลปินคอลลาจชาวไทยซึ่งเป็นที่รู้จักในระดับสากล ผลงานของเขาคือบริบทอันบ้าระห่ำในการตีความวัฒนธรรมป๊อบ ประวัติศาสตร์ วิทยาศาสตร์ ศาสนา การเมือง – ไม่มีเรื่องใดที่จะไม่ถูกละเว้น โดยใช้ภาพจากคลังหนังสือเก่าชนิดต่างๆ ที่รวบรวมมานานนับทศวรรษสร้างขึ้นเป็นงานคอลลาจแบบดั้งเดิมด้วยวิธีการตัดปะแบบแฮนด์เมด
คลุกคลีอยู่กับวัฒนธรรมป๊อบในไทย ด้วยการทำหน้าที่บรรณาธิการนิตยสารชั้นนำหลายเล่ม ผู้กำกับศิลป์ และอาจารย์พิเศษของหลายมหาวิทยาลัย ปัจจุบัน เขายังทำงานภาพประกอบ งานออกแบบ และผู้บรรยาย อีกทั้งงานคอลลาจอย่างสม่ำเสมอ
พบกับนิทรรศการคอลลาจที่รวบรวมผลงานของเขาระหว่างช่วงปี 2011-2015 ได้ที่ Jam Cafe'
ตั้งแต่วันที่ 15 พฤษภาคม -12 มิถุนายนนี้
วันงานเปิดนิทรรศการ
วันเสาร์ที่ 15 พฤษภาคม
ตั้งแต่เวลา 1 ทุ่ม – เที่ยงคืน
พบกับ DJ Somarange (Goodcat/Club Soma), DJ Dookie (Go Grrrls/Club Soma), warmup playlist by Double O Seth.
ฟรีบาร์ตั้งแต่เวลา 1 ทุ่ม – 3 ทุ่ม