JAM – Bangkok Shameless Pop Up Exhibition
August 15, 2015 @ 7:00 pm
August 19, 2015 @ 11:55 pm
ICT
Free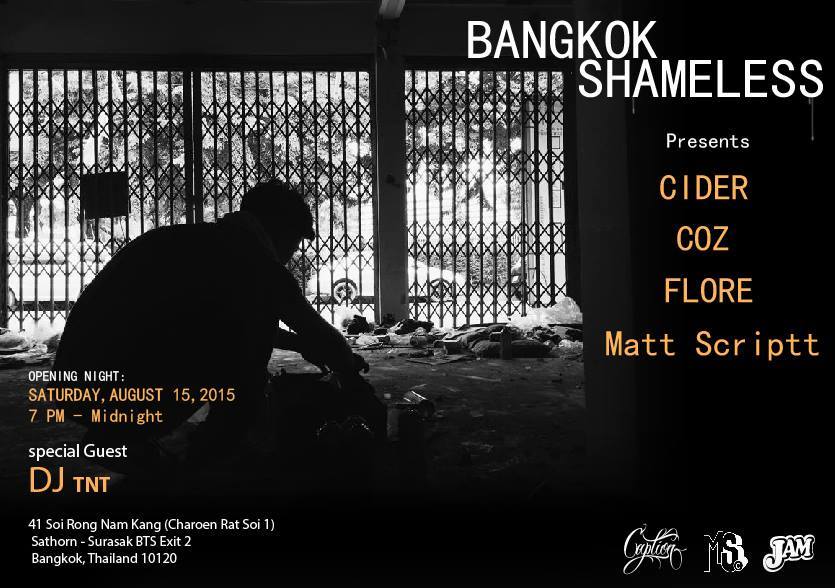 Pop up exhibition at Jam 15 – 19 August 2015 of 4 graffiti writers.
Exhibiting Artists:
● MATT SCRIPT (UK)
● FLORE (THAILAND)
● COZ (THAILAND)
● CIDER MSK (THAILAND / USA)
►OPENING PARTY DETAILS
7pm – Midnight
Music by DJ TNT (PARANORMAL)
Free flow wine 7-9pm
►BANGKOK SHAMELESS: ARTIST STATMENT
Making art gives us creative freedom with no boundaries to express ourselves the way we like. Bangkok Shameless puts forth artwork varying from mix-media works to digital prints of 4 Graffiti writers: Matt Script, Cider, Coz and Flore. This exhibition breaks away from their traditional Graffiti-based styles, introducing their own unique flavors and techniques in order to express how they perceive the environment around them.
►MATT SCRIPT
Matt is a freelance typographer and artist from London. He studied and Chelsea Art College and The London College of Printing before embarking on a career in various art departments for film and television. His work is inspired by a fascination with letters from medieval manuscripts to modern day graffiti combined with a love for dirty run down urban decay.
https://mattscript1.tumblr.com/
►COZ
Bangkok based Illustrator and painter. He takes everyday objects and street scenes and abstracts and merges them in a unique illustrative style, which varies from illustrations to mix media paintings.
►FLORE
A painter who simply want to express himself on canvas, abstract-art is his solution in order to get through his problems in life. Passion becomes life, he tries to develop his skill to the next level of himself. Flore is also fascinated in drawing letters. He put himself into a position that he has to focus and dedicate his soul into it. Another passion of Flore is tattooing, it is his way of leaving something behind. His motto is "do what you got to do and make it wild as possible".
►CIDER MSK
Hailing from Bangkok, Cider have been involved in the graffiti scene since 1992. Starting in Fremont, California through the introduction of hip hop culture, he still followsthe traditional ideas of graffiti lettering structures of the early 90s. Being of Asian descent living in the United States of America, Cider's graffiti / design ideas and insights are often influenced and inspired by both the western and eastern culture, alongside with his graffiti crew M.S.K. Upon moving back to Bangkok in the late 90s, he became a pioneer of the Bangkok graffiti scene. Today he had been invited to paint and exhibit in various countries and cities such as Singapore, Malaysia, Shanghai / China, Taipei / Taiwan, Malmo / Sweden, Hong Kong, Shenzhen / China, Brooklyn / New York and Los Angeles / California. He has also exhibited extensively throughout Thailand. At present, Cider paints leisurely and focuses more on his advertising and design career.
►PARANORMAL DJS
This crew consists of DJ/Turntablists: IYAREZ, HAZE (ZAMUAL), WHATDATFROG, NICK (R.I.P.) & TNT, and MCs: MARZVIN & YARB-BWOY. They have managed to claim the DMC Thailand Champion Team title 2 years in a row in 2009 and 2010. This Bangkok based crew can be found regularly at The Beatlounge spinning everything from Hip hop, Funk, Soul, Original Breaks, Reggae and Dancehall with a special love for the 80s and 90s.
https://www.facebook.com/Paranormaldjs