Osage Gallery – Interval in Space
December 15, 2017 @ 4:00 pm
January 28, 2018 @ 8:00 pm
UTC+8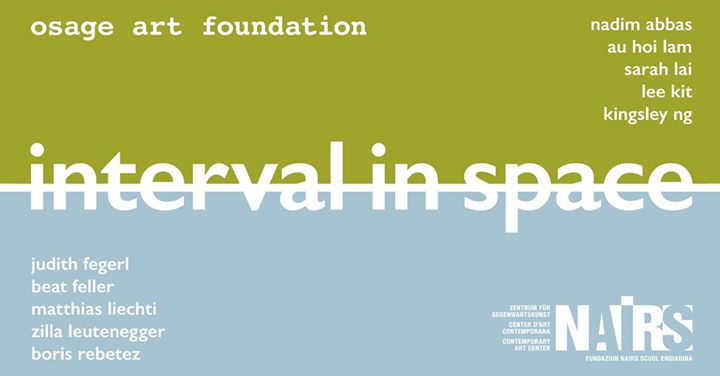 "Interval in Space" Exhibition in Hong Kong
Earlier this year in July, a group of young Hong Kong artists traveled to the village of Scuol in Switzerland to take part in a residency program, and to exhibit their work alongside that of a group of Swiss and Austrian artists.
The exhibition comprised the work of Hong Kong artists Au Hoi Lam, Nadim Abbas, Sarah Lai, Kingsley Ng and Lee Kit alongside work by Beat Feller, Zilla Leutenegger, Matthias Liechti, Boris Rebetez and Judith Fegerl.
In December 2017, these artists will come together again in Hong Kong as the second part of the project "Interval in Space", presented by the Osage Art Foundation and the NAIRS Foundation and co-organised by the Consulate General of Switzerland in Hong Kong.
The project is curated by Harald Kraemer (Switzerland / Hong Kong), Janine Stoll (Switzerland) and Charles Merewether (Hong Kong).
Co-Curator Charles Merewether says "The collaborative exhibition 'Interval in Space' reminds us of the question of globalization and the local in characterizing contemporary culture. As such, the exhibition shows us that while there are common traits that inform all modern and contemporary artistic practice, there are also significant differences. No more so are these differences evident than in placing Asian and European artists together, in this case, Hong Kong and Swiss artists. Together the five Hong Kong artists show in different ways how the social sphere appears as the subject of their practice."
Co-Curator Harald Kraemer describes these differences as follows: "The Hong Kong artists explore objects in space but often beginning with the domestic, the mundane and every day. This is the point of departure. Recreating a living room, a bathroom or just a bed or a table their installations generate new narratives. Defined once as 'social sculpture', their installations fuse spatial design, paintings, everyday objects, sound to invoke the question of place and memory of the personal. They are immersive environments, often times creating a precarious relationship with reality, destabilizing a viewer's perception of space, creating a precarious relationship with reality. In certain cases the work might playfully engage with kitsch or create a sense of estrangement with the familiar or to the contrary, forming quiet moments that escape the purview of the every day, evoking calm and tranquility. The engagement of art with ordinary objects brings a poetry to the mundane, heightening the viewer's sense of everyday life. Such practice belongs to a long tradition of engagement with everyday life but there is a new dimension to this contemporary manifestation.
The artists from Switzerland and Austria have started their artistic work with a more classical understanding of volume, space, and sculpture. For them often the challenge is to respect the existing spatial situation by analyze it at the same time. The reflection and therefore the reaction can be an intervention in form of an alienation, a manipulation or even a destruction of the existing space. They are responding to the characteristics of the given architecture in many ways. Their interventions can look like a set design, a forgotten ornament, an architectural detail, a construction site or an exhibition inside the exhibition. By describing the shown intervals in space, the visitors learn in many ways more about their own position in the interplay of diverse spaces as well as they can fill the seen with their own imagination."
The artists Au Hoi Lam, Sarah Lai, Kingsley Ng, Beat Feller, Matthias Liechti and Boris Rebetez will all be present at the opening on Friday 15 December 2017
The schedule for Friday 15 December 2017 begins with a talk session with the artists and the curators from 4.00pm to 5.30pm. Following on from this, Co-curator Harald Kraemer will lead a tour of the exhibition from 5.30pm to 6.00pm. The Vernissage hosted by the Consulate General of Switzerland in Hong Kong begins at 6.00pm.
For media inquiries or interview requests please contact Belle Leung (Osage Art Foundation) by email [email protected] or telephone +852 2172 1607
Exhibition:
Vernissage
15 December 2017, 6.00 – 8.00 pm
Sharing Session with the Artists and Curators:
15 December 2017, 4.00 – 5.30 pm
Tour of Exhibition led by Co-Curator Harald Kraemer
15 December 2017, 5.30 – 6.00 pm
Exhibition Continues:
16 December 2017 – 28 January 2018
Artists:
Au Hoi Lam
Nadim Abbas
Sarah Lai
Kingsley Ng
Lee Kit
Beat Feller
Matthias Liechti
Boris Rebetez
Judith Fegerl
Zilla Leutenegger
Curators:
Dr Harald Kraemer (Switzerland / Hong Kong)
Dr Janine Stoll (Switzerland)
Dr Charles Merewether (Hong Kong)
Presented by:
Osage Art Foundation
NAIRS Foundation
Co-organiser:
Consulate General of Switzerland in Hong Kong
Supported by:
Presence Switzerland
Pro Helvetia Shanghai, Swiss Arts Council
Kanton Bern
Kulturpauschale Basel-Stadt
Stiftung Temperatio
City University of Hong Kong and the School of Creative Media
The Hong Kong Arts Development Council
The Arts Development Fund of the Home Affairs Bureau, the Government of Hong Kong Special Administrative Region
lotsremark Projekte Basel
About Osage Art Foundation
The Osage Art Foundation was established in 2004 with three main goals – Creative Communities, Cultural Cooperation and Creative Capacity and has since played an active role in developing education and training of young people, broadening cultural awareness and participation in artistic endeavors, nurturing creativity and critical thinking and fostering international cultural exchange. The Osage Art Foundation is now widely recognized by the local community and internationally as having initiated many pioneering projects of international caliber.
The current focus of the Osage Art Foundation is on developing deeper discourse in and around the arts in the wider community. We believe that research, analysis, examination and promulgation of issues pertaining to society, contemporary culture and value by artists, writers, critics, curators and commentators will build better understanding of regional perspectives throughout Asia and beyond.
About NAIRS Foundation
Established in 2005, the NAIRS Foundation is a unique synthesis of an art gallery, a cultural centre and an artist in residence house. It connects the Engadin region of Switzerland with Swiss and international contemporary art.
In its role as an art gallery, the NAIRS Foundation holds exhibitions of Swiss and international contemporary art and hosts a variety of cultural events and conferences.
As a cultural centre in the Engadin, the NAIRS Foundation is concerned with culture, cultural production and the problems of the region. It focuses on cultural self-awareness in the Engadin of today and hosts events relating to the cultural life of the Romansh.