Ilham Gallery – Launch of ILHAM Contemporary Forum
May 20, 2017 @ 6:30 pm
8:30 pm
UTC+8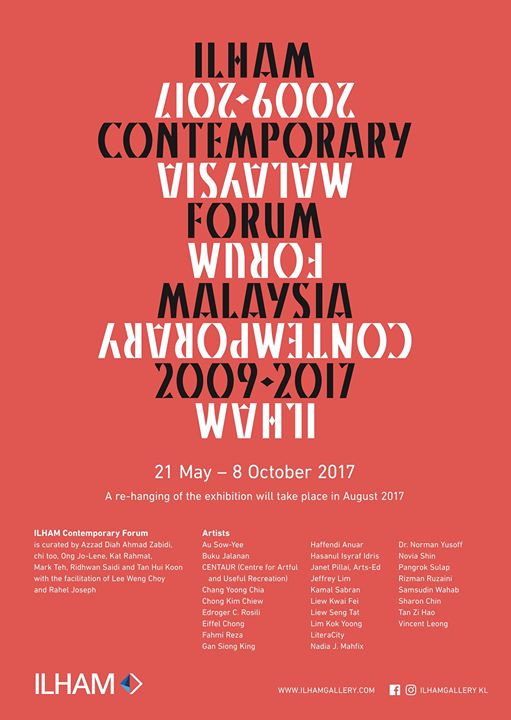 LAUNCH OF ILHAM CONTEMPORARY FORUM (MALAYSIA 2009 – 2017)
20 May 2017, 6:30pm
Level 5
—
We request the pleasure of your company at the launch of ILHAM Contemporary Forum (Malaysia 2009–2017).
Please RSVP to [email protected] by 11 May 2017.
Dress code: Smart casual
—
ILHAM Contemporary Forum features the works of Au Sow-Yee, Buku Jalanan, CENTAUR (Centre for Artful and Useful Recreation), Chang Yoong Chia, Chong Kim Chiew, Edroger C Rosili, Eiffel Chong, Fahmi Reza, Gan Siong King, Haffendi Anuar, Hasanul Isyraf Idris, Janet Pillai (Arts-Ed), Jeffrey Lim, Kamal Sabran, Liew Kwai Fei, Liew Seng Tat, Lim Kok Yoong, LiteraCity, Nadia J Mahfix, Dr Norman Yusoff, Novia Shin, Pangrok Sulap, Rizman Ruzaini, Samsudin Wahab, Sharon Chin, Tan Zi Hao and Vincent Leong.
The seven guest project curators are Kat Rahmat, Mark Teh, Ridhwan Saidi, Ong Jo-Lene, Tan Hui Koon, chi too and Azzad Diah Ahmad Zabidi. The exhibition is facilitated by Gallery Director, Rahel Joseph, and guest facilitator, Lee Weng Choy.
More details on the exhibition available here:
www.facebook.com/events/1347448745345430/