H Gallery # State Of Ridiculous
February 26, 2015 @ 6:00 pm
April 26, 2015 @ 11:00 pm
ICT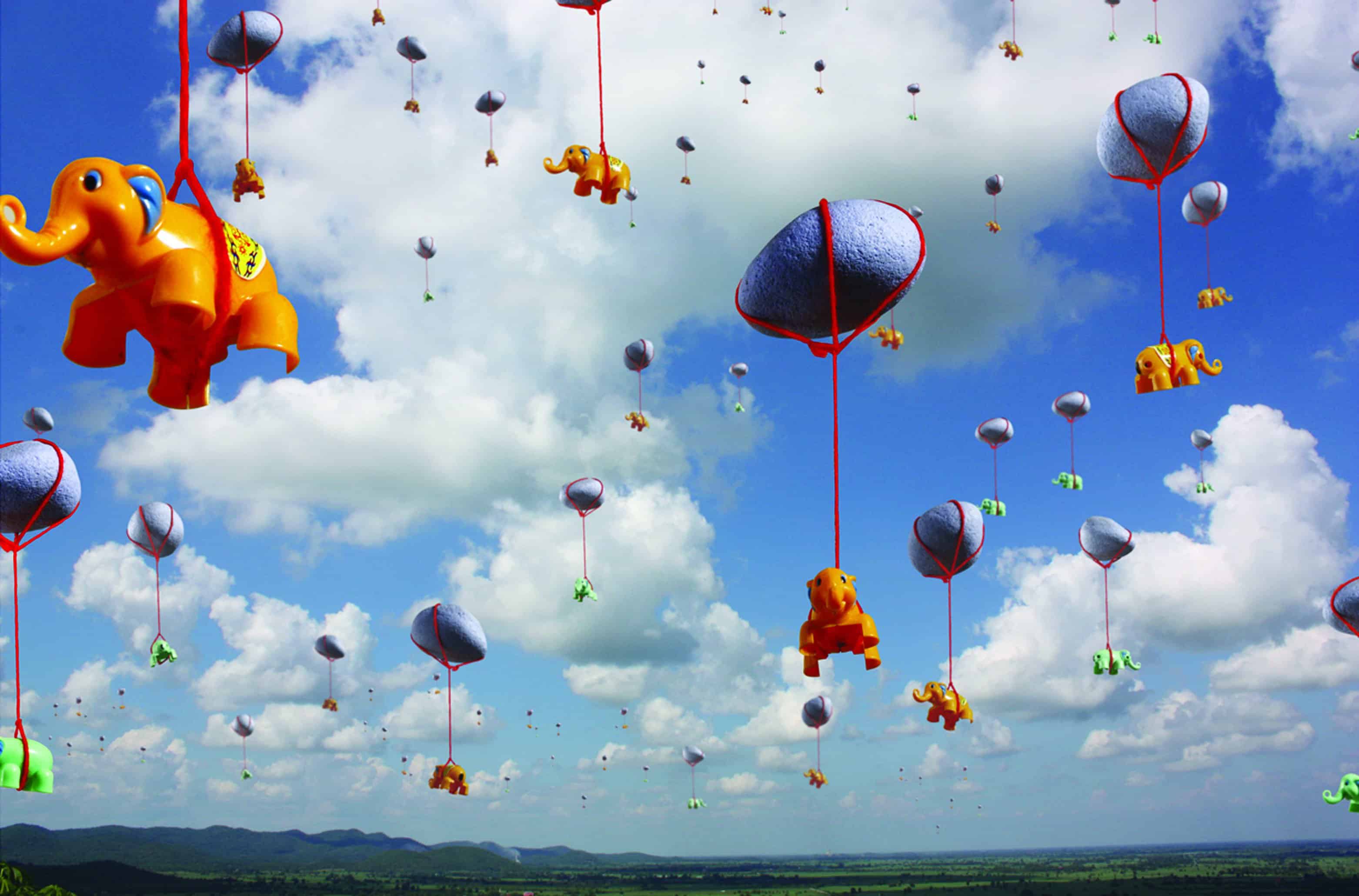 STATE OF THE RIDICULOUS
Tuksina Pipitkul and Wantanee Siripattananuntakul
February 26 – April 26 2015
Curated by Brian Curtin
Bangkok, Thailand – H Gallery is very pleased to announce the pairing of Tuksina Pipitkul and
Wantanee Siripattananuntakul, two dexterous artists who employ the vernacular of popular
culture to playful and provocative effect. State of the Ridiculous explores the tropes of the
ridiculous – silly, laughable, derisive – as a means of social commentary while also claiming the
inevitable ridiculousness of much that purports to give profound meaning to our lives.
Mounted across the gallery's main space and H Project Space, the exhibition is an integrated
experience that carries visitors between the delightful and ominous. Themes include the
fragility of social hierarchies, the flux of cultural symbols and the arbitrary attribution of value
in personal and market exchange. State of the Ridiculous includes a major new installation by
Wantanee that explores the often absurd appearances of societal inequality and
disenfranchisement.
The politics of play and playfulness has long informed the serious work of alternative and
critical cultures, from art to activism. This exhibition explores the depoliticizing sensibilities of
local understandings of play and fun as a retreat into wilful ignorance and failure to face
political realities. Oscillating between the carefree and the consequential, State of the
Ridiculous subversively demands that we look again at how we imagine and relate to difficult
circumstances in the contemporary world.
Tuksina Pipitkul graduated from Thailand's Silpakorn University and holds an MFA from California State
University, Northridge, California. She has held artist's residencies in Moriya, Japan at ARCUS project
(2001) and also at the Slade School of Fine Art, London (2010). Tuksina has had solo exhibitions at the
Cedar Art Center in California (2000), Conference of Birds Gallery, Bangkok (2008), the Japan Foundation
(2001), and at the Oddyssee Gallery in Bangkok (2004). Group exhibitions include, 6+1+1 (2005) at the
Art Center, Silpakorn University, Bangkok, AB-OVO (2005) 7th International Multimedia Art Festival
(IMAF), Serbia, Constructors de Somnis (2006) Spain, Props (2011) at Yinka Shonibare's Guest Projects
space in London, England, Wrap (2012) 1st Bangkok Creative Exhibition, Bangkok, and MDIII (2014) at the
Bangkok Art and Cultural Center, Bangkok.
Wantanee Siripattananuntakul lives and works in Bangkok. She graduated from Thailand's Silpakorn
University in 1999. Her early exhibitions include Wantanee Siripattananuntakoon (Wantanee 1:03,
Wantanee is here No.2, Wantanee is here, and Wantanee's sky) shown in Bangkok and Australia. While
studying fine arts at The University of Art in Bremen, Germany, she developed the Manifesto Project
(Wantanee's manifesto no.1, Wantanee's manifesto no.2, Wantanee vs Wantanee, Interview with
Wantanee, and Wantanee's one man show) (2005 – 2007). Other exhibitions include, A Wantanee
Retrospective (2007) at PSG Art Gallery, Faculty of Painting, Sculpture and Graphic Arts, Silpakorn
University, Bangkok, Wantanocchio (2008) exhibited in Bremen, Germany, and (2009) at the Thai
Pavilion, 53rd Venice Biennale, Venice, Italy, Wantanocchiobot'09 (2009) Ardel Gallery of Contemporary
Art, Bangkok, and (2010) Bangkok Art and Cultural Center (BACC), Bangkok, (Dis)continuity (2012) The
Art Center, Chulalongkorn University, Bangkok, Living with un common value (2012) Kuenstler Haus,
Bremen, Germany, and III (2014) at The Art Center, Chulalongkorn University, Bangkok.
H GALLERY BANGKOK 201 SATHORN SOI 12 BANGKOK
HGALLERYBKK.COM [email protected] TEL: 085 021 5508