Galleria Continua Beijing – InnerScapes
December 8, 2018 @ 8:00 am
March 3, 2019 @ 7:00 pm
CST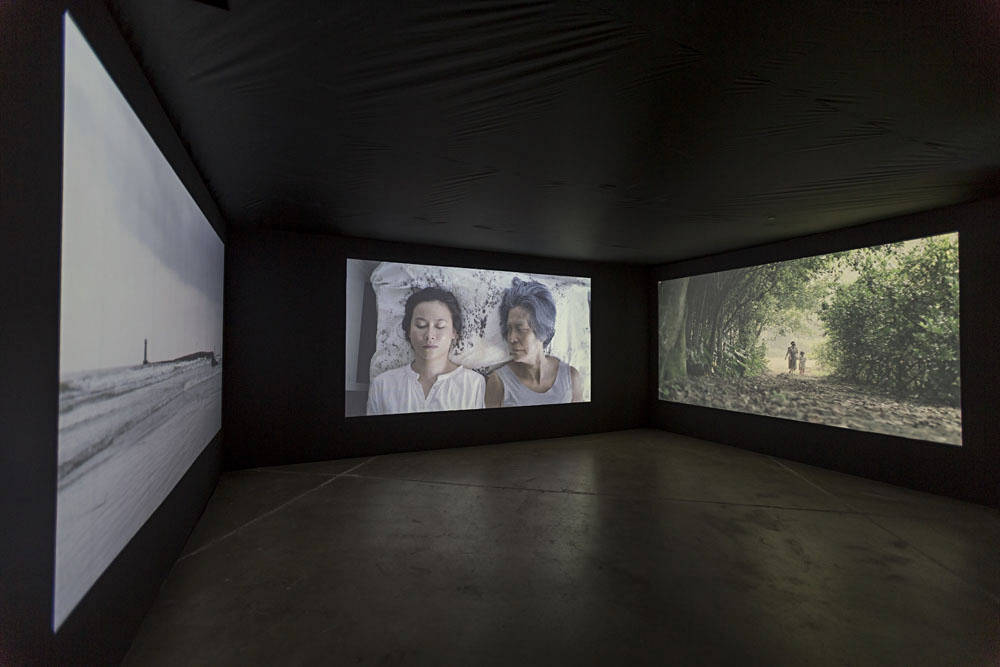 Galleria Continua presents InnerScapes, a group exhibition featuring the works of five of the most cutting edge contemporary female artists active in China today: Chen Dandizi, Kan Xuan, Qin Jin, Alice Wang, and Yang Guangnan.
https://onarto.com/art-event/galleria-continua-innerscapes/InnerScapes pays homage to and underlines the different methodologies that characterize this group of artists, not aligned with any particular trends but devoted to pursuing highly individualistic, intimistic and independent artistic paths. Presented in the form of micro-solo shows that allow the visitor to gain a deeper sense of the latest developments in these artists' careers and their long-lasting inspiration, rather than a quick overview, their works revolve around personal yet universal issues: the construction and deconstruction of one's identity, the intermingling and adherence of the micro (personal) and macro (societal/cosmological) dimensions, the frictions and tensions between the individual and the social structure he belongs to, the production of artistic language through gestures – often repeated in obsessive and maniacal ways, that unfold the different traces sedimented in the artists' practices as a response to time and history, but also processes of personal growth.
In an epoch characterized by the spasmodic use of new technologies, and by the continuous need to look for the newest ways of expression, the practices of these artists are an invitation to re-evaluate the personal, physical and processual realms and not merely the mechanical involvement with one's work, as well as with the feeling of transiency and indefiniteness it brings about, something which should be stoically embraced or at least consciously questioned. Their works act as a magnifying glass: on one hand, they reveal the uncanny dimension hidden in every day, on the other hand, they translate the metaphysical essence of things into something tangible and that pertains to us all.
The "scapes" these artists are confronted with but also contribute to shaping are not the mere products of their retinas, but rather of their consciences, attitudes, and way of being.
Chen Dandizi
The works of Chen Dandizi (b. 1990 in Hezhou, Guangxi, China; currently lives and works in Guangzhou, China), the youngest artist in the exhibition, are creations that touch on different fields of knowledge, like literature, photography, but also installation and film. Her recent works explore the perceptions and experiences of serendipitous encounters with natural and artificial everyday phenomena, in expressions often marked by feelings of alienation, and the hope of finding comfort beyond this alienation through the observation and imagination of nature. In her work, textual reading, self-recognition and the probing of the surrounding environment and atmosphere come together to form unfathomable connections. As she says, "Everything has meaning."
Kan Xuan
Kan Xuan (b. 1972 in Xuancheng, Anhui, China; currently lives and works in Beijing, China) mainly works in video, a medium through which she highlights the trivial elements, feelings, and sensations that we experience daily but rarely notices. Reproducing them as directly as possible, her work is striking for its imagination, relevance, and exactitude. She indulges in a honing of the techniques of the observer but transforms this passive observation into active performance in her video pieces. Kan Xuan's piece on view is the video "138 Yuan", commissioned for the second Yinchuan Biennale and first presented there. The work is a quiet ode to anonymous hotel rooms the artist herself had the chance to visit on the occasion of the making of her monumental work Millet Mounds (2012). These rooms, their shabby yet standard interiors and items testify to both the passage of time and the common people that inhabited them although just for brief moments. Trivial details of each room are neither sublimated nor imbued with nostalgia; instead, their transiency is recorded, frozen in time and juxtaposed to an encyclopedia of small, anonymous combs, the artist has been collecting in each of the rooms she inhabited and portrayed with exactitude.
Qin Jin
Qin Jin (b.1976 in Guangzhou where she currently lives and works ) interventions are intended to reflect on the private and public spheres of the individual. In her work, personal and collective memories, subtle narratives and ambiguity co-exist and give birth to a new logic in which the viewer can grow a feeling of disconnection and belong at the same time. He can recognize himself but also feel lost, experience a feeling of uncertainty, and therefore question his own senses as well as what contributed to creating his own reality. Qin Jin's works often deliver dramatic tension through conflict and beauty, in a quiet, simple and straightforward manner. There is an intimate connection between Qin Jin's practice and her own life experiences—born in the 1970s, and having experienced the drastic social changes in the past four decades, her works embody a uniqueness that is specific to this era, which is a sense of bewilderment and anxiety.
Alice Wang
Alice Wang (b. 1983 in Xi'an, China; currently lives and works between Los Angeles, USA, and Shanghai, China) approaches her varied subjects—geology, astronomy, ecology, Eastern metaphysics, phenomenology, the nature of time itself—with a scientific and profound curiosity as well as with the ability to surprise and challenge herself. Wang collaborates with specialists in different fields of study to conduct rigorous research and experimentation, emphasizing that art and science are not mutually exclusive ways of understanding the enormity of our world and our perception of it. The meeting point of the cosmic and real dimensions, bringing faraway dimensions into our daily life, and making transiency palpable, her works are little wonders that investigate the potential of mind and matter, the material consciousness of matter in sculptural form.
Yang Guangnan
Yang Guangnan (b. 1980 in Hebei, China; currently lives and works in Beijing, China) multi-faceted practice spans video, sculpture, installation, and performance. Her composite oeuvre plays with contrasts, conflicts, and tensions between materials. These latter ones are employed for their intrinsic qualities but also for their ability to act as a metaphor for broader and more universal problematics relating the societal with the personal spheres, making them collide and question each other. Her body of work stresses the struggle between the natural and artificial processes of implosion and explosion that stand for the conflictual nature of today's reality and society.
About the curator
Manuela Lietti is an Italian independent art critic and curator specialized in contemporary Asian art. In 2003, she graduated from the Department of Oriental Languages and Civilizations at the Ca' Foscari University of Venice, having written her bachelors' thesis on contemporary Chinese art. After her graduation, she moved to Beijing wherein 2007, she obtained her master's degree in Chinese History of Art and Art Criticism from the Academy of Art and Design of Tsinghua University. Since 2003, Manuela has been active as a curator, critic, and coordinator in the field of gallery and museum exhibitions as well as public art projects, in China and abroad. Manuela will be one of the executive curators of the 2019 Bi-City Biennale of Urbanism\Architecture (Shenzhen). She lives and works in Beijing, China.