F11 Foto Museum Hong Kong – Bob Willoughby – Audrey
March 22, 2019 @ 8:00 am
July 27, 2019 @ 5:00 pm
HKT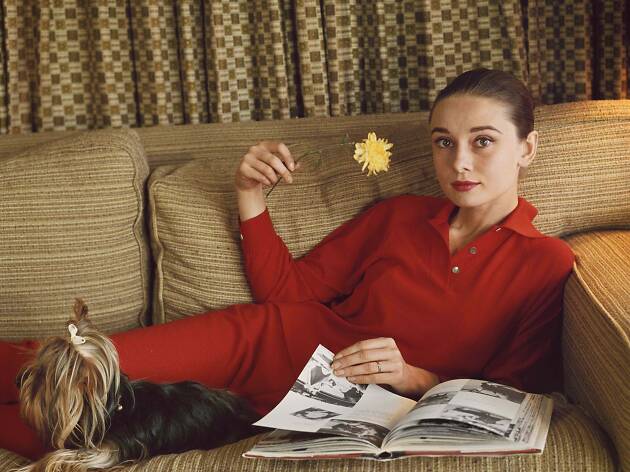 2019 marks the 90th anniversary of Audrey Hepburn's birth and the 10th anniversary of the passing of renowned photographer Bob Willoughby. This is the first time such a comprehensive collection of Bob's most memorable photos of Audrey is shown in Hong Kong. The 90 photographs – one for each year since Audrey's birth – have been carefully curated by Douglas So, Founder, and Director of F11 Foto Museum, with the help of Bob's son, Christopher. They cover the 1950s and '60s period when she was at the peak of her fame. The photographs include stills from Audrey's best-known movies, among them rare candid shots captured behind the screen which highlight her different roles as an actress, style icon and mother.
A rare photo exhibition of Audrey Hepburn captured by renowned photographer Bob Willoughby
Audrey Hepburn is undeniably one of the greatest Hollywood icons of all time, and while we can still experience and witness her beauty and talent on film, Hollywood photographer Bob Willoughby has managed to capture her effervescent charm and shows an intimate side to her life. Celebrating what would have been Hepburn's 90th birthday and marking a decade since the passing of Willoughby, this rare photography exhibition (and a first in Hong Kong) features an outstanding selection of some of Willoughby's most memorable photos of Hepburn.
<Audrey by Bob Willoughby>, edited by Douglas So, is published to complement the exhibition. Available for sale at F11 Foto Museum and f22 foto space. Readers and book dealers who may wish to order may email to [email protected], or call 6516 1122 for inquiries.
The exhibition is open for public viewing from 2 pm to 7 pm, Tuesdays to Saturdays (closed on Sundays, Mondays and public holidays). Please email to [email protected], or call 6516 1122 for a group visit appointment.
Admission Fee: HKD100 for adults. HKD50 for students and seniors aged 65 or above.
Free admission for the disabled and children aged 11 or below.
2019年是Audrey Hepburn 90歲的冥壽及知名攝影師Bob Willoughby逝世10週年紀念。這是首次在香港展示Bob最令人懷念的一系列拍攝Audrey的作品。是次展出的90幅相片象徵著Audrey誕生90年,由F11攝影博物館創辦人及總監蘇彰德,在Bob的兒子Christopher的協助下仔細策劃,涵蓋了Audrey在1950至60年代的全盛時期。是次展覽除涵蓋Audrey家傳戶曉的電影劇照外,更展出一些珍貴的幕後花絮及生活照片,多方面呈現她在鏡頭下作為女演員、時尚傳奇及母親的不同角色。
為配合展覽,由蘇彰德先生編輯的 同時出版。於F11攝影博物館及f22攝影空間有售。如欲購買,讀者或書商可電郵至[email protected] ,或致電6516 1122查詢。
展覽逢星期二至星期六(星期日、星期一及公眾假期休),下午2時至7時開放予公眾參觀。團體參觀可電郵至[email protected] ,或致電6516 1122預約。
票價:成人HKD100、學生及65歲或以上長者HKD50、傷健人士及11歲或以下兒童免費參觀。
導賞團
星期六
About F11 art gallery
Located in Happy Valley, F11 Foto Museum occupies a fully restored three-story building from the 1930s. While retaining many of the building's Art Deco architectural features, the restoration has blended in many elements of photography.
F11's founder and director, Douglas So, is passionate about both photography and heritage conservation. Douglas is a former corporate lawyer and executive director of The Hong Kong Jockey Club. He is currently Chairman of the Antiquities Advisory Board.
The vision of F11 Foto Museum is to promote photography through well-curated exhibitions of rare cameras, books, and photos. It is also hoped that housing the Museum in a Grade 3 historical building would encourage more private conservation and revitalization of heritage buildings in Hong Kong.
While the ground and first floors are dedicated to photo exhibitions, the second floor showcases rare camera equipment. The Museum is also home to nearly 1,500 photo books, including many rare signed editions and maquettes. The rooftop is a green oasis in the midst of tall buildings.
F11 Foto Museum is open to the public from Tuesdays to Saturdays, between 2 pm – 7 pm (closed on Sundays, Mondays and public holidays).
About Bob Willoughby
Bob Willoughby, whose photographs have transformed the images of Hollywood's biggest stars, is a true pioneer of 20th-century photography. He was the first "outside" photographer hired by the major studios to create photographs for the magazines, and was the link between the filmmakers and major magazines of the time, such as Life and Look.
Born June 30th, 1927 in Los Angeles, his parents were divorced by the time he was born and he was raised by his mother. Bob was given an Argus C-3 camera for his twelfth birthday, providing the catalyst for what would become the key to his future.
After high school, he studied cinema at night at the USC Cinema Department and design with Saul Bass at the Kahn Institute of Art. At the same time, he apprenticed with a number of Hollywood photographers; Wallace Seawell, Paul Hesse, and Glenn Embree gleaning technical and business know-how. His first magazine assignments were for Harper's Bazaar in the early '50s when famed art director Alexey Brodovitch became aware of his work.
His career took off in 1954 when Warner Bros. asked him to photograph Judy Garland's final scene on the set of A Star Is Born. His portrait of the freckle-faced star became his first Life cover. From then on his production was phenomenal. His images were in print literally every week for the next twenty years. As the first "special" he covered the making of over 100 films, including the 1960s movies The Graduate, My Fair Lady, Rosemary's Baby and Who's Afraid of Virginia Woolf?.