Alliance Française : Intersection by Diane Fourlégnie
June 15, 2017 @ 6:30 pm
July 9, 2017 @ 6:30 pm
UTC+7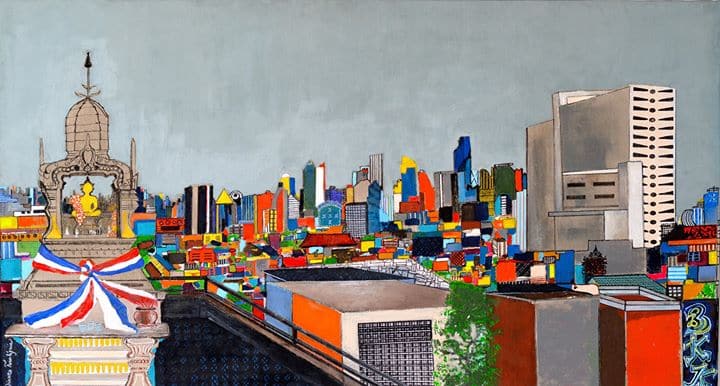 After several exhibitions in France, the artist painter Diane Fourlégnie invites you to her exhibition at Alliance Française. Multicolor palette reflecting crossingcrops, explorations, sharings, and smiles through the enthusiastic eyes of the artist established in Bangkok since 2016.
Cocktail opening on June 15th at 6.30 pm
Exhibition from June 15th to July 9th at Alliance Française's gallery (8 am-7.30pm) –
Free entrance
— Thai —
หลังจากจัดแสดงงานนิทรรศการในประเทศฝรั่งเศสมาแล้วหลายครั้ง Diane Fourlégnie ขอเชิญทกุท่านมาชมงาน นิทรรศการของเธอที่จะจัดขึ้นที่สมาคมฝรั่งเศส
สีสันบนจานสีสะท้อนการผสมผสานการอธิบายการแบ่งปันและรอยยิ้ม ผ่านสายตาที่กระตือรือร้นของจิตรกรที่ได้อาศัยอยู่ในกรุงเทพตั้งแต่ปี 2559
งานเปิดนิทรรศการ 15 มิถุนายน แกลเลอรี่ สมาคมฝรั่งเศสกรุงเทพ เวลา 18.30 น
ระหว่าง 15 มิถุนายน – 9 กรกฎาคม แกลเลอรี่ สมาคมฝรั่งเศสกรุงเทพ เวลา 08.00 – 19.30 น (ชมฟรี)
— Français —
Après plusieurs expositions en France, l'artiste peintre Diane Fourlégnie vous convie à son exposition à l'Alliance Française de Bangkok. Palette multicolore reflétant le croisement des cultures, explorations, partages et sourires à travers les yeux enthousiastes de l'artiste établie à Bangkok depuis 2016.
Vernissage avec cocktail le 15 juin 2017 à 18h30
Exposition du 15 juin au 9 juillet 2017 à la galerie de l'Alliance Française – Entrée libre