AM Space – Dead Serious
April 3, 2018 @ 6:00 pm
April 14, 2018 @ 8:00 pm
UTC+8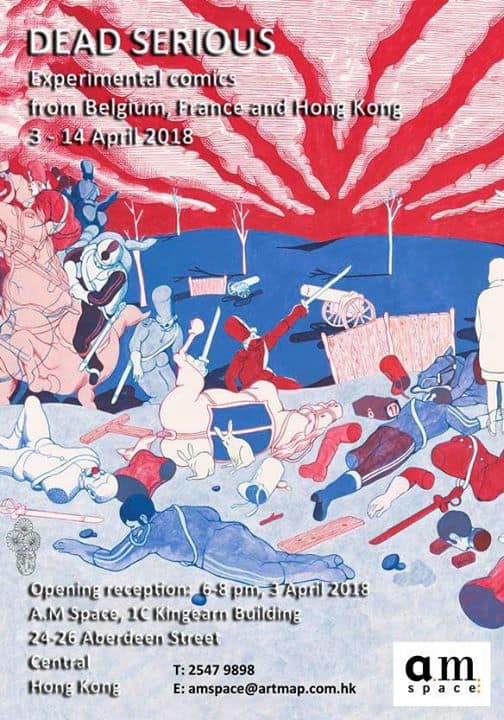 Dead Serious
Experimental comics from Belgium and France
Curator: Frank Vigneron, Professor, Fine Arts Department, CUHK
This exhibition is the result of discussions between professors from the Fine Arts Department, CUHK, and from the Brussels based art school ESA Saint Luc as well as the Academy of Visual Arts, Baptist University. The ESA Saint Luc is one of the most famous European schools of art offering a specialization in comics and graphic novels creation. One of their professors, Ms. Simone Schuiten who taught philosophy at the school for many years, has already organized many workshops with arts departments in Mainland China universities. For the first time, she guided a group of students from the ESA Saint Luc for a workshop in Hong Kong with local students and teachers. During the workshop that took place at the Academy of Visual Arts during the last week of March 2018, local and Belgian students produced a series of short comics stories on the theme 'Missed appointment(s) in Town,' some of these works were selected for display in this exhibition.
Invited by the Belgian consulate in Hong Kong, the leader of this workshop, Philippe de Pierpont, is a scriptwriter for graphic novels and films, as well as a director of movies and documentaries, who teaches scriptwriting in Belgium for students in comics and graphic novel creation (other teachers involved in the workshop were Frédérique Halbardier, also from ESA Saint Luc, and architecture professors Kiran Katara and Georges Pirson from Université Libre de Bruxelles, as well as one of Hong Kong's most popular comics creator and political cartoonist, Justin Wong黃照達). Philippe de Pierpont collaborated with Eric Lambé, a comics and graphic novels author as well as creator of animation films who also teaches in Belgium, on the creation of their most celebrated work to date, Paysage après la bataille (Landscape after the battle). It is a long minimalist tale of a young woman living through the aftermath of a destructive personal experience. It won the best album award (Fauve d'Or) at the Angoulême Festival in France, the longest and most prestigious event celebrating the art comics worldwide. This graphic novel was published by one of the most prestigious publishers of fiction in France, Acte Sud, in collaboration with the association Frémok. It is this association and FRMK, its publishing arm, that will be the main attraction of this exhibition.
Frémok (www.fremok.org) was born out of the reunion in 2002 of the two publishers Amok and Fréon, which were both initially founded at the beginning of the 1990s. The name Frémok was, so the legend goes, created by the contraction Fréon+Amok. By producing books, but also exhibitions, workshops, theater performances or other events like 'Autartic commix' or 'Littérature Pirates,' Frémok has encouraged the development of graphic literature, contemporary art and activism for what they dubbed 'bibliodiversity.' The authors and artists working in collaboration with Frémok (and the members of its artistic committee) are Yvan Alagbé, Paz Boïra, Frédéric Coché, Olivier Deprez, Vincent Fortemps, Dominique Goblet, éric Lambé, Jean-Christophe Long, Michaël Matthys et Thierry Van Hasselt. In addition to these authors and artists, many others have published their works under the label FRMK or organized various other projects with Frémok. All the authors and artists, or mere participants, of Frémok enjoy the status of active member and participate in the development of the artistic and strategic choices of the association Fréon based in Brussels.
Frémok presents itself as a platform of projects made around the works created or chosen by this non-profit organization. Fréon brings together all sorts of participants, readers, artists, persons active in the domain of book creation and the arts, but also other independent structures and institutions. Frémok also generates projects independently or in collaboration with the other partners of its network (other publishers, art galleries, bookstores, art or performance spaces, etc.). Its members also create events in art schools, universities, libraries and public spaces where they constantly promote and defend the freedom of creation, thought, self-expression and circulation of books and ideas. Frémok does not present itself as merely a publisher, which is why its participants prefer to use the term 'platform.'
Under the label FRMK, Frémok publishes books of graphic literature ranging from comics to graphic novels and visual poetry. In order to do so, it often participates in the production of books with other publishers. But its field of action far exceeds the domain of the book and they very often venture into shows, performances and events of all kinds, as well as installations or even professional education. A selection of publications by FRMK, as well as signed posters by some of its authors, will also be on display and for sale during the exhibition. Although Thierry Van Hasselt, one of the leaders of the new wave of Belgian comics and one of the main founders of the association, will not participate in the workshop and will unfortunately not be personally present in Hong Kong, his works will however occupy a major place in this exhibition. For one of his many graphic novels, Living in Frandisco, Thierry Van Hasselt collaborated with Marcel Schmitz, an artist and performer with Down syndrome, to create a collaborative story based on Schmitz's creation of the miniature city 'Frandisco' he created using cardboard. Relying mostly on the technique of monotype, the resulting book also became the subject of a short animation film that will be shown during the exhibition.
Another notable artist whose books will be presented is Frédéric Coché, a painter, printmaker and draughtsman. One of his most remarkable works, Hortus Sanitaris (a Latin expression meaning 'garden of health' which was the title of medieval books on various species of animals and plants and their medicinal uses), was entirely made with the medium of aqua forte, a play on antiquated themes and techniques in a resolutely contemporary work. Other authors, like Vincent Fortemps, present a stark vision of dark images reminiscent of the landscapes of Belgium at their gloomiest. As for Eric Lambé and Philippe de Pierpont, their Paysage après la bataille (Landscape after the battle, which won the prize for the best album (Fauve d'Or award) at the Angoulême Festival in France, the longest and most prestigious event celebrating the art of graphic novels and comics worldwide) is a long minimalist tale of a young woman living through the aftermath of a destructive personal experience. These works, and others by Frémok artists available during that exhibition, will show without a shadow of a doubt that contemporary comics and graphic novels have long reached vigorous maturity and often stand on the same footing as the most demanding, and dead serious, forms of contemporary art.