Come feel the Art • HOPE by Henri Lamy @ Modern Gallery Bangkok
June 25, 2014 @ 6:00 pm
9:00 pm
ICT
FREE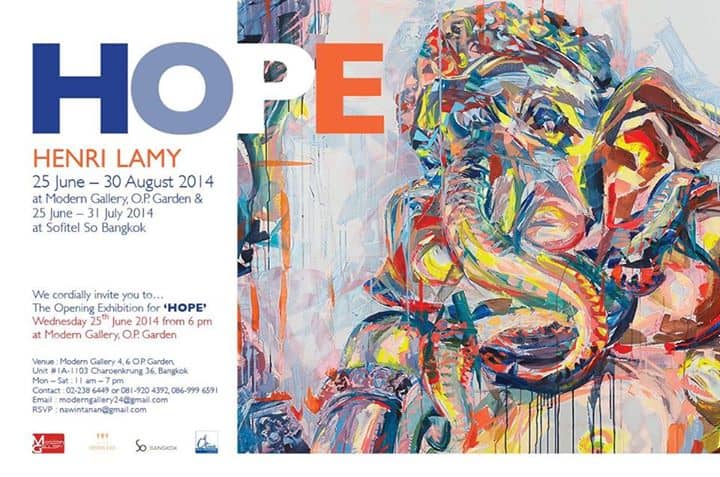 Opening Exhibition for HOPE, Wednesday 25th June 2014 from 6 pm at Modern Gallery, O.P.Garden (Chareonkrung 36)
HOPE exhibition by HENRI LAMY
25 June – 30 August 2014 At Modern Gallery, O.P Garden & 25 June – 31 July 2014 at Sofitel So Bangkok
On the 25th of June, our moments man; our moments artist, Henri Lamy will be bringing his spark to showcase his new, exciting exhibition, HOPE.
HOPE brings together the acute energies and simple graces of Thailand, and pockets them all in a moment; in a face. From Thailand's iconic and spiritual guises to its every day postcard profiles, Henri Lamy produces a collection which synchronizes the thoughtful and playful with his own rhythmic curiosities.
Born in France, Henri Lamy was encouraged at a very young age by his father to pick up a paint brush and express himself. And since his early years, Henri Lamy has developed a style and technique, which borrows from some of the greats, such as Jackson Pollock's 'drip painting', but which also lends to his own unique brilliance.
Residing in Lyon, France, Lamy's journey of palettes, knives and paint has taken him from Paris, to Aix en Provence, New York, Hong Kong, Tokyo, Yokohama, Beijing, Nanjing, Singapore, Manila and, now, Bangkok, Thailand.
Venue : Modern Gallery
4, 6 O.P. Garden, Unit #1A-1103
Charoenkrung 36, Bangrak, Bangkok
Mon – Sat 11 am – 7pm
Contact : 02 238 6449, 081 920 4392
Email : [email protected]
——————————————————————-
เกาะติดงานเปิดนิทรรศการความหวัง เย็นวันพุธที่ 25 มิถุนายน 2557 เวลา 18.00 น. ณ Modern Gallery, O.P.Garden
พบกับเจ้าของผลงาน เฮนรี่ ลามี ศิลปินที่ได้รับการกล่าวขานว่าเป็นจิตรกรที่น่าจับตาที่สุดชั่วโมงนี้…ใช่ว่าเพราะฝีมือจัดจ้านเกินวัย หากยังเป็นศิลปินที่คนรอเข้าคิวให้วาดภาพพอร์เทรตมากที่สุดคนหนึ่งของยุโรป
HOPE คือนิทรรศการเดี่ยวครั้งแรกในเมืองไทยของเฮนรี่ แม้จะมีเวลาพำนักอยู่ในกรุงเทพฯ ไม่นานนัก แต่ผลลัพธ์ที่ได้เรียกว่าไม่ธรรมดา ภาพแต่ละภาพคือผลผลิตอันน่าทึ่งของศิลปินหนุ่ม ผู้ชำนาญการใช้เกรียงปาดสีอย่างแคล่วคล่องฉับไว
…อะไรคือ HOPE ในความหมายและสายตาของศิลปินฝรั่งเศสอย่างเฮนรี่ พบคำตอบและแรงบันดาลใจลึกๆ (แต่ไม่ลับ) ในคืนวันพุธที่ 25 มิ.ย.นี้!