Chomp – The Mind Sees What It Chooses To See
August 7, 2015 @ 8:00 pm
September 1, 2015 @ 11:00 pm
ICT
Free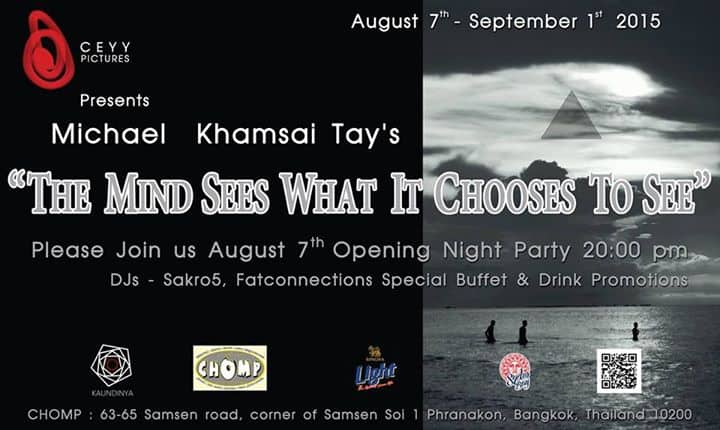 'The Mind Sees What It Chooses To See'
A photographic exploration into our own feelings, perceptions and mind sets.
28 year old Burmese born Michael Khamsai Tay (Sai) has a Bachelor Degree in Law and International Law as well as a Masters in Media and Communication Arts from Webster University in Thailand campus.
He took a break from law firm and started his successful career as a TV channel manager in broadcast industry and also as a show producer in live music events to follow his true passions and talents and now works as a Freelance Photo Manipulation Artist, Freelance Music Producer, Citizen Journalist,Minimalist & part time Creative Communication Consultant in several local media outlets.
Artist's Pe
rception:
My story started with one picture — my attempt to capture the sun at Nga Pali Beach. However, I was not satisfied with the results when the pictures came out. So, I was keen on learning how I can fix it. I eventually realized that I am not pursuing photography. I was searching for a medium to express my feelings — myself. After several years with my close good friend, Tun Min, who is also a photographer , my perception of my surroundings have changed. So I chose photography or digital tools as a medium to express myself. I guess, my picture represents my reality and my persona. Hell, I am not a photographer, I'm just a person who claims to know how to deal with medium.

I suggest people to search deeper — beyond what they see and feel — when they see my artwork. The while ideas is not how it was taken. It is about how your mind works. I believe that the mind sees what it chooses to see. I could have tried to be a really fully-fledged photographer but I stay away from that path. It is not about knocking down people who are now professional in photography. It is about myself and how I see such a delicate and complex form of art in my own way. Still, I lack the full confidence to claim myself as a photographer, not as an artist. I am merely a person who would try to get things as I see fit in my own reality with the medium of photography.
''People see and feel things they can relate to. But for my own statement, I think that our mind works faster than our eyes. It is such an amazing connection that how vision and the mind are connected to feel or relate to each other. That is my art. My work. I wish that people will see it in their own ways not just because I present those to them but to feel it and see what they need to see. Plus, this is not an exhibition this is breaking an iceberg of my personas with the people.'' Michael Khamsai Tay.