Chomp # The Art Of Design
February 27, 2015 @ 8:00 pm
March 29, 2015 @ 11:00 pm
ICT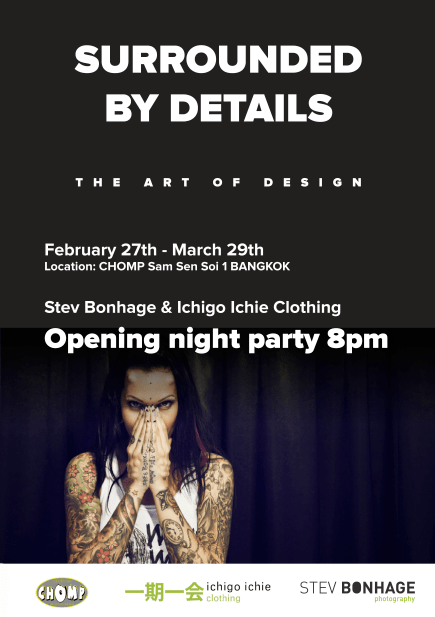 Stev Bonhage & Ichigo Ichie Clothing present moments of design.
February 27th 2015 CHOMP will open its doors for a one of a kind underground art exhibition.
"Surrounded By Details – The Art Of Design".The opening party (which will feature all kinds of suprises) starts 8pm (open end).
The exhibition will run from February 27th to March 29th.
The German/Swedish photographer and artist Stev Bonhage has combined his passion for photography with original street fashion and created the clothing label Ichigo Ichie Clothing. During February 27th and March 29th you will have the chance to discover unique photography and art, and what motivates this artist to constantly develope his art in different directions.
This is a great chance for art lovers to gain a greater insight into the creative process which is entailed in turning art into wearable designs.