Chomp # Art Exhibition # Imaginary Flowers
November 21, 2014 @ 6:00 pm
January 4, 2015 @ 11:00 pm
ICT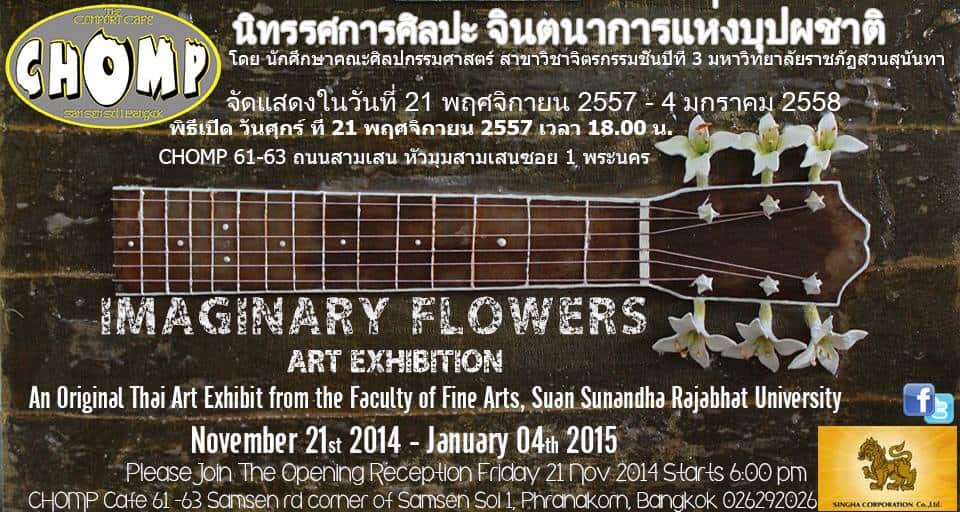 Imaginary Flowers – The Concept – Art Exhibition @ Chomp
แรงบันดาลใจในการจัดงานนิทรรศการศิลปะครั้งนี้ เพื่อต้องการแสดงออกถึงมุมมองความสวยงามของดอกไม้ในแต่ละบุคคล ซึ่งมีความคิดและการสร้างสรรค์ผลงานที่แตกต่างกัน ให้มีความหลากหลายด้วยเทคนิคและการทำงานเฉพาะตน
The inspiration behind this art exhibition is to showcase the natural beauty of flowers as interpreted by each individual artist. Idealistic and inventive methods have been used in order to create diversity in each of these works, hence mimicking the vast array of colours, shapes and variety found in the botanical world around us.
12 artists from Suan Sunandha Rajabhat University will be show casing their artistic styles and compositions both individually and jointly.