Cho Why – Mexican Film Series
September 23, 2017 @ 4:30 pm
September 24, 2017 @ 9:30 pm
UTC+7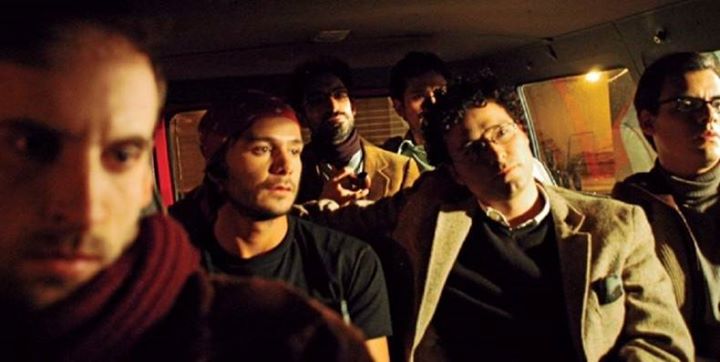 Held as a side event to Natalia Ludmila: Drawn Lines [ Exhibition ], Embajada de México en Tailandia / สถานทูตเม็กซิโกประจำประเทศไทย brings to Cho Why a wide selection of contemporary Mexican films as well as short films.
> Full Programme and timetables (see below). In Spanish with English subtitles.
[Saturday 23rd]:
(17:00) BURROS (Donkeys)
México | 93 min. Directed by Odín Salazar Flores
This is the story of Lautaro, a ten year old boy who lives in the Tierra Caliente region in southern Mexico during the 40´s. When he is orphaned, he is sent to live with an aunt in a town 60 kilometers away. Lautaro decides, for a number of reasons, to walk back home, and on his way he meets many people, alive and dead, who help him get back home.
(19:00) GENERACIÓN SPIELBERG (Generation Spielberg)
México | 110 min. Directed by Gibrán Bazán
Five intertwined stories. Two lovers stay 24 hours under the sheets. A well to do girl is trapped in an elevator with a messenger and an accountant. A group of writers get drunk with mezcal in a van, recalling their eighties times. A psychoanalyst locks herself in the bathroom to commit suicide and an executive and mother hides in a broom closet to fix her broken heart with wine.
[Sunday 24rd]: Short-film programme
(17:00)
EL MODELO DE PICKMAN
México, 10 min. Directed by Pablo Ángeles
In his quest to obtain a picture by his favorite macabre art
painter, Richard Pickman, collector Thurber Phillips discovers the
secret behind the artist's work.
BINGO
México, 10 min. Directed by Andrés Borda García
A group of elderly people gather at night to play bingo. Mario loses
every time and has become obsessed with the game. Fortune
accompanies him outside the room to show him that luck rules his
life and that of the elderly group; but Mario will not accept losing
this time.
CARNITAS
México, 10 min. Directed by Bárbara Miryam Balsategui Tovar
With their last savings, Valentina's family, a ten year old girl,
can only buy a minute pig made in China. With the firm intention of
fattening it up for Christmas, only a miracle can save the pig from its doom: a lot of imagination and strong ties of friendship.
EL DON DE LOS ESPEJOS
México. Directed by Mara Soler Guitián
A stubborn fish collector faces his own boundaries in this maritime
story.
RAMONA
México, 10 min. Directed by Giovanna Rodríguez Zacarías
Ramona, an 80 year old peasant, announces that she is going to die. Her son Carmelo asks her for more time to get together the money for the coffin. The news travels around the town. A lot of people come to say goodbye to her and, in passing, give her messages for their deceased. Finally, the son buys the coffin, but Ramona is too busy taking the messages she will carry with her. She is no longer in a hurry to go. Time goes by. Everyone eagerly awaits her death, but they will just have to wait because, as she puts it, "After all, I don't feel like dying anymore".
EL MAESTRO Y LA FLOR
México, 6 min. Directed by Daniel Irabién Peniche
The teacher leads a grey life, keeping his spirits up thanks to his
friend, The Flower. But when love arrives, he must decide whether to risk everything or play it safe.
LOS CONTRERAS FAMILY
México, 10 min. Directed by Alejandro Becerril Elías
This is the story of a dysfunctional family in which each member
engages in an illicit activity, but they don't know this about each
other. One day, the Contreras family witnesses a police operation
outside the building in which they live and, believing that they are
coming for them, each member decides to hide incriminating objects in their room. Waiting to be arrested, the family witnesses an unexpected event that restores their calm.
EL NECIO
México, 10 min. Directed by Carlos Quiroz Robles Guión
In a Mexican town with no electricity, Joaquin follows his team on its way to the World Cup on a transistor radio. During the semifinals, the batteries run out and he has to find a solution.
LA CARTA
México, 10 min. Directed by María de los Ángeles Cruz Murillo
Lupe returns to her community after many years of absence. Her
reencounter with Rosalia, her best friend from childhood, and the
letter she wrote her when they said goodbye, change the course
of their lives. Love resurfaces with even greater strength.
LA DESPEDIDA
México, 10 min. Directed by Yanet Pantoja Neri
In the waiting room of a train station, Susana, a young woman, says
goodbye to Pavel. They sit and talk until the moment of departure.
Susana, sure that he will not come back, tells him everything he
wants to hear. When the train comes, they kiss and hug as if they
loved one another. Moments later, another gentleman sits next to
Susana and pays her, as did Pavel, for a farewell.
LA ULTIMA CENA
México. Directed by Vanessa Quintanilla Cobo
A note stuck on the refrigerator and some out of place silver foil
unleash a transformation in Diana that turns around her tedious
daily routine.
LA VIDA ES UN ROCANROL
México, 10 min. Directed by Inés Morales Hernández Guión
Tonny Rocker is the vocalist of the Amor y Rabia (Love and Rage)
band, an underground poet, a faithful friend, husband, confident
and artist. A warrior who has seen hard times, his passion for music shines through, it is his soul's legacy.
___
Cho Why is a collaborative, cross-disciplinary project space in Chinatown.
Address: Soi Nana 17, Pom Prap Sattru Phai,
Bangkok, Thailand 10100. (MRT Hua Lamphong)
For further details about this space, please contact:
[email protected]