Charity Event @ Camillian Home Bangkok
October 5, 2014 @ 9:00 am3:00 pm ICT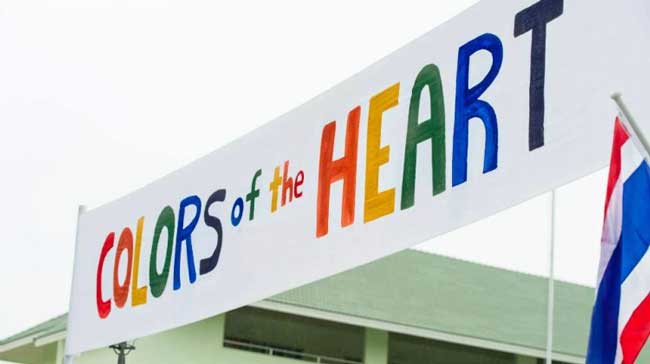 สำหรับภาษาไทยกรุณาอ่านด้านล่างค่ะ ขอบคุณค่ะ
We are pleased to invite you to be a part of our family "Colors of the Heart" charity event.
On Sunday-5-October 2014
Time: 09.00 AM.-3.00 PM.
Location: Camillian Home Latkrabang
Big thanks to the following participated Artists :
VasanSitthiket,
Sai Wannaphon Chimbanchong,
Prateep Kochabua
Arjarn Amrit Chusuwan & Graffiti Group Faculty of painting sculpture and graphic art. Silpakorn university.
Cindy Sirinya Bishop
Buffalo Project Band
Jam Jar Band
Fashion Show Performace: Camillian Home Chlidren & Models Group
Ooh Tannatonne Palakawong Na Ayudhaya
Jamsuk Band
Double AA BandJoe-Louis Thai Puppet Performance
CM Band Camillian's Children
Live Painting Performance by: Tabtim & Camillian's Children
MC:
Michelle Segrave-Daly
Phennapha Kittiladakul
DJ: Heang
This event promises to be a fun-filled day for both kids and adults! A full day of play booths, live music performances, charity auction, and plenty of food & drinks!
"Colors of the Heart" is a charity art project that brings together a group of Bangkok-based artists to fill the remaining blank walls of Camillian Home with vivid and imaginative murals that will leave a lasting impression on the kids of Camillian Home.
For more information please contact:
Camillian Home Lat Krabang for Children Living with Disabilities
Address: 81/2 Luangphang Road, Khumthong Sub-District, Lat Krabang, Bangkok 10520
Website:www.camillianhomelatkrabang.org
FB :www.facebook.com/Camillian.Home
Office: +66 (0) 2360 7852
Fax: _66 (0) 2360 7853
Kannika Tumma
PR & Project Coordinator
Phone: 08 52801402
Email: kannika.or.28@gmail.com
Kalisha Jariyapaiboon
Phone: 08 74967775
Email: kalishathailand@gmail.com
บ้านคามิลเลียนเพื่อเด็กพิการ ขอเรียนเชิญทุกท่านร่วมเป็นส่วนหนึ่งของงาน "Colors of the Heart" เพื่อการกุศล
วันอาทิตย์ที่ ๕ ตุลาคม ๒๐๑๔
เวลา ๐๙.๐๐ น. – ๑๕.๐๐น.
สถานที่ บ้านคามิลเลียนเพื่อเด็กพิการ ลาดกระบัง
ขอขอบคุณ ศิลปิน นักร้อง และ ดารานักแสดงรับเชิญจิตอาสา:
อาจารย์ วสันต์ สิทธิเขตต์
ศิลปิน ทราย วรรณพร ฉิมบรรจง
อาจารย์ ประทีป คชบัว
อาจารย์อำฤทธิ์ ชูสุวรรณ และกลุ่ม Graffiti มหาวิทยาลัยศิลปากร
กิจกรรม: เพนท์หน้า ใดยคุณซินดี้ สิรินยา บิชอฟ
คุณอู๋ ธรรพ์ณธร ปาลกะวงศ์ ณ อยุธยา
วงดนตรี บัฟฟาโล่ โปรเจค
วงดนตรี เดอะแจม จาร์ แบนด์
วงดนตรี แจ่มสุข
วงดนตรี ดับเบิ้ล เอเอ
การแสดง หุ่นละครเล็ก โจ-หลุยส์
วงดนตรี ซีเอ็ม แบนด์ จากบ้านคามิเลียน
Fashion Show: เด็กบ้านคามิเลียน และ กลุ่มนางแบบ-นายแบบ
Live Performance วาดภาพโดยน้องทับทิม จากบ้านคามิเลียน
พิธีกร : มิเชลล์ ซีเกรฟ-เดลี่
เพ็ญนภา กิตติลดากุล
ดีเจ : เฮง (โคตรอินดี้)
ภายในงานได้จัดเตรียมกิจกรรมสนุกๆมากมายสำหรับเด็กและผู้ใหญ่ อาทิ บูธกิจกรรมออกร้าน, ดนตรีสด ศิลปะ การแสดง งานประมูลสินค้าเพื่อการกุศล และอาหารหลากหลาย-เครื่องดื่ม
"Colors of the Heart" คือโครงการประชาสัมพันธ์ ศิลปินในกรุงเทพมหานครและใกล้เคียง เพื่อเข้าร่วมแสดงผลงานจิตกรรมบนกำแพงและฝาผนัง ณ บ้านคามิลเลียนลาดกระบัง เพื่อสร้างเสริมความฝันและจินตนาการกับน้องๆผู้พิการที่ไม่มีโอกาสได้ออกไปสนุกสนานนอกบ้านบ่อยครั้งนัก
ติดต่อเพื่อรับข้อมูลเพิ่มเติมได้ที่ :
บ้านคามิลเลียน เพื่อเด็กพิการ
ที่อยู่ : 81/2 ถนนหลวงแพ่ง. แขวงขุมทอง, เขตลาดกระบัง, กรุงเทพฯ 10520
เวบไซต์: http://www.camillianhomelatkrabang.org
เฟซบุค: http://www.facebook.comCamillian.Home
สำนักงาน : +66 (0) 2360 7852
แฟกซ์ : +66 (0) 2360 7853