Chan + Hori Contemporary – Langkawi (1976 – 1980) by Latiff Mohidin
June 23, 2018 @ 5:00 pm
July 22, 2018 @ 7:00 pm
BMT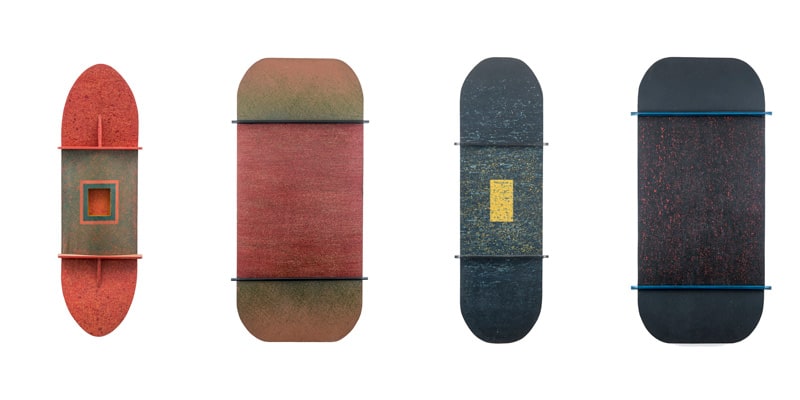 LANGKAWI (1976 – 1980) by Latiff Mohidin D/SINI Festival 2018, From the Studio Series
Curated by Khairuddin Hori
Exhibition Dates: 23 June – 22 July 2018
Artist Conversation: 23 June 2018, 15:30 – 17:00
(Free event but RSVP required at https://bit.ly/2IOfg1x)
Open to Public: 23 June 2018, 17:00 – 19:00
Venue: Chan + Hori Contemporary, 9 Lock Road, #03-21, Block 9, Gillman Barracks, Singapore 108937 (Tel: +65 6338 1962)
After delivering the groundbreaking Pago-Pago (1964 – 1969) and Mindscape (1973 – 1974) series that exhilarated the Malaysian art scene, Latiff Mohidin re-emerged a couple of years later with Langkawi. Inspired by his time in meditation at the seaside, these 'sculptural paintings' are named after the western Malaysian archipelago comprising 99 islands on the Straits of Malacca that is well-known for its mythical tales and landscapes.
Unlike the commanding brush strokes and fluidity of Pago-Pago and Mindscape, Langkawi is reserved, calculated and meticulously composed. Each is graphic in design and evokes symbolic implications suggestive of Islamic domes, rafts, battle shields, wall plaques, windows and portals to sacred places. Langkawi, of course, did not emerge without genealogy. In a process that spanned more than a decade, evident motifs – particularly the roofed triangulation, capsule, domes and stupa-like shapes – could be traced to both Pago-Pago and Mindscape. Its palette and character has been described relative to folk cultures and architecture from the Malay Archipelago. Through mastery in painting and carpentry, the sculptural forms of Langkawi engage viewers to step around and explore their protruding surfaces and distinctive outlines. And, amidst their quietness and mindfulness, Langkawi affords viewers pockets for respite and meditation.
Latiff Mohidin Biography
Latiff Mohidin was born in Seremban, Malaysia in 1941. He currently resides in Penang, where his home and studio are located. Wellestablished in the canons of Southeast Asian modern painting and Malay literature, the artist was dubbed 'boy-wonder' after his first solo exhibition at the age of ten. He responds to and finds the primary inspiration for his works through nature. In May 1974, Latiff led the announcement of a manifesto on the formation of Kumpulan Anak Alam (Collective of Children of Nature). The collective consisted of artists, performers and writers who committed to relating to each other as a community. They engaged in activities such as poetry recitals, auctions, performances and even boxing bouts.
Pak Latiff, as he is affectionately called, spent his early years in Singapore – studying at the Kota Raja Malay School and English School Mercantile Institution in the early 1950's. On a German scholarship, he went to study at the Hoschule der Künste (Academy of Fine Arts) in Berlin (1960 – 1964). Upon his return, Latiff embarked on an extensive tour of Southeast Asia and spent much time engaged with the landscape of Southeast Asia. This led to the publication of his first poetry anthology titled Sungai Mekong (Mekong River, 1979). On a French Ministry scholarship, he took up printmaking at Atelier La Courrière, Paris in 1969 and enrolled at Pratt Institute in New York on a John D. Rockefeller III scholarship later in the same year.
His early series of paintings, Pago-Pago (1964 – 1969) and Mindscape (1973 – 1974) claimed critical success and added intellectual weight and substance to the painting scene in Malaysia and Southeast Asia. These successes were followed by the groundbreaking series titled Langkawi (1976 – 1980), where he presented a combination of painting and sculpture for each piece. Other major series of works include Rimba (1998), Voyage (2007) and Serangga (2013). Between his literary publications, Latiff also won various Malaysian National Literary Awards (from 1972 – 1976, 1984 and 1986) and the South East Asian Write Award in 1984. In 2013, he translated Johann Wolfgang von Goethe's Faust into Malay.
Latiff Mohidin CV
Education
1950 Malay School Kota Raja, Singapore
1951 English School Mercantile Institution, Singapore
1954 English School King George V, Seremban, Negeri Sembilan
1960 Hochschule für Bildende Künste, Berlin, Germany
1969 Printmaking, Atelier La Courrière, Paris, France
1969 Printmaking, Pratt Institute, New York, U.S.A.
Selected Solo Exhibitions
1951 First exhibition, Malay School Kota Raja, Singapore
1961 Frankfurter Kunstkabinett, Frankfurt-am-Main, Germany
1961 Ladengalerie, Berlin, Germany
1964 Bangkapi Gallery, Bangkok, Thailand
1966 Balai Ampang, Kuala Lumpur, Malaysia
1968 British Council, Singapore
1968 TRIO Gallery, Bangkok, Thailand
1969 Galeri 11, Kuala Lumpur, Malaysia
1971 British Council, Kuala Lumpur, Malaysia
1971 1st Open-Air Art Exhibition, Taman Jaya, Petaling Jaya, Selangor
1971 Alpha Gallery, Singapore
1972 Commonwealth Institute Art Gallery, London
1973 Retrospective Exhibition, National Art Gallery, Kuala Lumpur, Malaysia
1976 Dewan Tunku Canselor, Universiti Malaya, Kuala Lumpur, Malaysia
1977 215 Jalan Macalister, Penang
1979 Langkawi, Arca Dinding, Museum & Gallery
1980 Dewan Canselor Tun Abdul Razak, Universiti Kebangsaan, Bangi
1983 Wooden Structures & Metal Sculptures, Universiti Kebangsaan, Bangi
1983 Mindscape, Australian High Commission, Kuala Lumpur, Malaysia
1988 Gelombang, Maybank Art Gallery, Kuala Lumpur, Malaysia
1994 Pago-Pago to Gelombang, 40 Years of Latiff Mohidin, Singapore Art Museum
1998 Rimba, Galeri Petronas, Kuala Lumpur, Malaysia
2007 Voyage/Kembara, Galeri Petronas, Kuala Lumpur, Malaysia
2009 The Journey to Wetlands and Beyond, Singapore Art Museum
2012 Serangga, Bank Negara Malaysia, Kuala Lumpur, Malaysia
2012 Pameran 60 Tahun Latiff Mohidin Retrospective Exhibition, National Art Gallery, Kuala Lumpur
2014 Seascape, Recent Paintings 2010 – 2014, Singapore and Kuala Lumpur
2016 Latiff Mohidin, Modern Sculptures 2007 – 2015, The Edge Galerie, Mont Kiara
2018 Latiff Mohidin Pago-Pago (1960 – 1969), Centre Pompidou, Paris, France
Awards
1953 1st Prize & Special Prize in Oil Painting, Malaysian AgriHorticulture Association, Kuala Lumpur
1957 3rd Prize in Art & Photography, Malayan Independence (Merdeka) Trade Fair, Kuala Lumpur
1958 Honourable Mention, 2nd Young Artists Exhibition, British Council, Kuala Lumpur
1960 DAAD, German Academy Student Exchange Scholarship, Bonn
1968 2nd Prize Graphics, Honourable Mention in Other Media, Salon Malaysia, National Art Gallery, Kuala Lumpur
1969 French Ministry of Culture Scholarship, Paris, France
1969 John D. Rockefeller 3rd Fund Scholarship, New York, U.S.A.
1972 Literary Awards from 1972 to 1976, Government of Malaysia
1977 Creative Fellow, Universiti Sains Malaysia, Penang
1980 Guest Artist, Universiti Kebangsaan Malaysia, Bangi
1984 S.E.A. Write Awards, Bangkok, Thailand
1984 Literary Award from 1982/1983
1986 Literary Award from 1984/1985
1988 Guest Writer, Dewan Bahasa dan Pustaka, Kuala Lumpur
Literary Works
Latiff Mohidin has translated works such as Gintajali (1986), Woyzeck (1987), Tao Te Ching (2007) and Faust (2012) into Malay.