Chan + Hori Contemporary – Chris Chong Chan Fui – devices
January 23, 2019 @ 11:00 am
March 3, 2019 @ 7:00 pm
SMT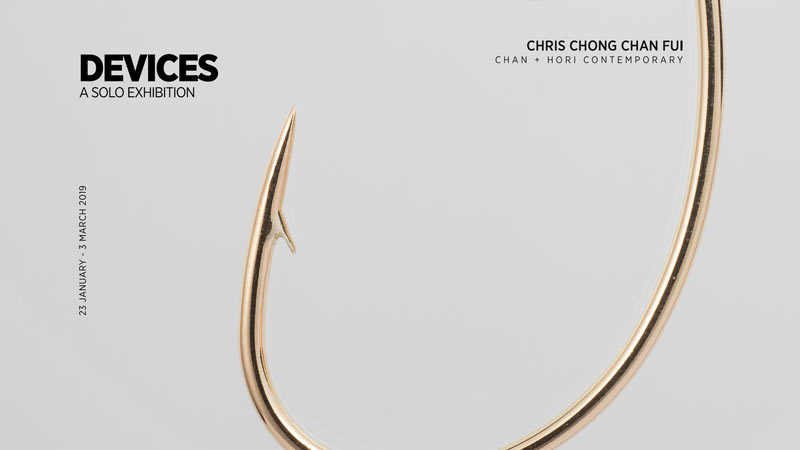 Devices
A solo exhibition by Chris Chong Chan Fui
Curated by Khairuddin Hori
Exhibition Dates: 23 January – 3 March 2019
Exhibition Launch: 23 January 2019, 18:00 – 21:00
Exhibition Tours: 26 and 27 January 2019, 14:00
In 2013 in Malaysia, the booming business from the industrialization of Edible Bird's Nests (EBN) carried an estimated trade value in excess of US$200 million. Yet, Malaysia only owns an approximate 6% of the industry market share – with Indonesia leading at 70%, followed by Thailand at 20%. Stirred by the trade itself and the manner by which the business was constructed, artist Chris Chong Chan Fui began work on a new body of work entitled Devices.
Feeding its voracious and predominantly Chinese consumer market, EBN (when consumed as a soup), is believed by some to rejuvenate one's skin and complexion, clear digestive tracts and even cure diseases such as lung cancer. Meanwhile, the mechanized and systematic production of EBN provides an example of how man readily dislocates from natural environments by constructing, repurposing and the industrialization of existing urban structures in order to reap the benefits of a naturally occurring and evolving phenomenon. This somewhat savage human intervention is the primary interest of the artist. As it does not impact society en masse, the interference of nature, in this case primarily for the benefit of a niche market, is often nonchalantly passed off as being harmless. With top-quality edible nests selling at about S$3,000 per kilogram, such undertakings are often defended with an allusion to domestic farming and the creation of new economies and employment opportunities. Despite ongoing research from various sectors, scientific, environmental and social impacts of the industry have yet to be fully understood.
As part of the exhibition, Devices includes a sculptural replica of predator snakes often trapped with fishing lines and hooks. This is the typical outcome when intruding snakes fall for baits of boiled chicken eggs, which are set within specially-designed "bungalows" constructed to attract swiftlets looking to build nests. Other traps used to ensnare owls and other pests have been reinterpreted as sculptures in almost human-sized proportions and aesthetic
treatments. The shoebox, a regular item for packaging that is sometimes improvised as a device to shelter small rescued animals such as kittens and injured birds, is now interpreted as a bronze cast sculpture. To expand upon and layer this dialogue, the artist also presents a piece of ghostly video noir, based on night-vision recordings made in the wild to capture and identify otherwise obscure animal species.
Devices connect the dots to construct and define an aspect of Chris Chong's artistic practice. Consistently echoing artificial mimicries and calculated capital gains achieved through the exploitative
harnessing of ecological and human assets, the artist contemplates how this mechanization of nature reflects upon our own integrity. As an example, in Botanic (2013), the artist deconstructed the
sculptural structures of various species of decorative, plastic, flowering plants popular within Malaysian households – with the help of professional botanical draughtsmen. With Endemic (2015), the artist recreated robotic versions of extinct Bornean mountain flowers based on references from colonial-era illustrations and field research photographs. Devices see the artist dive deeper to unearth the systematic human management and motivation in the effective regulation and doctoring of the natural.
The distillation and hastening of a natural process with an objective to maximize output and profit is an occurrence that takes place every day. Each one of us might unconsciously and involuntarily be a player within them. These processes could also be seen as models, ways or devices towards efficiency and productivity that are accepted by living communities everywhere – keeping our participation in the cycles of demand and supply alive.
While we mostly associate "device" with describing gadgets or utilitarian contraptions, we could also look at it as an adjective – used to insinuate crafty maneuvers. After all, "device" is believed to have originated from the old French word "devis", which primarily refers to division, separation, and desire.
– Curator Khairuddin Hori
Chris Chong Chan Fui
Biography
Chris Chong Chan Fui (b. 1972, Malaysia) is an artist who works with varying materials in an installation format. His works question the definition of authenticity as well as processes within the fields of science, economics, and the moving image. He has exhibited his works at the Hirshhorn Museum and Sculpture Garden in London, United Kingdom; Palais de Tokyo in Paris, France; EYE Film Institute in The Netherlands; Austrian Museum of Applied Arts; Museum of Canadian Contemporary Art and the Singapore Art Museum.
He has also premiered his films at prestigious festivals such as the Cannes' Directors' Fortnight, Vienna, BFI London and Wavelengths in Toronto, Canada. His works are in the public collections of the Hirshhorn Museum and Sculpture Garden and the Singapore Art Museum. Chris is a Smithsonian Institute fellow (National Museum of Natural History) and a Ford Foundation fellow. His recent artist residencies include Cité Internationale des Arts in Paris, France, and the NTU Centre for Contemporary Art in Singapore. In 2018, he presented works at the 2018 Gwangju Biennale in Korea. He has also been awarded the 2019 Rockefeller Foundation's Bellagio Arts Fellowship in Italy.