CASE Space Revolution – Lolay's Solo Exhibition – Mokutan
November 23, 2017 @ 6:00 pmJanuary 14, 2018 @ 11:59 pm UTC+7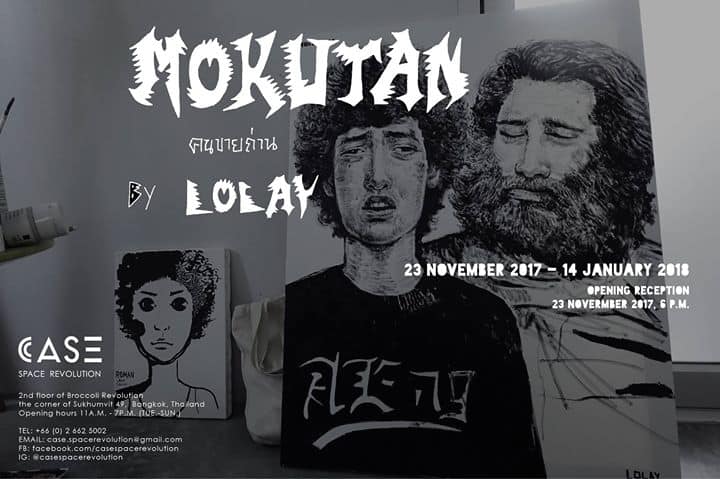 (For Thai please scroll down)
" Mokutan " in Japanese means collier. In the past, the occupation of " Charcoal production " which creates energy in one form ( Natural form ) was a job that til this day is still inherited although less and less people choose this profession. The process using part of the tree selected from landfill and soil and then heated to make " Black Charcoal " which has benefits such as for cooking and energy production.
The production process takes time, skill, and meticulousness. The mokutan select some of the charcoal and puts it into bundles to be sold. The mokutan has a sloppy and dirty exterior which is a vision that has stuck with me since I was a child.
I'm interested in many historical figures that are considered important figures in the world. I like to study these figures. These people ( shown in my paintings ) act as Mokutans because they are able to express their interests, create work, create ideas, are able to show the results of experimentation in life, and create inspiration for the next generation. Each individual has gone through a myriad of pressures before they were able to create their own ideas thus often giving them a rough or sloppy exterior.
Drawing: White – Black tone shows a group of people in a party with a sloppy exterior. This gathering is a moment of relaxation and enjoyment for them and their friends.
— THAWEESAK SRITHONGDEE ( LOLAY )
23rd Nov 2017 – 14th Jan 2018
Opening Reception :
Thursday 23th Nov 2017
6.00 pm.
@ CASE Space Revolution, 2nd floor of Broccoli Revolution, the corner of Sukhumvit 49, Bangkok, Thailand 10110
ARTIST'S BIOGRAPHY :
THAWEESAK SRITHONGDEE ( LOLAY )
1996: M.F.A.(painting) The Faculty of Painting, Sculpture and Graphic Art, Silpakorn University, Bangkok Thailand
1992: B.F.A.(painting) The Faculty of Painting, Sculpture and Graphic Art, Silpakorn University, Bangkok Thailand
Lolay was born in 1970 and graduated with a Master in Fine Art from Silpakorn University in 1996. Lolay is a keen observer of people, their physical and mental characteristics. Using his imagination, in his work he goes on to ponder whether people's features are related to their behavior, culture, social standing and other aspects. As viewers react differently to various symbols, he expects his audience to see his works in a variety of ways, using different interpretations, based on personal experiences.
Lolay has participated in several solo and group exhibitions abroad and in Thailand. He was awarded a residency at the Fukuoka Asian Art Museum, Japan in 2005 and participated in the Fukuoka Triennale in the same year. He took part in the International Film Festival in Rotterdam 2008 in The Netherlands with a video comprising shots of iconic portraits. Recent works have also included mega size fiberglass sculptures of his characters. His huge fiberglass sculpture " Dollar 009 " has participated in Busan Biennale in 2010. Now Lolay do his documentary film about music band named " Happyband ".Currently lives and works in Bangkok, Thailand
Follow the artist on social media:
mrlolay.tumblr.com/archive
Instagram: lolaytoon
Facebook: lolay
Youtube: lolay toon
Youtube: happybandmovies
Youtube: VIRUS space
" Mokutan คนขายถ่าน " ถ่าน (หุงต้ม) ในอดีตมีอาชีพเกี่ยวกับการผลิตถ่าน ด้วยการคิดค้นวิธีสร้างพลังงานในรูปแบบหนึ่ง (แบบธรรมชาติ) เป็นอาชีพที่สืบทอดต่อกันมาจนถึงทุกวันนี้ แม้จะเหลือคนทำอาชีพนี้ลดน้อยลงก็ตาม การนำส่วนของต้นไม้ มาผ่านกระบวนการ การคัดเลือก ฝังกลบไม้ซุกในหน้าดิน แล้วให้ความร้อนค่อยๆทำหน้าที่ จนผลที่ออกมา เป็นชิ้นส่วนถ่านสีดำ ที่นำไปใช้ประโยชน์ในลำดับถัดไป หุงต้ม สร้างพลังงาน
ในกระบวนการผลิต กว่าจะผลิตถ่านออกมาจนเป็นผลสำเร็จ ก็ต้องใช้เวลา ความสามารถ พิถีพิถัน จนเสร็จ หลังจากนั้น คนเผาถ่านก็นำชิ้นส่วน ที่ได้มา ทำการคัดแยก นำมามัดจัดรวมกันเป็นชุด เพื่อนำไปขายต่อไป แน่นอนว่า คนขายถ่านที่อยู่ในกระบวนการผลิต จะมีเนื้อตัว มอมแมม ดำ ( เป็นภาพติดตาของผม ในวัยเด็ก )
ผมมีความสนใจ บุคคลในอดีตจำนวนมากมายหลายคน ที่มีความสำคัญต่อโลก ผมชอบศึกษาเรื่องราวของพวกเขา คนสำคัญเหล่านี้ (ในภาพวาด ) ทำหน้าที่เป็นเหมือนคนขายถ่าน ( อาชีพเผาถ่าน ) เพราะพวกเขาได้แสดงออกถึงสิ่งที่พวกเขาสนใจ สร้างผลงาน สร้างความคิด และผลของการทดลองด้วยชีวิต ก็ได้ส่งแรงบันดาลใจ ที่มีประโยชน์ ต่อคนรุ่นต่อๆมา แต่ละคน ได้ผ่านแรงเสียดทานมากมาย ในการแสดงความคิดอุดมการณ์ ต่อสู้ กว่าที่จะกลายเป็นชุดความคิด จนเนื้อตัวมอมแมม
ภาพวาดโทนสีขาว-ดำ แสดงให้เห็น กลุ่มคน ในงานปาร์ตี้ ซึ่งมีเนื้อตัวมอมแมม คงจะเป็นช่วงเวลาพักผ่อน ที่พวกเขา และเพื่อนๆมาพบกัน
— ทวีศักดิ์ ศรีทองดี ( โลเล )
23 พฤศจิกายน 2560 – 14 มกราคม 2561
เปิดงานวันพฤหัสบดีที่ 23 พฤศจิกายน 2560 ตั้งแต่ 18.00 เป็นต้นไป
@ CASE Space Revolution, ชั้น 2 ร้าน Broccoli Revolution (หัวมุมซอยสุขุมวิท 49) กรุงเทพ 10110
ประวัติศิลปิน :
ทวีศักดิ์ ศรีทองดี ( โลเล )
1996 : จบการศึกษาปริญญาโท คณะจิตรกรรมประติมากรรมและภาพพิมพ์มหาวิทยาลัยศิลปากร
1992 : จบการศึกษาปริญญาตรี คณะจิตรกรรมประติมากรรมและภาพพิมพ์มหาวิทยาลัยศิลปากร
โลเลทำงานเกี่ยวกับการออกแบบ, เล่นดนตรี, ทำงานศิลปะและสร้างผลงานในรูปแบบอื่นๆ เช่น Street Art, Music, VDO editor เป็นต้น ผลงานของโลเล มักเกี่ยวกับเรื่องของมนุษย์ในมิติต่างๆ เคยแสดงผลงานต่างๆ เช่น " SHOW ME THAI " Museum of contemporary art Tokyo ประเทศญี่ปุ่น 2007, The 3rd Fukuoka Asian Art Triennale 2005 Fukuoka Asian Art Museum ฟุกุโอกะ ประเทศญี่ปุ่นในปี 2005, SOI Project Tout a` Fait Thai 2006 ปารีส ฝรั่งเศส, Busan Biennale 2010, " Monslorita " Project 2015 (narita,Japan) ผลงานวีดีโอเชิงทดลอง Hero Project 2005, Fresh 2006, Strawberry 2008, วงดนตรีเชิงทดลอง Happyband Project ( ก่อตั้งเมื่อปี2009) ผลงานในรูปแบบหนังสือ Underground Cartoon 1,2,3,4,My Nonsense, Lolaytoon 008,หนังสือ Man on Fish ( มนุษย์ยืนอยู่บนปลา ) ปัจุบัน กำลังทำโครงการ Happyband ( สารคดีภาพยนตร์เกี่ยวกับวงดนตรี ), ออกแบบแว่นตา, ออกแบบกราฟิกบนเสื้อผ้า
ติดตามผลงานได้ทาง :
mrlolay.tumblr.com/archive
Instagram: lolaytoon
Facebook: lolay
Youtube: lolay toon
Youtube: happybandmovies
Youtube: VIRUS space