Bangkok City City Gallery – Navin Rawanchaikul – Revisited
February 15, 2019 @ 1:00 pm
April 7, 2019 @ 7:00 pm
BMT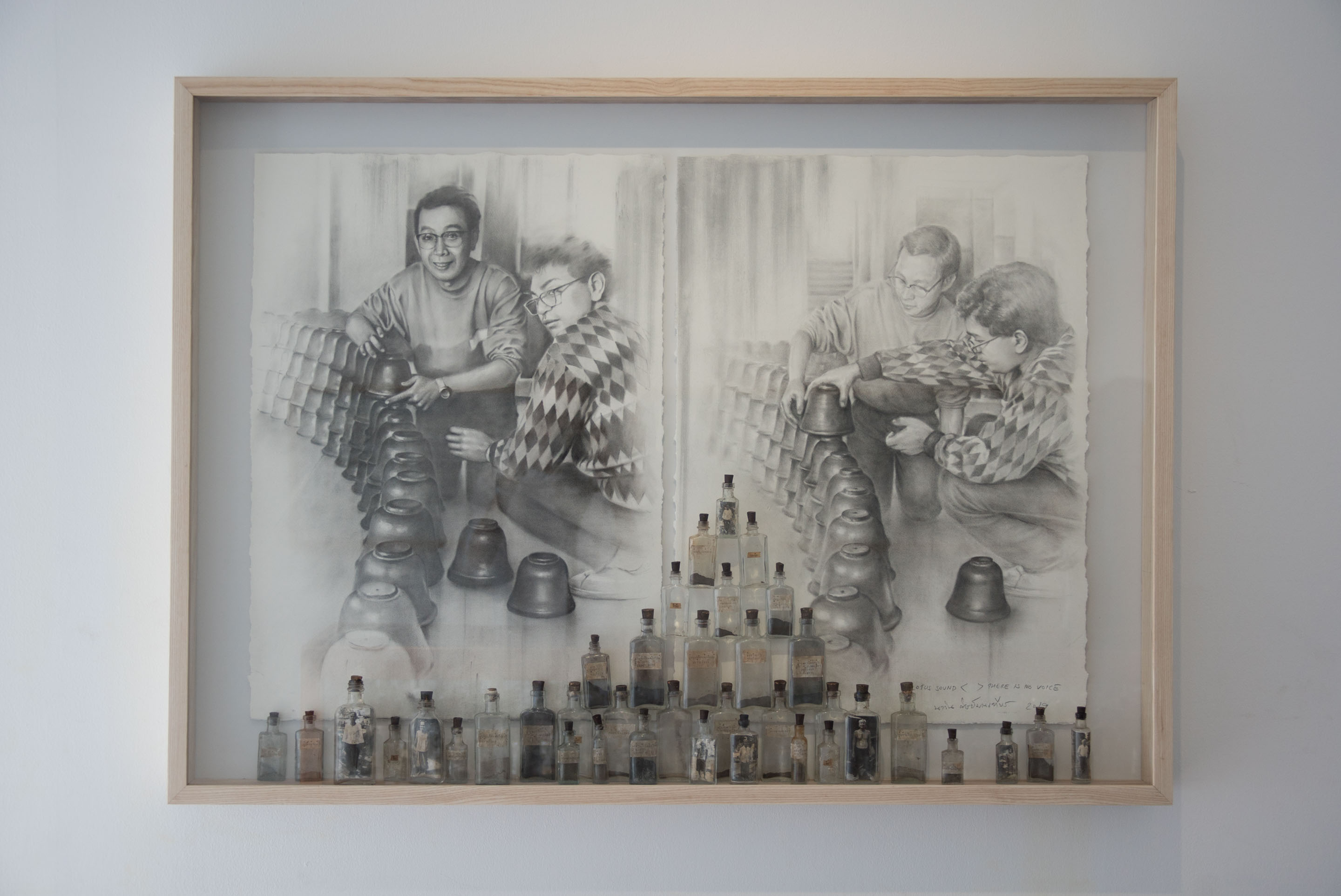 The exhibition, Departed, is weaving the artist's intimate stories with two of the artist's most influential figures in his life — his father and his late teacher, the renowned Thai artist Montien Boonma. This intergenerational exhibition is showing the comprehensive archival display and employs intimate biographic narratives and associated personal artifacts to relate newly created works with seminal pieces from the artist's extensive oeuvre.
Revisited < > Departed is about excavating life's chronicles to make sense of existence from those who shape, but ultimately depart from it. This reflective practice is indeed a recurring sequence of which one revisits and departs throughout one's life. Penned for great admiration and honeycombed with private memories, Rawanchaikul has written three letters to Boonma in 2010, 2013 and 2018 which serve as a focal point to the exhibition. The artistic merit of letters is not a sole object but an entire performance that involves (re)writing and (re)reading to revision about what has departed.
Rawanchaikul has always acknowledged the perennial influence of his undergraduate teacher,
the late artist-educator Boonma and he has paid homage to Boonma on several occasions.
Revisited < > Departed is his most concerted tribute to date. In the early 1990s, Rawanchaikul became a former assistant to Boonma, who encouraged Rawanchaikul to produce radical socially engaged art interventions. In 2013, 13-years after Boonma departed, Rawanchaikul revisited his teacher's family home in Nonthaburi. Also serving as Boonma's studio in the final stage of his life, space is now renovated as the archival Montien Atelier under the management of his family's estate. The deifying encounter led Rawanchaikul to draw parallels between his artistic mentor and the close paternal relationship with his own father, culminating in a new body of work revealed in Revisited < > Departed.
As well as debuting previously unseen works, the presentation also incorporates pieces from his celebratory 2015 multi-platform exhibition A Tale of Two Homes held in Chiang Mai. Then the artist sifted the abandoned relics of his former boyhood home above his father's fabric shop, the O.K. Store, to site-specifically reinterpret the shop-house with markers from boyhood innocence through to uncertainties of middle age.
About the artist
The Thai national artist, Navin Rawanchaikul, was born in 1971 in Chiang Mai, in the northern part of Thailand where he was raised and lived most of his life. He currently lives and works in both Chiang Mai and Fukuoka in Japan.
About the gallery
BANGKOK CITY CITY GALLERY believes in conversation, community, and diversity, and sees beauty and value in contemporary culture. Founded by Akapol Op Sudasna and Supamas Phahulo in 2015, the gallery is one of a few purposely built commercial art galleries in Bangkok. Situated in Sathorn Soi 1 right by Lumpini Park in the between the commercial and business district. A hybrid between the commercial art gallery and project space for the immersive experience of Contemporary Arts.
BANGKOK CITY CITY GALLERY is open to all types of exhibition formats including installation art, illustration, painting, sculpture, photography, video, live performance and more. Paying more attention to the idea that contemporary art should be able to communicate to a wider audience attracting different types of people to the gallery to embrace art, various ways of thinking and expression, share experiences and information through diverse programming. To learn how to respect and understand one another's viewpoints. By supporting visionary artists from emerging to mid-career, the gallery acts as a platform for discussion, bringing people from different backgrounds and generations and to open up to alternative ways of thinking.
BANGKOK CITY CITY GALLERY believes that Contemporary art plays a vital role in today's society. It has the ability to draw a map of the future. Contemporary art opens us up to different perspectives, helps to have a broader understanding not only of ourselves but the world we inhabit.
In 2016, BANGKOK ART BOOK FAIR was co-founded by two designers.
In 2018, the BANGKOK ART BOOK FAIR founders started OPEN FIELD, a non-profit organization, which for its first project is supporting Ghost:2561. As well as co-founded Ghost Foundation, a foundation supporting video and performance art.
The gallery is opened from Wednesday to Sunday from 1 pm to 7 pm.