BACC # PhotoJourn – Stories Through the Viewfinder
May 9, 2015 @ 10:00 am
9:00 pm
ICT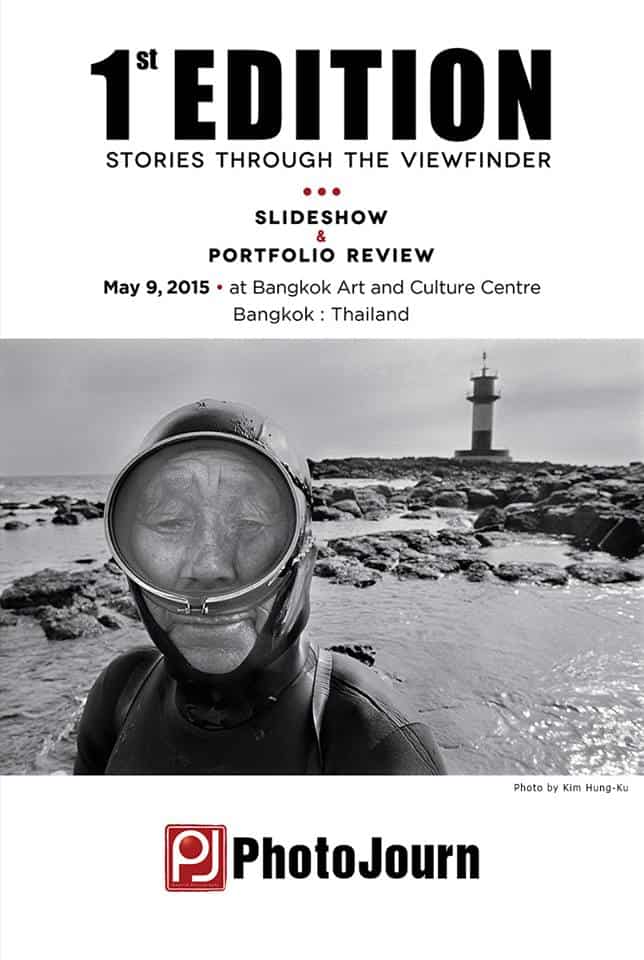 BACC PhotoJourn Exhibition
Stories Through the Viewfinder is the first interactive forum for global documentary photography in Thailand. PhotoJourn aims to offer emerging documentary photographers an opportunity to meet professionals in order to learn from their experiences creating long-term projects, submit works-in-progress for constructive critique and be exposed to top-notch documentary stories through slide shows, a book exhibition and a panel discussion.
"SLIDESHOW"
Powerful documentary photo stories from international professional photographers selected by guest curator, Francoise Callier of Angkor Photography Festival and Suthep Kritsanavarin will be projected.
"PORTFOLIO REVIEW"
Three award-winning photography professionals including a photojournalist, documentary photography and photo editor will review portfolios with critique and professional mentorship to further develop socially conscious photography projects.
"PHOTO BOOK EXHIBITION"
The programme will feature an exhibition of photo books produced by documentary photographers from around the world.
"PANEL DISCUSSION"
"Visual Conscience: How Photo Essays Tell Stories beyond a Single Image"
A panel discussion by three leading Thai photographers.
For more information, please visit our website www.photojourn.net or contact photojourn@outlook.com
————————————————————————————————————————————————————–
ขอเชิญเข้าร่วมงาน 1st Editon PhotoJourn – Stories through the viewfinder วันเสาร์ที่ 9 พฤษภาคม 2558 ณ หอศิลปะและวัฒนธรรมแห่งกรุงเทพมหานคร (BACC)
PhotoJourn ขอนำเสนอผลงานถ่ายภาพสารคดีคุณจากทั่วโลกกว่า 20 งาน ผ่านการฉายสไลด์โชว์ และกิจกรรมอื่นๆ ที่เปิดโอกาสให้กับช่างภาพที่มีความสนใจงานภาพถ่ายสารคดีได้เข้าเข้าร่วม
"Sildeshow"
ร่วมชมสารคดีภาพถ่าย"คุณภาพจากช่างภาพทั่วโลกที่คัดสรรและเสนอโดยภัณฑารักษ์รับเชิญ Françoise Callier จาก Angkor Photo Festival และ สุเทพ กฤษณาวารินทร์ ช่างภาพสารคดีและผู้ก่อตั้ง PhotoJourn
*เปิดรับผลงานภาพถ่ายของช่างภาพไทยเพื่อเข้าร่วมกิจกรรมนี้
"Portfolio Review"
กิจกรรมที่เปิดโอกาสให้ช่างภาพได้นำเสนอผลงานของตัวเอง ต่อช่างภาพและบรรณาธิการอาวุโสซึ่งเป็นที่ยอมรับในระดับสากล พร้อมรับคำเสนอแนะ และแลกเปลี่ยนมุมมองใหม่ๆ ที่มีต่อผลงานชิ้นนั้น
"Photobook show"
กิจกรรมจัดแสดงหนังสือภาพถ่ายที่บอกเล่าเรื่องราวน่าสนใจ ซึ่งถูกคัดสรรมาจากทั่วโลก ร่วมชนและเปิดมุมมองใหม่ๆ ของการเล่าเรื่องด้วยภาพถ่าย
"Panel discussion"
ร่วมเป็นส่วนหนึ่งของการเสวนาในหัวข้อ "ทำไมต้องเล่าเรื่องด้วยภาพชุด" ไปกับคุณมานิตย์ ศรีวานิชภูมิ(ศิลปินภาพถ่ายผู้มากด้วยประสบการณ์ในวงการเมืองไทย) และ ยุทธนา อัจฉริยวิญญู (อดีตช่างภาพของนิตยสาร National Geographic ฉบับภาษาไทย) และคุณสุเทพ กฤษณาวารินทร์
*ตามอ่านรายละเอียดเพิ่มเติมได้ที่ http://photojourn.net/activities.php?m=7&date=2015-3-26&month&year&page=2#workshop
หรือหากมีข้อสงสัยใดๆ สามารถติดต่อได้ที่ photojourn@outlook.com