At Bangkok – 2018 Taiwan minorities film festival in Bangkok
September 23, 2018 @ 6:00 pm
September 29, 2018 @ 9:00 pm
BMT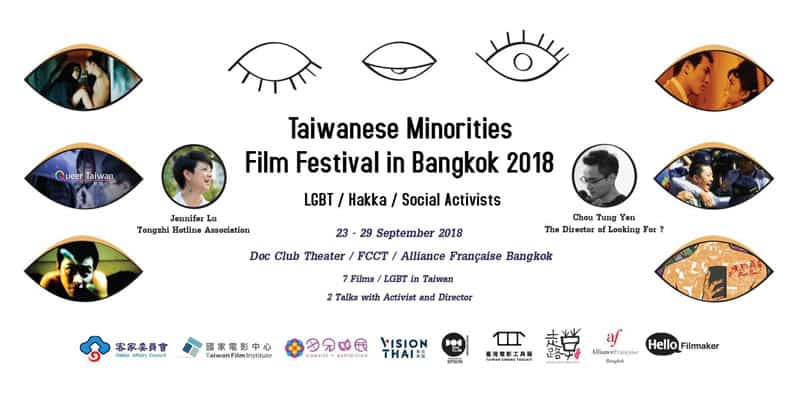 2018 Taiwan "Minorities" Film Festival in Bangkok:
LGBT / Hakka / Social Activists
(สำหรับภาษาไทย กรุณาอ่านด้านล่าง;中文簡介及放映場次請往下)
Sunday, September 23 –Saturday, September 29, 2018
@Doc Club Theater-Warehouse 30, FCCT, Alliance Francaise de Bangkok
(With English Subtitles)
Curated by Eric, YenLin Chen (陳彥霖) [email protected]
mobile 097-357-8682
2018 Taiwan "Minorities" Film Festival presents topics such as LGBT, Hakka, and social activists from September 23 to 29, 2018, which highly connected to Taiwan's social development nowadays. For six screenings at Doc Club Theater at Warehouse 30, and another two screenings with Talks Q/A with Taiwanese director Chou Tung-Yen at Alliance Francaise Bangkok and Taiwanese LGBT activists at Foreign Correspondent Club of Thailand (FCCT).
The screenings selected by independent curator, Yen-Lin Chen, Taiwanese Student from Chulalongkorn University, to present contemporary Taiwan through movies, especially minority and rights issues, which include LGBT, Social Movement, and Hakka. Start with one of Taiwan's the most internationally recognized Hakka director, Hou Hsiao-Hsien(侯孝賢), THREE TIMES at warehouse 30 as opening film, which was also selected by New York Times as best 25 films of the 21st century. Documentary Golden Rose: the Stardrom of Jin-Mei to show Hakka female singer fought for her acting career under patriarchy society in the 1960s. Followed by The Best of Times talked about Youth and Hakka, and life struggles and dream from lower class Taiwanese family. Also, Taiwan's social movement from the 1990s in Connection By Fate, and in 2008, Civil Disobedience for freedom of speech.
Also, two LGBT film screenings with after talk Q/A, which Taiwan's largest LGBT NGO, Taiwan Tongzhi Hotline Association(台灣同志諮詢熱線), senior researcher Jennifer Lu(呂欣潔), will be at Foreign Correspondent Club of Thailand with Documentary Queer Taiwan to talk about Gay Marriage in Taiwan and its challenges, as Taiwan might be the first country in Asia to legalize same-sex marriage by May 2019, but conservative groups are worried about the family values and rapid changes to the society. Jennifer will share Taiwan's harshly debates and LGBT activism after screening.
The closing film is Looking for? , nominated for best documentary in 2017 Golden Horse Awards. When technology has changed people's life. Many turned to dating application to look for dating or even sex. Director Chou Tung-Yen(周東彥) will be in Alliance Francaise de Bangkok for the premiere screening and Q/A. To share his journey to record people's attitude on relationship and attitudes what people are looking for? This is not only for LGBT, but also for everyone to rethink technology and relationship in modern society, is it more convenient, or, more isolated and lonely?
(Looking for? trailer https://www.youtube.com/watch?v=I7zZjbyU6Hs )
(Queer Taiwan, trailer https://www.youtube.com/watch?v=TIn4x35bOqY )
Curator: Chen, Yen-Lin (陳彥霖), 灣仔威靈頓街27號
Co-Organizer: Documentary Club, Alliance Francaise Bangkok, Vision Thai.net看見泰國、多元成展
========================
【Screening Time and Location】
2018 Taiwan "Minorities" Film Festival in Bangkok (2018台灣少數平權影展)
September 23 -29, 2018
Screening Venues :
Doc Club Theater-Warehouse 30,
Venue:52 – 60 Charoen Krung Rd, Bang Rak, Bangkok (https://goo.gl/maps/nPRhf2jPt992)
Screening + Talk 1 (Queer Taiwan-7pm, September 24):
Venue: Foreign Correspondents' Club of Thailand (FCCT)
Map: https://goo.gl/maps/t1vkRDCMMeN2
Screening + Talk 2(Looking For?- 6 pm, September 29)
Venue: Alliance Francaise Bangkok
(179 Wireless Rd, Khwaeng Lumphini, Bangkok.
map- https://goo.gl/maps/TuHHqo6DzY42)
▲Opening-
Three Times (最好的時光)-Hou Hsiao-Hsien侯孝賢
18:00 Sunday, September 23, 2018
@ Doc Club Theater(Warehouse 30)
※Screening+Q/A Talk-【Special Event】
Queer Taiwan (酷兒台灣)+ TALK (w/Jennifer Lu呂欣潔, Taiwan Tongzhi Hotline Association)
19:00 Monday, September 24, 2018
@ Foreign Correspondents' Club of Thailand (FCCT)
The Best of Times (美麗時光) -2 screenings
19:00 Tue, 25 September &
19:00 Fri, 28 September 2018
@ Doc Club Theater (Warehouse 30)
Connection By Fate (超級公民)
19:00 Wednesday, 26 September 2018
@ Doc Club Theater (Warehouse 30)
Civil Disobedience(公民不服從)
19:00, Thursday, 27 September 2018
@ Doc Club Theater (Warehouse 30)
Golden Rose: the Stardom of Chin Mei (金色玫瑰:金玫的電影人生)
20:00, Thursday, 27 September 2018
@ Doc Club Theater (Warehouse 30)
※【SPECIAL EVENT with TALK】
Looking For? (你找什麼?)+Q/A with Director (w/Director Chou, Tung-Yen周東彥導演首映及座談)
18:00, Saturday, September 29, 2018
@Alliance Francaise Bangkok
(179 Wireless Rd, Lumphini, Bangkok, Thailand.
map- https://goo.gl/maps/TuHHqo6DzY42)
========================
2018 Taiwan "Minorities" Film Festival in Bangkok:
LGBT / Hakka / Social Activists
อาทิตย์ 23 – เสาร์ 29 กันยายน 2561
ที่ Doc Club Thearter (Warehouse 30), FCCT, Alliance Francaise de Bangkok (*หนังทุกเรื่องมีซับไตเติลภาษาอังกฤษ / กรุณาตรวจสอบสถานที่และเวลาในตารางฉาย)
"เทศกาลภาพยนตร์ไต้หวันร่วมสมัย 2018" นำเสนอเรื่องราวเกี่ยวกับคนส่วนน้อยในสังคมไต้หวัน ไม่ว่าจะเป็นกลุ่มผู้มีความหลากหลายทางเพศ เยาวชน กลุ่มคนฮากกา หรือที่รู้จักกันในประเทศไทยในชื่อของคนจีนแคะ และการเคลื่อนไหวทางสังคม
พบหนัง 8 เรื่อง (และ 2 การสนทนากับผู้กำกับและนักเคลื่อนไหวเพื่อความเท่าเทียมของผู้มีความหลากหลายทางเพศในไต้หวัน) คัดสรรโดย เยนลิน เฉิน ภัณฑารักษ์อิสระและนักศึกษาจุฬาฯ โดยมีไฮไลท์ดังนี้
– Three Times หนังเปิดเทศกาล ผลงานของโหวเซียวเสียน ผู้กำกับเชื้อสายฮากกาผู้โด่งดัง ได้รับคัดเลือกจากนิวยอร์กไทมส์ให้เป็นหนึ่งใน 25 หนังที่ดีที่สุดของศตวรรษที่ 21
– Golden Rose: the Stardrom of Jin-Mei สารคดีว่าด้วยการต่อสู้บนเส้นทางสู่การเป็นนักร้องของหญิงสาวชาวฮากกาภายใต้สังคมไต้หวันยุค 1960 ซึ่งผู้หญิงยังไม่ได้รับโอกาสมากนัก
– Queer Taiwan สารคดีว่าด้วยความขัดแย้งอันท้าทายในสังคมไต้หวัน ซึ่งกำลังจะเป็นประเทศแรกในเอเชียที่การสมรสกับเพศเดียวกันเป็นเรื่องถูกต้องตามกฎหมาย (หลังหนัง พูดคุยกับ เจนนิเฟอร์ ลู นักวิจัยอาวุโสจาก Tongzhi Hotline Association องค์กรเคลื่อนไหวเพื่อสิทธิ LGBT ที่ใหญ่ที่สุดของไต้หวัน)
(Trailer https://www.youtube.com/watch?v=TIn4x35bOqY)
– Looking for? หนังปิดเทศกาล เป็นการเดินทางบันทึกทัศนคติของชาว LGBT และผู้คนทั่วไปเกี่ยวกับความสัมพันธ์ซึ่งได้รับความเปลี่ยนแปลงจากเทคโนโลยี เมื่อหลายคนหันมาหาแอพพลิเคชั่นแชทเพื่อหาคู่เดทหรือแม้แต่เซ็กซ์ (หลังหนัง พูดคุยกับผู้กำกับ Chou Tung Yen)
(Trailer https://www.youtube.com/watch?v=I7zZjbyU6Hs)
Curated by Eric, YenLin Chen (陳彥霖) [email protected]
mobile 097-357-8682
========================
「2018台灣少數平權影展」曼谷放映 呂欣潔周東彥出席座談
Taiwan "Minorities" Film Festival in Bangkok 2018
(2018年9月23日至29日,8場電影放映(2場座談) 地點:Doc Club Theater-Warehouse 30, FCCT, Alliance Francaise Bangkok)
當代台灣社會的少數議題,包括同志平權、族群或社會抗爭,與社會發展息息相關,由台灣留泰學生陳彥霖策畫的「2018台灣少數平權影展」(Taiwan Minorities Film Festival in Bangkok 2018),將於2018年9月23日至29日,於曼谷Doc Club Cinema-Warehouse 30、泰國外國記者協會(FCCT)以及曼谷法國文化協會(Alliance Française Bangkok)進行8場放映,邀請來賓包括台灣婚姻平權大平台總召呂欣潔,以及入圍金馬獎的劇場導演周東彥,親訪泰國進行映後座談,透過影像及文化,向東南亞社會交流臺灣平權議題。
「2018台灣少數平權影展」由客家籍國際大導演侯孝賢作品「最好的時光」作為開幕片,知名演員舒淇、張震主演,跨越時代呈現台灣百年的愛情故事,該片由紐約時報選為21世紀最佳的25部電影作品之一,更獲得金馬獎最佳年度電影、最佳女演員及坎城影展金棕櫚獎提名。
呈現台灣婚姻平權正反雙方爭議,以及同志家長和代理孕母問題的「酷兒台灣」紀錄片,本次影展進行全球海外首映,由同志諮詢熱線資深研究員呂欣潔小姐,於東南亞規模最大的「泰國外國記者協會」(FCCT)進行映後座談,向東南亞國際人士介紹台灣面對挺同、反同的爭議,以及台灣在性別平權運動的經驗分享。
影展更選錄張作驥導演「美麗時光」,該片談論青年議題,由范植偉飾演的客家青年面對家庭與社會的衝突,此外,更有萬仁導演作品「超級公民」及陳育青「公民不服從」,分別講述台灣近代社會運動抗爭,以及「金色玫瑰:金玫的電影人生」紀錄片,呈現客家女歌手金玫,在台灣父權社會下,成為當時演藝圈閃亮的巨星歷程。
閉幕片放映2017年金馬獎最佳紀錄片入圍作品「你找什麼?」,亦為泰國首映,周東彥導演親自出席曼谷法國文化協會映後座談,該片講述交友APP對於現代人社交模式的影響與改變,「你找什麼?」成為不分國界在男同志交友軟體中最常見的一句話,周東彥帶著疑問穿梭各大都市,訪問逾60位男同志,映照當代社會對於愛與慾的想像與實踐的紀錄片。
「2018台灣少數平權影展」由客家委員會及僑務委員會補助,國家電影中心及臺灣電影工具箱計畫合作贊助,看見泰國、泰國紀錄片俱樂部、曼谷法國文化協會及多元成展協辦,策展人陳彥霖表示,當代台灣對於少數族群的關懷,將檢驗台灣是否真正成為亞洲的平權燈塔,希望透過電影放映及對談,與東南亞社會分享台灣經驗,促進更多交流對話。
========================
Curator策展人&主辦/Yen-Lin Chen(陳彥霖-contact [email protected])
Co-organizer協辦/看見泰國Vison Thai、Documentary Club、Alliance Française Bangkok、多元成展
Sponsor & Support贊助及指導單位/
Hakka Affairs Council(客家委員會),
Oversea Community Affairs Council(僑務委員會),
Taiwan Film Institute(國家電影中心),
Taiwan Cinema Toolkit(臺灣電影工具箱 https://youtu.be/dOuPYHReBk0 )