Art Di'Wine : Art + Wine Dinner @ Eve By Hansar Bangkok
September 26, 2014 @ 7:00 pm
11:00 pm
ICT
THB3500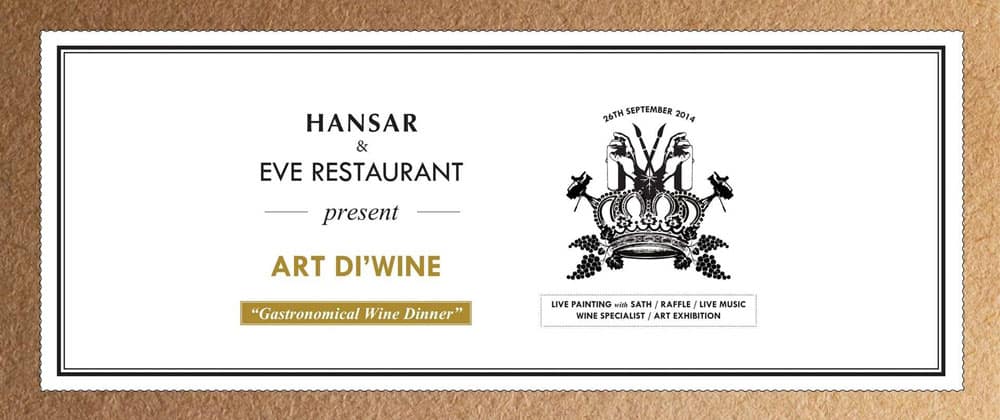 ART DI'WINE DINNER is one of the events showcasing what Bangkok does best. We're also excited to share our love for the art and for the gastronomy with all of you !
Imagine the perfect marriage between Art and Gastronomy. The possibility to taste an exquisite 5-courses menu specially prepared and paired with an equal selection of the best fine wines over a Live Painting & Exhibition by "Sath", and cadenced by our splendid Live Music Band by Yves Baron & Friends.
If you're looking for a culinary getaway, want to rub shoulders with epicureanism along with one of the top chefs in Thailand, or simply extend your knowledge and engage your palate, Art Di'wine is made for you !
We are proud to support the gastronomy in our city in this way and look forward to welcoming you at Eve Restaurant to enjoy excellent food, exceptional wine, and a great Art time.
– THE CHEF –
Belgium born Charles Christiaens has been appointed as Executive Chef at Hansar Bangkok. He has packed a considerable amount of experience into his career, and has worked at some of the best fine dining restaurants in Belgium, London and the south of France, including Le Trefle a Quartre Genval in Belgium (2 Michelin Stars), Relais et Chateau on Valvi Corsica Island, France (1 Michelin Star) and at the L Estelle en Camargues Chateaux et Hotel Collection.
-THE PAINTER-
Sandro Thomas (Sath) is Spanish and his art is created with basic tools such as pencil on paper initially. Sath's artwork makes a personal impression and stays very much on message.
-THE LIVE MUSIC BAND-
Master Vocal Coach at Superstar Academy and College Bangkok, the highly charismatic 'OPEJAZZ' virtuoso, Yves Baron aka Le Tenor, will be making Hansar Bangkok his home for this special evening. Following a string of performances lauded by critics, he has sung at famous venues and for top performers around the world. He will come with his acoustic trio.
-THE EVENT-
With a reservation, guests will allow to begin the evening by an "aperitif" at Rouge Bar including wine and canapés. Then, they will go to Eve Restaurant where they will have a seat for the dinner. A wine specialist will be present for explaining to our guests the origins of each wines.
An exhibition of previous artist's artworks will be hosted in the restaurant and outside the restaurant. Hansar offers the possibility for the guest to not miss a moment of the live painting process thanks to the broadcasting on a big screen in the restaurant.
The menu will be reveal on the D-Day.
Tickets for the event are priced at Baht 3.500++ each which includes :
ENTRANCE + ART EXHIBITION + LIVE MUSIC + LIVE PAINTING + WINES ORIGINS LESSON + APERITIF + 5-COURSES GASTRONOMIC MEAL + FREE FLOW OF 4 DIFFERENT FINE WINES + RAFFLE TICKET
– First Prize – A fabulous piece of art created by the well known artist Mister Sandro Thomas "Sath".
– Second Prize – One night at Hansar's newest property, Hansar Pranburi, a beachfront villa with 17 rooms. The prize includes breakfast for two and is valued at Baht 7000.
– Third Prize – Sumptuous fine selection of wine's bottles. This prize is valued at Baht 4,500.
It is strongly recommended to purchase tickets prior to the event. For further information and ticket sales, please contact Chef Charles Christiaens, at Hansar Bangkok.
Reservations can be made through Hansar Bangkok on
Tel: +66 2 209 1234
Fax: +662 209 1212
Email: [email protected]
Website: https://www.hansarbangkok.com
#winedinner #hansarbangkok #livepainting #gastronomy #bangkok #superstaracademy #livemusic #enjoy