Alisan Fine Arts – Lui Shou-Kwan – Lui Shou-Kwan Centenary
March 25, 2019 @ 9:00 am
May 16, 2019 @ 8:00 pm
HKT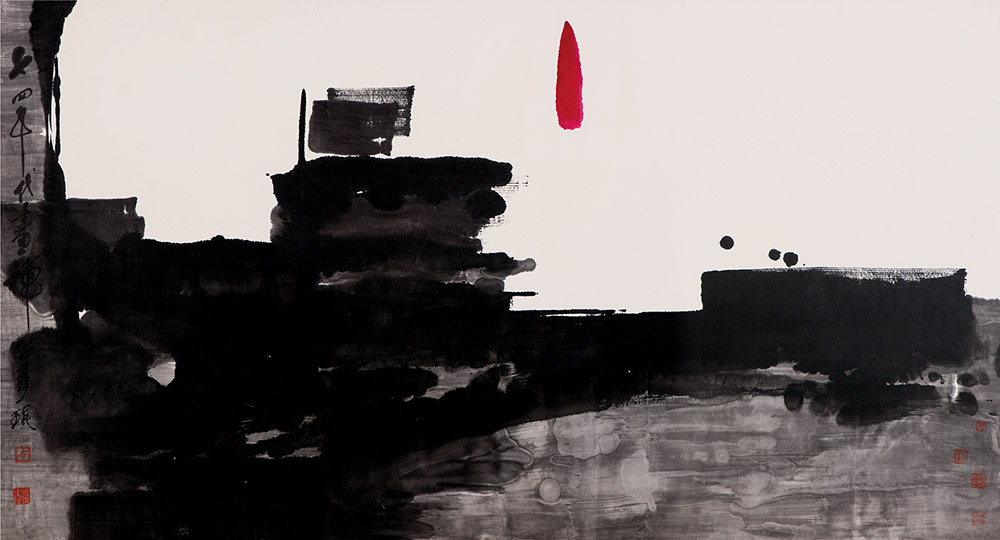 Alisan Fine Arts is proud to present our fifth solo exhibition for Lui Shou-Kwan, echoing the Lui Shou-Kwan Centenary: Abstraction, Ink and Enlightenment exhibition currently staged at the Ashmolean Museum in Oxford. Our gallery centenary pays homage to the artist's legacy here in "his" city, for while born in Guangzhou in 1919, Hong Kong was his home from 1948 until his passing in 1975. Lui Shou Kwan was a pivotal force in forging Hong Kong's unique artistic identity, synthesizing the traditional painting techniques from the Mainland with the Western style imparted by the city's colonial roots. From the outset of his artistic career, Lui actively sought to revolutionize Chinese ink painting and through the appropriation of elements associated with Western Abstract Expressionism into his practice, effectively launching what was later termed the New Ink Movement.
Throughout his career, whose breadth covered representational, semi-abstract and abstract works, his chief concern remained focused on the image's ability to emote the individuality and spirit of the artist, no matter the rules and techniques that might be abandoned in that pursuit. This centenary exhibition demonstrates the depth of Lui's oeuvre through its varied selection of works from throughout the artist's career. A total of 22 paintings ranging from 1957 to75 will be on display. The majority of these works have never been published, thus offering a rare and exciting experience to the Hong Kong community.
Lui's ability to fuse abstraction with spirituality is most prolifically expressed in the artist's Zen series, begun in the 1960s, and characterized by broad and free calligraphic brushstrokes and ink washes with an atmosphere of philosophical contemplation. Inspired by Zen Buddhism and the lotus flower, these remarkable paintings have become the archetypal language associated with Lui's work. Never relinquishing tradition, during the several decades spent developing his Zen series, the artist simultaneously explored representational themes and landscapes.
The influence of the Father of New Ink on Hong Kong's modern and contemporary artists has been profound, his contributions to ink painting now considered such commonplace practices that we easily forget how revolutionary his abstract, individualistic, and westernized approach was for his era. With this celebratory exhibition, marking 100 years since the birth of the father of the New Ink Movement, we reiterate our belief in his vision, commend his life and legacy, and encourage a broader appreciation amongst our community of Lui Shou-Kwan's influence upon what is now universally embraced as the standards of contemporary ink art.
About the artist
Lui Shou-Kwan
1919–1975, Guangzhou China
Lui Shou-Kwan (1919-1975), recognized as Hong Kong's pioneer in the New Ink Movement has had a far-reaching influence on contemporary Chinese art. Born in Guangzhou, Lui's interest in painting was inherited from his father Lui Canming (1892-1963) from early on. His father was a scholar-painter and owner of an antique shop. Lui studied Chinese painting by copying classical works by past masters, such as Bada Shanren (1626-1705, Ming Dynasty), Shitao (1642-1707, Qing Dynasty) and Huang Binhong (1865-1955, who he studied under for a short period). Lui graduated from the University of Guangzhou with a degree in Economics in1946. He moved to Hong Kong in 1948 and began working for the Hong Kong and Yaumatei Ferry Company as an inspector in 1949. While working on the pier, he was able to observe Hong Kong's mountains and harbor scenes. These scenes often appear in his semi-abstract landscape works. Afterward, he experimented with abstraction and symbolism which ultimately lead to the creation of his unique Zen Painting.
In 1954, Lui held his first solo exhibition in Hong Kong, followed by numerous exhibitions in the United Kingdom and the United States. In 1962, Lui was invited to be an Honorary Adviser of the newly opened City Museum and Art Gallery (later to be renamed the Hong Kong Museum of Art). Then in 1966, he was approached to become the teacher of Chinese ink painting at the Department of Extra-Mural Studies at the Chinese University of Hong Kong and at the University of Hong Kong. In 1971, he received an MBE from the British Government. Sadly, when he was at the height of his artistic career he passed away at the young age of 56.
Alisan Fine Arts first exhibited his paintings in 1984, and since then has held three solo exhibitions of his work. The gallery has also organized two important historical exhibitions, in 1995 and 2015 respectively, tracing his career and legacy, and the works of his students. The latter exhibition traveled to Guangzhou in 2016 and was as part of "Being and Inking: Documenting Contemporary Ink Art 2001-2016". His artworks are in the collections of the Victoria & Albert Museum, London; the Ashmolean Museum of Art and Archaeology, Oxford University; de Young Museum, San Francisco; Taipei Museum of History, Taiwan; Art Museum of Chinese University of Hong Kong; the Hong Kong Museum of Art; M+ Museum for Visual Culture, Hong Kong, to name a few.